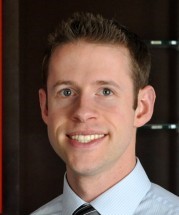 Submitted by Russell Chiropractic Center
Russell Chiropractic is excited to introduce the newest member of their team: Jaron Banks, D.C.
Dr. Banks graduated with honors from Logan College of Chiropractic and is completing an internship for his Master's in Sports Science and Rehabilitation with Olympia Orthopedic Associates.
In his youth, Dr. Banks ran track and cross country for Bethel High School. He now enjoys an active lifestyle of distance running, hiking, and mountain biking. As an athlete who knows the rigors of event training, he values regular chiropractic care to help maintain high health standards, as well as top performance levels.  He has treated a wide variety of sports related injuries for Division I athletes, professional distance runners, USA Youth Track & Field, alongside moms, dads, and kids that like to be active.
As a new dad himself, he enjoys helping kids and families stay healthy and happy with regular functional assessments and adjustments. Dr. Banks is certified in Active Release Technique (A.R.T.®) and trained in Functional And Kinetic Treatment with Rehab (FAKTR) which help him address the muscle, tendon, and ligament components of the injuries he treats. His passion is helping active people enjoy their recreation to the fullest, without being held back by new, old or recurrent injuries.
If you'd like to discuss a health, wellness, or injury concern, Dr. Banks has an open-door policy for answering your questions. He can be reached at Russell Chiropractic Center (360) 754-7500. He will be writing monthly articles in Thurston talk so look forward to more information to come.