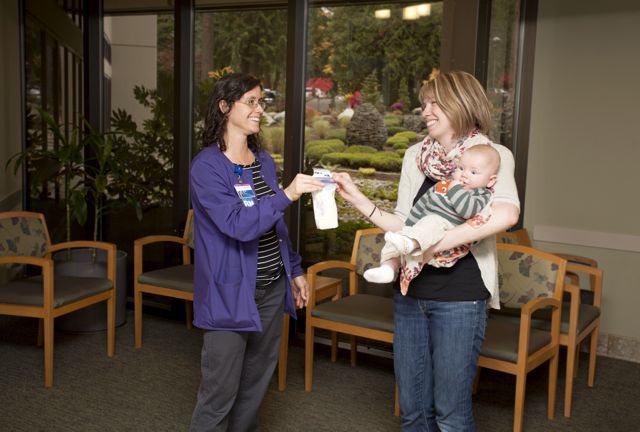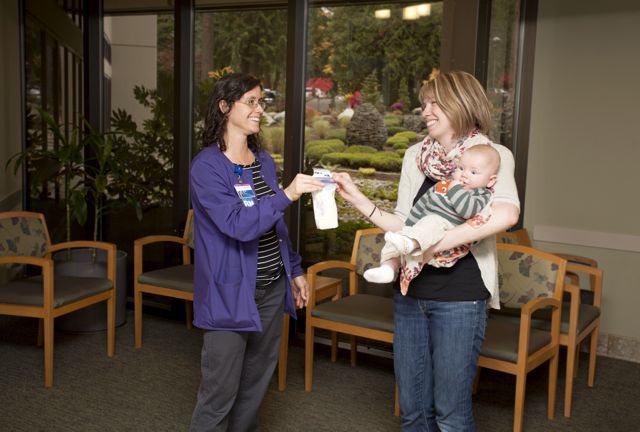 We traditionally define banking as stashing something away for later use.  But when it comes to childbirth and breastfeeding, the term can mean something delightfully different.  Our region is home to the first Milk Bank in the Northwest and the only breast milk repository in the South Sound.  Local moms are encouraged to donate surplus milk to the Northwest Mothers Milk Bank of Portland through the Providence St. Peter's Hospital Family Birth Center.
The Milk Bank began in July 2013 as a way for moms with extra milk to help those in need.  Donors are screened by phone, in writing, and with a blood draw before they can participate.  Once all tests are completed, the helpful staff at Providence St. Peter's Family Birth Center receives the milk which is then packaged for transport to the Portland Bank.  Once in Portland the milk is pasteurized and cultured before being frozen and distributed to mothers in need and possess a doctor's prescription.
Donor moms simply decide when they have extra milk and call Providence  to arrange a delivery time.  The helpful staff from the Family Birth Center even goes out to the drop-off point in person, saving frazzled moms the parking and baby transport headache.  Some moms donate only once, others multiple times…it's always up to them.
Melissa Petit, an RN and internationally board-certified lactation consultant, works for the Providence Birth Center.  She loves this new program as it "ultimately makes milk cheaper for everyone" and benefits babies from day one.  Since the Providence program began in October 2013, over 2,000 ounces of milk have been sent to Portland to help babies around the South Sound.
The hospital also partners with the South Sound Breastfeeding Network in this mission.  The Network even went so far as to donate the freezer used by the staff prior to transport, saving the hospital valuable resources.
The first donor via Providence's new Milk Bank partnership was Emily Kelso of Napavine.  She explains, "I heard about the milk bank when I was in the NICU in Vancouver with my seven week premature son.  The lactation consultant told me I would be a good candidate for donation and gave me the info.  I wanted to participate because my son's first meal was donated milk from the milk bank. When I realized I had enough milk for my premature son and extra stored up, I realized I could help other mothers and babies in a similar situation.  I was surprised by how easy the process was for becoming a donor.  Everyone I talked to was so nice and helpful!  I was so happy to know I had a local milk bank to donate to.  It felt good to be able to pay it forward and help other preemie babies get a good start in life."
Interested donors should call the Northwest Mothers Milk Bank at 800-204-4444 with any questions.  They will handle the initial screening but moms won't have to trek to Portland for the rest.  Blood draws and successful donations will be taken by the helpful staff at the Providence St. Peter's Family Birth Center.  They will do everything they can to make the rest easy and convenient.
The South Sound Breastfeeding Network sums things up:  "One of the first choices parents make for their babies' health is what to feed their babies.  Babies were born to be breastfeed and breastmilk is the natural and best choice.  It not only benefits baby with ideal nutrition, immune system support, and bonding opportunities, but benefits mother as well and with no manufacturing, transportation, or retail costs, is better for the Earth!"
While the process is difficult for many moms, it's nice to know there are resources readily available that give our kids a head start on success.