By Gail Wood
With the construction of Amazon's 1-million square-foot warehouse in DuPont completed, the online retail giant is now hiring for hundreds of jobs.
Job duties for DuPont's distribution center include boxing, shipping and stocking merchandise for customers. The job pays $12.25 an hour, which Amazon said is about 30 percent higher than the traditional retail store wage.
Amazon's hiring is timely for DuPont. In October, Intel announced that it will sell its DuPont property and plans to layoff nearly half of its 690 employees at that site.
"We are excited to welcome Amazon as the newest member of our community," DuPont mayor Michael Grayum said in an Amazon release. "We are focused on attracting new businesses, creating quality jobs and strengthening economic growth."
Amazon requires applicants for these warehouse jobs to have a high school diploma, be able to stand for several hours during an 8-hour shift  and to be able to lift 49 pounds. Interested applicants can apply online at workatamazonfulfillment.com. The center is expected to open this spring.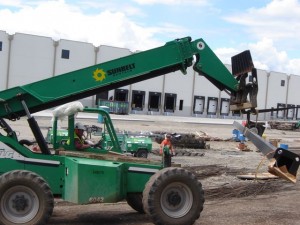 "We haven't yet announced a time table for opening, but we usually start hiring a few months prior to the opening," said Kelly Cheeseman, who works in Amazon's media relations. "We are actively hiring right now. We have hundreds of full-time jobs available at the fulfillment center."
DuPont is one of Amazon's six packing and shipping customer centers nationwide that is currently hiring. The online giant is currently hiring for more than 2,500 full-time jobs across the country.
"Today, we're excited to announce 2,500 full-time jobs, bringing new employment opportunities to local communities across the country," Mike Roth, Amazon's vice president of North America operations, said in a recent release. "Last year, we hired more than 20,000 people into full-time jobs across our U.S. fulfillment centers."
Besides DuPont, Amazon's packing and shipping centers that are hiring are located in Chester, Va., Coffeyville, Kan., Columbia, S.C., Murfreesboro, Tenn., Petersburg, Va.
DuPont is the second warehouse Amazon has built in Pierce County. Two years ago, Amazon opened a distribution center in Sumner that is half the size of DuPont's. In addition to its hourly wage, Amazon offers a healthcare plan that begins on the first day of employment. Amazon also offers a 401K matching retirement plan and a Career Choice program where the company pays 95 percent of tuition for employees wanting to go back to school after being employed for a year at Amazon.
With the growth at Joint Base Lewis-McChord, DuPont's population has ballooned, increasing from 592 in 1990 to an estimated 8,808 last year. With the opening of Amazon's warehouse, the once sleepy little DuPont is going to continue to grow. The new distribution center is reportedly expected to create as many as 900 jobs.
Amazon, a Fortune 500 company based in Seattle, reportedly spent over $100 million on the project.  The online giant bought the 92 acres in DuPont for $26.1 million.
Amazon has a military recruiting program and last year exceeded its goal to hire 1,200 veterans nationwide and expects to hire veterans again this year. That's key for DuPont since it neighbors Joint Base Lewis-McChord.
"We are excited to increase our presence in the state of Washington with this new fulfillment center," said Dave Clark, vice president of Amazon global customer fulfillment. "We appreciate the state and local leaders who have helped us make this site in DuPont a reality."
DuPont has a long partnership with big business. The town was purchased by the DuPont company in 1906 and an explosive plant was built there. Within four years from when the plant opened, DuPont had grown by more than 100 homes. Business continues to shape the city today.
Cheeseman said the number of people hired at the DuPont warehouse will depend on how busy the distribution center is and how many products are bought and shipped. At the center, workers will pack and ship large items like canoes and televisions to customers.
Duke Reality, a commercial real estate developer based in Indiana, built the distribution center in DuPont.