By Katie Hurley
Sixteen feet doesn't sound like much when you're talking about a building the size of a grocery store. But somehow the addition of sixteen feet to Bayview Thriftway's bakery department makes a world of difference.
In late December, a reorganization of the store's bakery added sixteen more feed of product space. Shoppers will see the benefits of the reconfiguration right away. "I think it is giving our customers a much better experience when they come to the bakery. It is now all in one space and it is more open.  We are also giving more room to local quality products that people are inquiring about," said Marketing Manager Carly Brettmann.
Local Products
The remodeled bakery includes more space for local bakery items. In the refrigerated case, a beautiful Fresh Ginger Cake from Olympia's own Abby's Cookies and Cupcakes is featured front and center. Breads and rolls from Blue Heron Bakery and San Francisco Street Bakery and fresh bagels from Bagel Brothers are all featured prominently.  Shelves full of Bayview's own homemade fudge in a variety of flavors borders the bakery and deli departments.
Freezer Case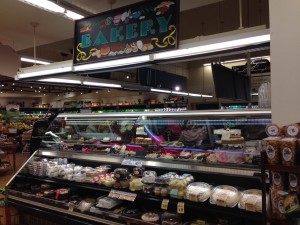 The addition of a freezer to the bakery department means some frozen specialty desserts are now located alongside the fresh baked goods. Pies, lemon bars, pastries and a host of gluten-free and/or dairy-free items such as breads, desserts and pie crusts are located in the bakery freezer.
Bread
All of the artisan breads are located in one area. Sandwich breads, buns and rolls are now grouped on shelves together with similar items.
Open Glass Display
The open glass display case features packaged cakes, pies, tortes, cheesecakes, cupcakes, brownies and desserts from a variety of bakers in almost any flavor, shape and size you could imagine. In the glass case above, you can choose from a selection of delicacies such as Alaska Silk's Limoncello cheesecake, slices of gooey carrot cake and chocolate-covered strawberry cheesecake.
Donuts, Bagels, Muffins and Cookies
The glass case full of fresh donuts, cookies, muffins and scones is now near the front of the bakery, making for a quicker grab-n-go breakfast. The bins of fresh bagels have been moved toward the front as well.
Check out the new changes and some of the great local products at Bayview Thriftway's newly remodeled bakery. You'll find all the baked goods you need, whether you're looking for everyday sandwich bread or a special occasion dessert.
Bayview Thriftway
516 4th Avenue West, Olympia
360-352-4897