By Laurie O'Brien

If you're like me, you had nightmares about the "dog catcher" coming and snatching your beloved pet, taking him to the pound, and putting him to sleep. The idea of even locating your pet at the shelter was terrifying, and the thought of all those poor animals that had unnecessarily died there was gut wrenching.
I'm happy to say that, in Thurston County anyway, those scenarios don't happen very often.  Our "pound" is actually Joint Animal Services, and they are located in a spacious building conveniently located on Martin Way in Olympia. When you enter the doors, you're likely to hear dogs barking in the kennels out back, but you're also likely to see some of the staff or volunteers' personal pets taking a snooze in a strategically placed dog bed or "helping" at the front desk by sitting on a keyboard.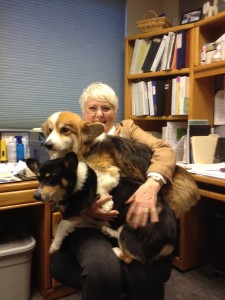 According to SuSanne Beauregard, since she started as Director of Animal Services for Thurston County in 1990, "We have been as no-kill as an open-admission shelter can be." So long as there are open cages or foster homes available, she sees no reason to put down the animals in her care. If a pet can't be reunited with its owner, then the goal is to place it in a suitable adoptive home. She herself has two corgis, one of them from the shelter and one she rescued from a breeder, as well as two rescued cats and a rescued cockatoo.
But reuniting animals and owners and providing pet adoptions is only a small part of what Animal Services performs in Thurston County.
To begin with, Animal Services is a tax-supported, multi-jurisdictional, intergovernmental organization serving Olympia, Lacey, Tumwater, and unincorporated Thurston County.
Law Enforcement
Animal Services has 12 full-time and 6 part-time paid staff members. Almost all are commissioned Animal Control Officers and are responsible for enforcing laws pertaining to dogs, cats and small domestic animals within Thurston County. They investigate between 325 and 350 animal neglect or cruelty complaints per year and refer approximately 10% of those complaints for further action.
Licensing
Many pet owners don't realize that all dogs in Thurston County must be licensed. Additionally, all cats within the city limits must be licensed. Should your animal ever be lost, the chances of it being safely returned to you are much greater if it's licensed. Plus, if an Officer has to contact you regarding a complaint you are subject to citation and fines if your pets are unlicensed.
Annual licensing fees run between $10 and $28 depending on the type of animal you have and whether it has been spayed or neutered.
Shelter/Pet Loss & Reclaim
According to Beauregard, over 7,000 animals per year come through her building. Half of those animals are "pick-ups" of strays or stranded domestic pets as well as wild animals that have sustained injuries. She cautions that her officers cannot respond to calls of wandering dogs or loose cats. If the caller is able to confine the animal, then they are able to take action.
If the animal is licensed, Animal Services will contact the owners. If not, they will house the animal for at least 48 hours before putting it on the adoption list. To reclaim an unlicensed animal, you will have to pay a licensing fee.
Euthanasia
The shelter also accepts and houses old, ill, or unwanted pets. If possible, they will adopt the animal out, but if the animal is near the end of its life, Beauregard is still willing to accept it. "No-kill shelters will turn away animals that are near death," says Beauregard, and in her eyes, that's a mistake. Many people don't want to put down their old or seriously injured pets "because of their own issues. As an open-admission shelter, I will take that (animal) and make sure it has a kind end."
Adoption
The best part of what Animal Services does is place animals in homes with families who will give them the love and attention they deserve.
There are fees for adopting a pet from Animal Services, but it is much less expensive than buying from a pet store, and even if you get a free puppy or kitten, your first trip to the vet will likely cost more than the adoption fee which includes having the animal spayed/neutered, basic immunizations (except for rabies), microchip, worming, license, and feline leukemia screening for cats.
In addition to dogs and cats, Animal Services sometimes has other small animals like rabbits, birds, guinea pigs and snakes available for adoption.  Adoption fees vary, depending upon the animal.
Thurston County Animal Services invites you to visit their facilities and check out the variety of animals they have available for adoption.
You can also visit their virtual shelter here.  For more information about the Thurston County Animal Shelter, please visit the Joint Animal Services website.