By Gail Wood

This is where Jacob Libby's inspiring story begins, in the cockpit of a single-engine airplane.
At age eight, Libby, sitting next to his dad in the co-pilot's seat, has his hands on the plane's controls. He's flying the plane for the first time, doing something as a second grader few adults ever do.
"My son has always been infatuated with flying," said Nick Libby, Jacob's father.
But Jacob's infatuation didn't stop with a dream. He's achieved. Like few others ever have.
By the time Jacob graduated from North Thurston High School in 2004, he was already a licensed flight instructor, the youngest in the entire country.  After school, Jacob headed each day to the Olympia Airport to teach. One of his students was a 52-year-old man.
On his 16th birthday, Jacob soloed in his dad's 150 Cessna, earning him his pilot's license. Because he didn't have his driver's license yet, his mom drove him to the Olympia Airport that day. After he soloed, she then drove him home for dinner.
With his eyes on the end goal – his dream was to become a corporate pilot – Jacob went to the airport nearly every day throughout high school. Stormy weather was about the only thing that kept him on the ground.
But sometimes even on those bad weather days, he'd fly because his students needed to fly in bad weather to earn their instrument rating.
"He became obsessed with flying," Nick said.
By the time Jacob graduated from high school, he already had 1,200 hours flying time. He was only 18. It was the most flight hours for someone his age in the world.
"I worked my butt off," Jacob said.
He sacrificed a lot. Instead of hanging out at the neighbor's house, playing video games with friends or watching TV – doing kid things – Jacob flew.
"I had a lot of friends who wanted to be a pilot," Jacob said. "But it takes a lot of work, a lot of studying."
Initially, his friends were drawn by the fun – flying. But they turned away when they saw the work. But Jacob stayed on task. Since his dad was a flight instructor and had his own plane, Jacob had both the teacher and the access.
"I never pushed him," Nick said. "It's just something he always wanted to do."
After high school, Jacob had another dream-come-true moment when he was accepted to Embry-Riddle Aeronautical University in Daytona Beach. Jacob was granted an exception to take the class online, allowing him to stay in Olympia and continue his flight instruction classes for three students.
At 20, Jacob got another amazing opportunity when he was hired to be the chief pilot of a cooperate airplane owned by two local businessmen. Flying a twin engine Beechcraft King Air, Jacob flew all over the West Coast.
When he was still 18, Jacob got his commercial C plan rating. When he turned 19, he earned his commercial glider rating. At 22, he was granted his commercial hot air balloon rating. At 23, he got his certificate to fly the Ford Ty motor, which is the oldest airliner in the world.
Also at 23, he got his glider instructor license. At 24, he got his commercial gyro plane flight instructor certification. At 25, he received his Boeing 737 captain's license.
To get his his captain's license, Jacob "flew" in a simulator, a mock instructional machine that simulates flying a 737 jet. It has the same control panel, cockpit and a computerized image of the scenery.  Jacob got a break when he was able to use the Alaska Airlines simulator at Boeing Field. Jacob's instructor had approval to do the ride alongs and testing portions of the training.
Jacob realized another lifelong dream when at age 26 he was hired to be a commercial pilot. He was hired by Compass Airline, which is owned by Delta Airlines, and flew out of Minneapolis, Minn., across the U.S. Not wanting to move from Olympia, Jacob commuted from SeaTac Airport to Minneapolis to start his work day. He'd work three days and then return home.
Jacob's infatuation with earning certifications hasn't ended. In early December, he was up in a helicopter working on his helicopter certifications. He's doing his training flights in Bremerton. To get there, he flies, cutting his commute time for the 90-mile trip.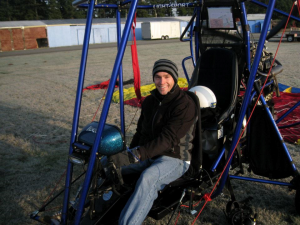 In June, Jacob, now 27, got another dream job when he was hired to fly a cooperate jet for a big cooperation in Seattle. Of the 5,000 applicants for one position, Jacob got the offer.
"I'm really the luckiest pilot in the country," Jacob said.
Perhaps. But Jacob has also worked like no one else in the country. With his new job, two weeks ago, he flew to Finland. He was supposed to fly to Brazil last week but the flight was canceled. In the next couple of weeks, he'll fly to Alaska and another crew will take the passengers to Hong Kong. There's a trip to Chile that he hopes to take in the next couple of weeks.
"I've been so consumed by this for the last 10 years," Jacob said. "But I haven't lost my excitement."
Jacob is a third generation pilot. His grandfather, Nick's dad, got his pilot's license in 1949 in Olympia. Nick earned his pilot's license when he was 18.
"I'm proud of him," said Nick, who flew for Federal Express. "He's worked hard. It's quite an accomplishment."