The day I visited Brother Bliss at his home-based processing kitchen on Steamboat Island, several bright-hued jars of berry puree were on deck, thawing near the sink.
He bought hundreds of pounds of Olympia-grown raspberries, blackberries, and blueberries this summer, as he does every year, for his company, Blissful Wunders, which has been in operation since 2006. He spends long days hand processing the harvest into purees then loading them into the freezer so he'll have them on hand to flavor his product: handmade chocolate truffles.
The main ingredient of his specialty is far from local – he sources his chocolate from a cacao grower-processor in Colombia – but Bliss, a community enthusiast at heart, incorporates as much South Sound fare as he can into his award-winning confections. In addition to the berries, his chocolate truffles are also flavored with Northwest amaretto and kahlua, regional chipotles, and filberts from Chehalis. His seasonal flavors include two more types of local produce, for his cranberry and pumpkin pie truffles. For the holiday season he has also created a Maker's Mark and an almond butter truffle.
If ingredients can't be grown locally, Bliss sources them from people who are part of his close-held circle of friends and family. Some of his white chocolate truffles, for instance, are flavored with lilikoi (passion fruit) from Hawai'i, which is also his source for oranges. His mangoes come from one tree in Miami: every year he receives a shipment from his friend, Ramon, whose father planted the tree 45 years ago. In exchange for the fruit, Ramon receives a quantity of truffles.
Bliss built his business largely on bartering arrangements such as this one. Starting with fifty dollars (he bought a cooking pot and a hotplate), he did deliveries and baked for a commercial kitchen in Yelm in exchange for his own time in the kitchen. Later, when he built his own FDA-certified processing kitchen, he allowed a number of Thurston County food start-ups to use it, including Peace, Love & Raw, Tamale Fusion, and Cakeitecture Bakery.
Bliss – who's gone by the nickname for so long, he tells me his birth name with a shrug – is just as thoughtful about community engagement as he is about his minimalist packaging, the origins of cacao (the reason he sources from South America, not the Ivory Coast), and the dietary restrictions of his customers.
His product line is all about inclusion. He makes classic truffles with cream but also vegan truffles and a chemical-free, sugarless version for people with diabetes. He doesn't use corn syrup, gluten, or peanuts. His kitchen practices are Kosher. Though he sources all organic ingredients, he has chosen not to pursue certification so he won't have to raise prices for his customers. In short, he is what he says he is, a conscious guy who wants there to be chocolate for everyone.
"My goal is to become the Willy Wonka of the family, not the Hershey's of the world," he says. "I believe in moral obligation (in) everything that I do. If you can give back to your community – give back to your people – then you really are rich."
Chocolate truffles come in many forms but Bliss chose to perfect the classic European-style confection that consists of a ganache filling inside a glossy chocolate coating. His are large as far as truffles go, too big to eat in one bite.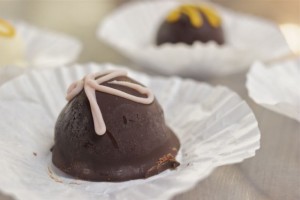 Bliss decorates his truffles, as tradition holds, with cocoa powder or with swirls colored with plant-based dyes. He also likes to use raw hempnuts, which "bring out different characteristics, different textures. It tastes like a walnut or a pinenut on your palate. It's high in omega-3s, omega-6s, and all your aminos."
Ask Bliss about any of his ingredients and you're likely to get an answer like this one, explaining how each element of a truffle interacts, the science behind chocolate processing, or the ethic that guides his years-long process of identifying just the right flavor.
Bliss grew up in New York before spending his culinary school years in Florida, where he graduated from the Arts Institute of Fort Lauderdale and all but finished Johnson and Wales University's culinary arts program. He left knowing he wanted to cook, but not by entering into the politics of a restaurant kitchen.
He excelled in his confectionary courses – for his final projects, he made a gingerbread house with edible stained glass windows and a model of the Eiffel Tower made entirely of pastillage. But doing it for a living never crossed his mind. In fact, he was glad to get the classes over with.
"I hated confectionary, (even though) I took it seriously," he recalls.
He did so well that one of his instructors, a classically trained chef, looked at Bliss one day and said, "You're going to be a confectioner."
"Chef," Bliss replied, "you bumped your head."
So he began what turned out to be a nine-year "walkabout," hitchhiking all over the country, washing dishes for a bit of money or a daily meal. Bliss's far-flung travels were less wanderlust than pilgrimage, a season that taught him balance, flexibility, and how to get by with just enough.
The same qualities are evident in a no-frills business philosophy, especially when it comes to costs outside his ingredients list. Bliss packages his chocolates in simple zip-top bags in lieu of fancy boxes, for instance, and has kept to a word-of-mouth marketing strategy.
It's working. In 2009 Blissful Wunders's confections were named "Best Dessert" at the Capital Food and Wine Festival, an honor that was repeated in 2011 and 2012. He also garnered mentions and awards at the Northwest Chocolate Festival and the Olympia Farmers Market's Taste of the Market event, among others.
Bliss takes his success in stride, saying he's motivated by sustenance more than excessive profits.
"If you have love in your heart you'll always be respected. If you have respect, you'll always be loved," he says. "And for that, I love to do what I do."
Blissful Wunders's chocolate truffles – a decadent stocking stuffer – can be ordered through his website and are available in Olympia at both locations of the Olympia Food Co-op, Jay's Farm Stand, and as the featured dessert at Uncork and Unwind.