By Katie Hurley
Holiday gatherings, whether for Easter, Hanukkah, Christmas or Independence Day, are often accompanied by creatively decorated cookies in the colors and flavors of the season. While it is easy to find seasonal decorated cookies in any store, it can be more fun to gather your friends and make your own.
Cookie decorating parties can easily be tailored to suit the guest's ages and decorating ability. Small children can frost cookies with a little assistance, and then choose sprinkles and candies to adorn them. For more experienced decorators, intricate designs can be accomplished with icing, pastry bags and tinted sparkling sugars. Your guests will have fun decorating and everyone will have holiday treats to take home.
Party Basics
Once you've decided on the date and your guest list, decide what kind of food and beverages you'll want to have on hand. If your party is between meal times, something as simple as bowls of nuts, hummus and sliced vegetables or cheese and crackers should suffice. If your party is in the evening, consider a buffet of appetizers and self-serve beverages in a room other than where the decorating is taking place. To simplify the event you could even ask guests to bring an appetizer to share. Consider asking guests to bring cookie sheets or platters with them to transport their cookies home.
Décor
Because tinted frosting has a tendency to stain fabrics, disposable or easily laundered tablecloths are recommended. Pick up a paper tablecloth with a waterproof plastic backing in colors suitable for any holiday. Festive paper napkins and plates can coordinate with your holiday theme and décor. All of the colorful decorating supplies can serve as centerpieces on the tables.
Cookies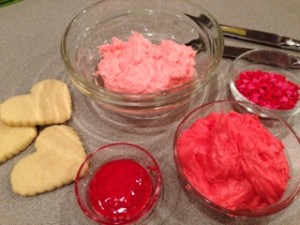 You'll want to bake the cookies in advance of your party to make sure they are cool enough to decorate. It is easier to bake them a day ahead and store them in an airtight container. That way you have the baking mess cleaned up and you know you will have sufficient time to bake enough cookies for each guest to decorate. If you are doing holiday cutout cookies, you'll find Soft Touch cookie cutters in sets of two at Bayview and Ralph's. These cookie cutters also make great, inexpensive party favors.
Cookie Decorations
There are multitudes of cookie decorating ideas on the internet. Print a few pictures to have on hand to inspire your guests as they decorate. Decide what colors and decorations you need, and make and color your frosting or icing. In the baking aisles at Ralph's and Bayview you'll find a host of decorating items including tinted sparkling sugars and sprinkles by India Tree. These are a step up from the common sprinkles. Scan the bulk foods aisles there are candies in almost every color including seasonal specialties, chocolate chips and Theo cocoa nibs, as well as nuts and dried fruits.
Setup
Decorating cookies can take up a lot of space, so clear as much room to work as possible. If you have space to set up an additional card table or two, it will give guests more room to decorate and will be a good spot for guests to place their trays of decorated cookies until they take them home. Disposable tablecloths are nice because the sticky mess can easily be rolled up and tossed. Or you could place a piece of waxed paper at each spot on the table for sticky knives and decorating tools to rest. Clear plastic cups make great vessels for candies, sprinkles and frosting, but any bowls or cups will work. Finer sprinkles are often best dispensed directly from their jars. Keep a few damp washcloths handy for wiping off knives and decorating tools when necessary.
Decorating Tools
You'll need butter knives, dinner knives or spreaders for the frosting. Other handy tools include toothpicks or skewers and pastry bags with various tips. Or you can easily make a pastry bag for each icing color using a sandwich bag or parchment paper.
The Party
Set out platters of undecorated cookies for guests to select, or put a selection of cookies at each place if you have enough room. If possible, have guests place their own platter or cookie sheet nearby so they can put the finished cookies aside for the icing to set. Have waxed paper on hand to place between layers in case you need to stack the decorated cookies before the icing is dry. If there isn't a time crunch, call for a cookie break midway through the decorating, serve a beverage like champagne, sparkling cider, cocoa or cold milk and encourage the guests to sample a piece of their work.
Party Favors
Your guests will already have a platter of cookies to take home as their party favor, but if you want to send them a lasting memento, a cookie-themed gift such as a cookie plate or a reusable baking mat from the housewares section at Ralph's or Bayview would make a nice gift. Both stores also offer packs of dishtowels in seasonal colors – give each guest a holiday dishtowel, rolled up with a colored cookie spatula and tied with bow.
Virtually everything you need to throw a cookie decorating party is available at locally owned Bayview Thriftway and Ralph's Thriftway, where you'll find a great selection of cookie ingredients and decorations, party supplies, festive food and beverages and gift items.
Bayview Thriftway
516 W. 4th Ave., Olympia
360-352-4897
Ralph's Thriftway
1908 E. 4th Ave., Olympia
360-357-8011
Thrifty Thurston highlights inexpensive family fun in Thurston County.  The weekly series focuses on family-friendly activities throughout our community.  If you have a suggestion for a post, send us a note at submit@thurstontalk.com.  For more events and to learn what's happening in Olympia and the surrounding area, click here.