By Jessica Peyton Roberts

If you are a military family looking for affordable childcare options, chances are you have looked into Joint Base Lewis-McChord's centers. With the increase in active duty military over the past decade, JBLM's childcare centers were stretched to their capacity. The Army intervened in 2011, approaching the South Sound YMCA with a proposed solution: in exchange for providing the financial backing for the Y to become an accredited childcare provider, the Y would offer childcare for Army families throughout Thurston County's elementary schools.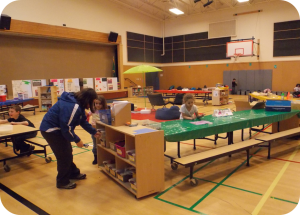 Ron White, Child Development Coordinator and Y-Care Director, explained the significance of the Army's sponsorship for the Y's childcare program. He explained that previously, the Y was a state-licensed program offering basic care and activities for children. "In traditional childcare centers, staff directs the activities and everyone does things in groups – snack time, reading time, art time," says White. Accreditation, however, elevates a program to the national gold standard of childcare, which is child-directed and an open environment.
Originally cost-prohibitive, the Army's involvement allowed the Y to revamp its "Y-Care" into a program based on the best practices of childcare and early development. White states that the greatest change in the Y's approach to childcare is a philosophical one; the staff's role evolved from directing activities to letting kids run their own site. Children have leadership roles, generate their own activities, and share tasks posted on a job chart. The staff facilitates children assuming responsibilities for their own programming, "creating intrinsic motivation and taking responsibility for their choices."
White observes three major outcomes of the new Y-Care on its participants. First, children exhibit an increase in social, life, and leadership skills. Second, behavioral problems have decreased considerably. White attributes this to kids feeling "more ownership and valued" as well as less opportunity for boredom. Correspondingly, the third effect is evident in the staff's ability to move from directing to participating in activities, able to have more meaningful interactions with children.
Today Y-Care has 150 staff members in 29 local schools. Parents can drop their child off at school and have them in Y-Care before and after classes, avoiding the extra burden of shuttling them to a different site for childcare. Most Y-Care programs are set up in a multi-purpose room or gym, with several stations of activities for children to choose from, including homework help, art, snacks, and games.
When asked about his vision for the program, White is ambitious. Although it is cost-prohibitive to get every Y-Care site officially accredited, he is confident that the training staff members receive will have a "ripple effect beyond Olympia and have a dramatic impact on the quality [of childcare] in all Y facilities." He assures parents that any Y-Care program, whether accredited or not, will operate under the same principles of child-directed activities and an open environment.
White is grateful to the Army for initiating this collaboration. "I can't emphasize enough how great the Army has been," he says. "They really are focused on impacting as many kids as possible, whether they are from military families or not." The Y is currently serving around 70 military families, and around 2,000 families overall.
For more information, click here.