By Tom Rohrer

To earn a state championship in high school athletics, it takes more than a talented roster.
Capital High School head volleyball coach Natalie Rhodes knows first-hand that talent alone cannot lead to a first place finish.
As a player for the Cougar volleyball team in the mid-1990s, Rhodes was a part of the Capital squad that finished runner up to Selah High School in the 1994 3A state volleyball tournament.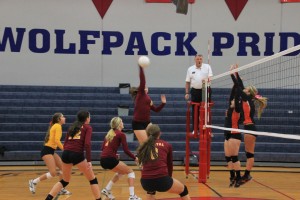 "I think back on that team I played with and what stood out is that we were all very close," said Rhodes. "We knew that we were all part of the machine and needed to be as one to win. That's one thing that I've told the girls. You can't just have one superstar. It's a full team effort – from team to coaches."
Nearly 20 years later, that second place finish remains the best in school history, and since taking over the head coaching job at her alma mater in 2000, Rhodes has worked on bringing the program the illusive state title.
Despite four straight trips to the state tournament prior to the 2013 season and a rich history full of all league players and league championship teams, the Capital High School volleyball has yet to make a serious run towards state championship game.
This season, the Cougars have taken a big step towards acquiring that championship, as Capital brought home the 2A District IV Championship following a 14-3 regular season.  CHS finished atop the Evergreen League standings.
Capital must now turn their focus on this weekend's 2A Tournament at Pierce College in Tacoma, where Capital opens with Pt. Angeles on Friday, Nov. 15.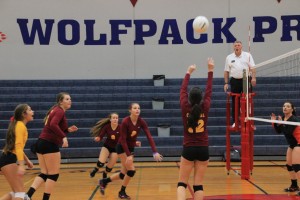 In last year's state tournament, the Cougars went 1-2 with a victory over Sumner High School and defeats against West Valley (the eventual 2A state champions) and East Valley High School.
Prior to the 2012 season, the Cougars competed in three straight 3A state tournaments, in which Capital finished no better than 1-2 for the weekend.
Armed with a talented roster full of all-league performers and this year's Evergreen MVP, Rachel Erickson, the 2013 edition of the Cougar volleyball team is hoping to make some noise against the state's best.
"I think we have the right mentality heading into the tournament," said Erickson, a junior outside hitter for CHS. "We know we can win the whole thing, and that it will take everyone giving their all to do that. It's a pretty inspiring feeling knowing that we're in this position."
Two of Capital's three defeats came early in the season.  The Cougars dropped five set matches to Narrows League opponents Olympia (4A) and Timberline (3A), who each competed in their classifications state tournaments in 2012.  These two match-ups, coupled with two standoffs against league foe Tumwater (the two schools split the two regular season matches) and state power Burlington Edison High School in the Capitol City Tournament in October and the run in the District IV tournament, have prepared the Cougars for the intense competition they will face this weekend.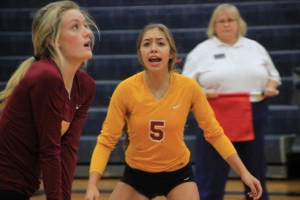 "We went up against these tough teams, but our girls practice against each other every day," noted Rhodes.  "They know how to raise up against the competition, and it starts in practice."
"I think we really enjoy those tough matches against the high-level teams," added junior setter Samantha Yorke, who earned second team All Evergreen honors.  "Now that (the state tournament) is here, we know we can compete and raise our level of play in the biggest moments."
The Cougars started the season 0-2 following the back-to-back losses to Olympia and Timberline. After five straight victories, Capital hosted Tumwater on Tuesday, Oct. 8, giving the Cougars a chance to measure themselves against the T-Birds, who have finished runner up in the 2A State Tournament the last two seasons.  On that night, the Cougars would drop their third five-set match of the season, this time against their league rivals.  However, the loss would prove to be a turning point in the Cougar's season.
"After we lost to Tumwater, we were hurting.  That was our third game that we lost and we decided we couldn't take losing like that anymore when we knew we could win these games," said junior libero Marissa Ottesen, who is the team's co-captain along with Erickson. "We had a team meeting after the loss and that was the turning point for us.  We knew we had to give 100 percent at practice and during games to win, and I think we've done that since."
Since the loss to Tumwater, the Cougars have won nine straight matches, including a 3-1 victory over Ridgefield High School in the district championship.  After last year, when the Cougars lower seed forced them to play against West Valley in the first round, Rhodes and her players know how crucial winning the district championship is to the Cougars title aspirations.
"We knew going into districts that we needed to win the whole tournament to get a more favorable draw," said Rhodes.  "Every team at state is difficult to play against, but we know that the road appears to be less challenging at this point as opposed to last year."
"More than anything, I think it helps with our confidence," said Ottesen, a first team All Evergreen League performer.  "Winning districts showed us that we can go on a run and beat some tough opponents."
What differentiates the 2013 Cougar team from those in past years?  Rhodes and Erickson point to team camaraderie and experience.
"They've been (to the state tournament) a few times and know the atmosphere," said Rhodes, who is joined on the coaching staff by 2007 CHS grad Nikki Fernandez and 2007 Black Hills graduate Sabrina Hoeks, who played collegiately at the University of Maryland-Baltimore County, a Division I program. "The girls know what it takes to win, how high the caliber of play is, and their experience gives them the confidence that they can beat any team we face."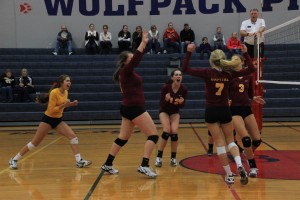 "We had a lot of talent last year, but it wasn't clicking in terms of our team unity.  I think that had to do the team make-up of five seniors and five sophomores," said Erickson, who, along with Ottesen, has started at the varsity level since her freshmen year. "There isn't that gap on the team, and everybody is friends outside of volleyball.  We're extremely close."
Rhodes has seen the CHS program rise, fall and erupt towards the top again during her time as a coach and player, and believes the work ethic of her and the coaching staff laid the foundation for the Cougars five straight trips to the state tournament.
"The girls saw how hard we worked to make this program a winner again, and they have respected us and our input," said Rhodes.  "We have girls who know they have to come in and work hard to be a part of this program."
"Coach knows our best and if we aren't playing to that potential," said Yorke.  "She has set that high standard and makes us reach for the stars."
How high can the Cougars reach this coming weekend? That remains to be seen.  But thanks to an experienced coaching staff and roster, the Cougars won't have to rely on strictly talent.