Submitted by Saint Martin's University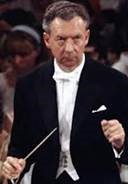 Musicians from within Saint Martin's Abbey, Saint Martin's University and surrounding communities will perform the five Canticles of Edward Benjamin Britten Saturday, Nov. 23, at 7:30 p.m., in the Abbey Church, located on the University campus, 5000 Abbey Way. The concert is free and open to the public.
The concert, organized by Br. Aelred Woodard, O.S.B., a tenor and one of the performers, is among many worldwide celebrations being held to honor the 100th anniversary of Britten's birth. He was born on the Feast of St. Cecilia, the patron saint of music, on Nov. 22, 1913. Britten was an English composer, conductor and pianist who was considered a central figure of 20th-century British classical music. His works range from orchestral to choral, solo vocal, chamber, instrumental and film music.
"The Canticles are vivid, dramatic works. Although they were not designed to be performed together, they span virtually Britten's entire career, from the early 1940s to the mid-1970s, and were composed for a variety of forces and singers. They form a remarkably effective sequence," says Woodard. "Each is in some way inspired by religion and takes the form of an extended song, scena, miniature cantata or, even in the case of the piece Abraham and Isaac, virtually a mini opera."
In addition to Woodard, the other performers include Saint Martin's faculty members such as Art Peterson, a well-known musician in the Northwest who teaches piano and music theory; Andrew Moyer, associate treasurer of Saint Martin's Abbey; Christopher Poulakidas, a Saint Martin's music graduate; Jocelyn Preston, who performs frequently in the South Sound area as a mezzo soloist; Gina Gillie, Ph.D., associate professor of music at Pacific Lutheran University and Margaret Shelton, harpist and recent winner of the Watson Fellowship. The fellowship sponsored Shelton's year-long world tour to research, perform and build harps.