Submitted by City of Olympia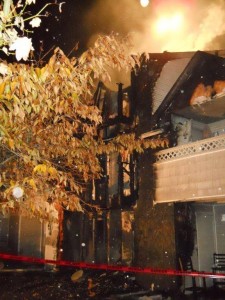 At 12:35 this morning, the Olympia Fire Department responded to a commercial structure fire in a large apartment complex at 1400 Fones Rd SE. 911 Dispatch received multiple calls reporting a fire from one side of a 10 unit building in the complex. Olympia Firefighters arrived 4 minutes later and found fire in the back of the building, extending up the outside wall to the attic spaces and roof. All the residents of the building had evacuated.
Initial arriving crews reported heavy fire and smoke from the interior of 2 apartments, the back wall of the structure, the attic and the roof. Firefighters attacked the fire from both sides of the building while ladder companies work on the roof above the fire.  A second alarm was called for additional resources.  Fire spread throughout the attic.  The center 4 apartments of the 10 unit building received significant structural damage from the fire.  The remainder of the apartments received smoke or water damage at a minimum.  The building had fire alarms but not fire sprinklers.  Neighboring buildings in the complex, although close to the fire, were not damaged.
This fire response included four Olympia Engine Companies, one Ladder Company, two Medic Units, and a Command Unit.  Lacey Fire District 3 sent one engine and a ladder truck on the initial assignment.  The second alarm brought additional units from Lacey, units from Tumwater and Fire District 6.  There were no injuries to firefighters.  One resident was treated for minor smoke inhalation and transported to the hospital.  Residents were able to evacuate multiple cats, one cat has found by firefighters and reunited with its owner, 2 other cats died in the blaze.
Units remain on scene to complete overhaul and begin the fire investigation to determine the cause of the fire. Property and contents loss is estimated at over $1,000,000.  Management at the complex and the American Red Cross were working to care for the displaced residents.  The owners will work with the City of Olympia to rebuild the approximately 20 year old building.  New construction will require fire alarms and fire sprinklers.  Fire sprinklers could have significantly reduced the amount of fire damage in this event.
For further information contact Olympia Fire Department 360-753-8348.