By Marti Schodt

High above the throng stands Don Wood. Microphone in hand and voice at the ready, he prepares to begin a night of joy and merriment.
Beneath him stands a group of maybe 50 people; some old, some young, some dressed up, some dressed down, some experienced, some novices; they all wait with eager hearts for Wood to tell them what to do. As the microphone is raised to his lips, a momentary hush falls over the crowd; they look up, their eyes alight. Wood gives the call, and they're off, skirts swirling and shoes slapping the shiny maple floor. It's 6:30 p.m. on a Thursday night and these square dancers are ready to dosey that doe until the sun shines no more.
It's the first night of lessons at Lac-A-Do dance hall, and Wood is the hall caller for the night. As a caller, Wood is responsible for calling out the steps and instructing the new dancers. Square dance lessons are offered in ten-week sets, and reasonably priced at $50 for adults, $30 for youth ten and older, and $130 for families. A great source of exercise, and a hearty dose of fun, square dancing is quickly becoming the hobby for folks looking to end the day with a little wholesome fun.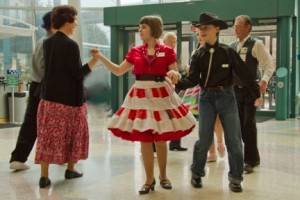 "It exercises more than your body, but your mind, your spirit," said Georgine Woolcock. Woolcock has been dancing for 27 years and accredits Lac-A-Do to saving her from homesickness after she moved from Spokane in 1989. "I had instant friends.  Everyone is so welcoming and good hearted here," said Woolcock.
Lac-A-Do is about more than just dancing. Built in 1963 on donated land (just off Boston Harbor Road), with donated timber, and donated labor, the dance hall has grown to be a community center of sorts. The structure currently hosts eight different square dance clubs, each with its own individual aesthetic and leadership.
Debbie Stevens, of Capital Singles, asserts that square dancing is good for the soul and is grateful to have found such a welcoming community, "When I came here, I was pretty broken," said Stevens, who first tried square dancing at the urging of a friend after the passing of her husband. Stevens took an immediate liking to Lac-A-Do and has since introduced her grandchildren to square dancing. "It's a safe place," said Stevens. "We're gonna laugh and giggle and have a great time."
The kids love it too. Cindy Kuc, age ten, is among the third generation of square dancers in her family. "I really, really enjoy it," said Kuc. "Everyone is so nice. When I first came here, I didn't even talk. Now I know people! I made friends, especially the callers. They're really nice." Kuc plans to stick with square dancing and take the upper level classes offered by Lac-A-Do.
At the heart of this camaraderie and companionship lays a basic, instinctual, primal, urge to dance. Wood, who has traveled the globe as a caller has seen this first hand. "Square dancing is done by every ethnic group, every class, every age group," said Wood. "It's truly universal."
If you hear the call and want to dust off your dancing shoes, there are two free intro sessions: Monday October 14 and December 5. For more information visit www.OlympiaSquareDance.com.
Lac-A-Do Hall
1721 – 46th Ave NE
Olympia, WA 98506