By Tom Rohrer

For the Northwest Christian High School cross country team, there is no rebuilding.
Every high school team is hit by losses due to graduation, with some classes having more of an impact than others.
But when a school has a familiar coaching staff with proven results, athletes of all ages can contribute when called upon.
After winning their seventh consecutive 2B State Team title in 2012, the Navigator girls must take on the task of pursuing title number eight without five of their top six runners from last season.
Gone are standout runners Anna Henry, Hailey Brederson, Megan Teigan, Allison Sowers and Savannah Schilter, all who finished within the top 25 individually at the 2B state championships last fall.
Both head coach Larry Weber and his runners alike know they need to step up to keep the impressive streak alive.
"We don't use that as an excuse," said Weber referring to the graduation of his top female runners. "They've come together, and we have lots of talented, young runners on this team.  It's the youngest team we've had in close to a decade, and at this point, we're in the middle of a season long process.  We aren't even talking about state now."
"At first, I was really sad to see [the graduating seniors] go," said junior Anna Brooks, who, after finishing fifth at the state championships last year is the Navigators top returning female runner. "But then I realized I could take the leadership they showed me and give it to the other girls.  It's gone really well to this point."
Besides the graduation of Brandon Burch, the Navigator boys return all of their top runners from a year ago when the team finished fifth at the 2B  level.  Brandon Stickney, the defending Pacific League champion, is back for his junior season after finishing 28th at state as a sophomore, while co-captain Jonathan Davis, now a senior, returns as one of Weber's top five runners for the 2013 season.  Along with Davis and Stickney, are Luke Brederson (Hailey's younger brother), brothers Luke and Levi Schilter (freshmen and junior respectively) and sophomore Colton Buster.
This influx of both experienced and young talent has led Weber to refer to the 2013 group as one of the best collection of male runners during his NWCHS coaching tenure.
"I think our guys team is coming together and it will be one of the best guys teams we've ever had," said Weber, who was named the Washington State High School Cross Country coach of the year by the Washington State High School Cross Country Coaches Association in 2011 and 2012. "The team camaraderie, support, and just the fact that they're working very hard together as a team is encouraging.  I like what I'm seeing."
Throughout the year, the Navigators compete in a wide variety of meets, many of which include runners and competition from across all levels of classification in the state. Such a meet was held this last weekend in Yakima at the Sunfair Invitational.  The renowned meet featured schools from Montana, Idaho and Oregon and has been aired on national television in the past.
At the meet, the NWCHS boys finished third among 1B-2A schools and first among all 2B and 1A schools.  On the girls side, the Navigators did not finish as highly as their male counterparts, but had terrific performances from Brooks and freshmen Kiersten Kimminau, who finished eleventh and ninth in their respective races.
Luke Schilter finished first among all freshmen runners at the meet, while Kimminau set a Sunfair Record for a NWCHS freshmen female runner.
It seems all members of the Navigators cross country team, both male and female, enjoy the prospect of taking on the best runners from around the state.
"I love big races, and there are so many talented runners at these big invites," said junior Abby McSheffery, who finished eleventh in her 3-mile varsity race at the Sunfair Invite.  "Every person in the race matters, and you won't be by yourself in the woods.  It's tough, but I like the challenge."
"I like them, the team seems to like them too," said Stickney of the bigger invites. "It gives everyone a challenge."
Weber has a luxury by leveraging the experience of upperclassmen while appreciating how the influx of underclassmen will be a competitive force for the next three or four years.
He relies on the older runners to set an example for the youngsters, while at the same time counting on the underclassman to push the juniors and seniors to new heights.
"I want to encourage and give advice," said Levi Schilter, the team's co-captain alongside Davis who was voted as the captain of the NWCHS track team as a sophomore last year. "It's a way to pay it forward and help us as a team."
In any sport, competing at the varsity level as a freshmen can be a challenge.  In cross country, it is especially difficult, given that the jump between middle school and high school competition is extremely wide.  Most often, runners come into high school with little or no coaching and do not comprehend the challenges they will face at the next level.  Thanks to the coaching of Weber, assistant coach Mike Michael and Weber's wife Julie, the transition for runners such as Kimminau and Luke Schilter has been made easier.
"It's so hard compared to middle school but now that I'm with rest of team, it's better and I've adjusted," said Kimminau, who Weber says is among the best freshmen runners in the entire state. "The coaches have helped a lot and the girls are great.  Everyone is a great runner and can push me."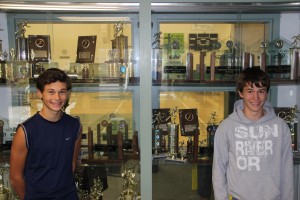 "The transition was tough since it's my first time running cross country," said Luke Schilter, whose family owns Schilter Farms in Olympia.  "For my success, I would have to thank my coach, family and teammates.  My big brother shows me how to pace myself.  Without him, I don't think I would've done as well as I have."
Weber has seen a large amount of his runners move on to compete at the collegiate level, including Lucas Graham (California Baptist University), Justin Holden (Corban University) and Weber's own daughter Elizabeth (Corban University).  Along with the state trophies, collegiate runners provides proof  that Weber's system works.
"We focus a lot on tradition, which sometime is a lost art in our culture," said Weber, who took over as head coach in 2011 after the legendary Bill Kehoe retired.  "It means a lot here, and we bring those runners that moved on to the next level back all the time.  Every runner has a plan we give them, and we can show them examples first hand of how those plans have worked."
Instead of 'trust' between the coaches and the NWCHS runners, Weber uses a different word.
"I would use a stronger word. We love these kids," said Weber.  "There is a real honesty between everyone. Things don't always go well, so it's essential we rely on our relationships to get through those tough times."
The tradition of success in the program is a highly motivating factor for the Navigator runners, as it continually pushes them to work harder.
"Yes, it's very nerve-racking because we've won state seven years in a row," said McSheffery.  "We don't want to break the streak."
"I want to make it big, just like them," said sophomore Lina Hoffman, an alternate on the state championship roster as a freshmen last season. "You want to be part of the legacy here."
For Weber, the low race times and high finishes at meets and the state championships pale in comparison to the admiration he has for his athletes and their parents.
"I say it all the time, we have state championship parents here.  They are always helping with whatever we're doing at the time," said Weber. "And any coach is as good as his or her athlete's work ethic and desire to improve.  I've been blessed to be a part of this program that was really started by Kehoe.  I think we've done a great job at continuing the tradition."
For more information on the Northwest Christian High School cross country team, visit http://www.northwestchristianlacey.com/.
To stay in touch with the NWCHS cross country team's results, click here.