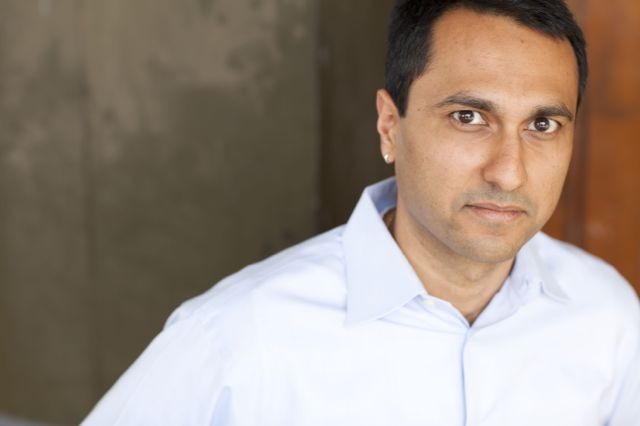 Submitted by Saint Martin's University
"A defining point of the 21st century will be how people who orient around religions in different ways are going to interact with each other,"
nationally recognized interfaith leader and author Eboo Patel, Ph.D., said Thursday, Oct. 3, during remarks before a crowd of student leaders during his day-long visit to Saint Martin's University.
"One of the world's great needs is building bridges between people who orient around religions differently," Patel noted later in the day to a gathering of representatives of educational, religious, local government and non-profit entities from neighboring communities during an "Interfaith Dialogue Dinner" the University hosted in its Norman Worthington Conference Center as part of Patel's visit. "When people from different backgrounds come together in solidarity, that is sacred."
"And for anyone who says, 'Religions are all the same,' there's a reasonable chance they don't know all that much about religion," Patel stressed. "I don't think we should pave over the differences in religions — just because they're different doesn't mean there are not profound commonalities among them where we can do beautiful things together."
Patel, a Muslim born in India and raised outside of Chicago, was invited as the inaugural speaker for the University's new Benedictine Institute Lecture Series in his capacity as founder and president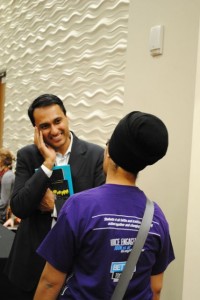 of the Chicago-based Interfaith Youth Core. Patel established the organization to unite young people of different faith backgrounds around service and dialogue. The IFYC is powered by the belief that acts of meaningful service built around interfaith cooperation and understanding provide common ground for people of all belief traditions – religious and non-religious – and lead to a society characterized by mutual respect.
The idea is to learn to appreciate the beauty inherent in another's faith beliefs and traditions while still remaining loyal to one's own. "You want to be rooted in your own truth and, because you believe in its truth, you can reach out to build bridges with people who are different than you," said Patel during his inaugural lecture, which was held in the University's Marcus Pavilion following the dinner and attended by more than 700 people from the campus and surrounding communities.
"The reason why Saint Martin's University is launching into a robust interfaith exchange is precisely because its Catholic and Benedictine roots inspire you to this effect," Patel told his audience. "Otherwise, how can you be a Catholic university devoted to peace-keeping if you don't work with people of other religions?"
The University invited Patel as the inaugural speaker for the lecture series because his model of interfaith understanding and cooperation resonate with the University's Benedictine values and core themes of faith, reason, service and community. The first of Patel's two books, Acts of Faith: The Story of an American Muslim, the Struggle for the Soul of a Generation, has been selected by the University as the common book for its 2013-14 First-Year Seminar.
Saint Martin's Associate Dean of Students John Hopkins, who directs service and diversity initiatives on campus, has been instrumental in identifying ways to integrate Patel's concepts into the University's long-standing Benedictine tradition. Patel's upcoming visit was an initial step in this process, said Hopkins, who hopes to involve neighboring communities and congregations throughout the Pacific Northwest.