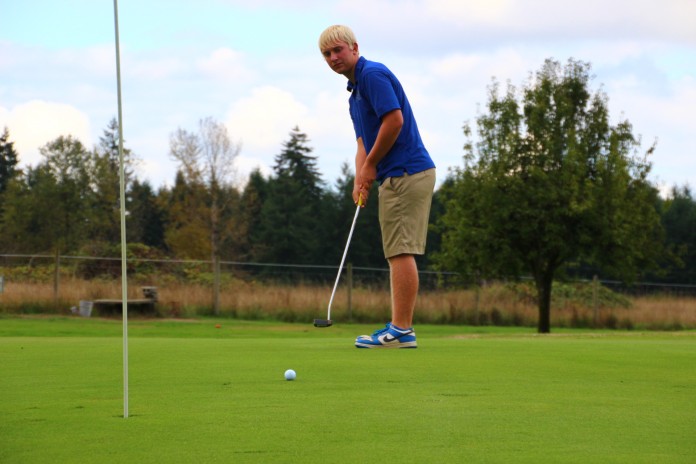 By Tom Rohrer

For the majority of 'golfers,' a forecast of rain or high winds can deter them from taking on 18 holes.
The possibility of snow can drive a links enthusiast to store the golf clubs, waiting for drier and greener (literally) pastures.
However, there are those out there who cannot go into hibernation away from the sport, regardless of the conditions.
Rochester High School golfer Deric Hawes is one of those individuals.  Wind, rain, sleet, hail or snow will not slow down the senior on the course, effectively making him the Postal Worker of Washington State high school golf.
"We came out here with pink balls in the snow," said Hawes, a three time 1A State Golf Tournament participant.  "There was about three inches, and you couldn't see the grass.  We dug up around the holes, put on huge gloves and grabbed our 8 iron and putter.  It was tough to putt, but we still had fun."
The course Hawes is referring to is Gate Ranch Golf Course, a 9-hole Par 3 layout about two miles west of downtown Rochester.
Around the time the course was built, Hawes and his family shared a fence post with Jim and Bill Dunson.  The brothers own and operate Gate Ranch.
"We shared a fence between these trees and one day I was running the property on my quad and I looked down, to where the course is now located, and I thought, 'what the heck are they doing?  Are they making a golf course?'" said Eric Hawes, Deric's father.
A few years after the course was opened, Deric moved from his makeshift course in his living room, out to the grassy, well-kept pasture at the bottom of the tree line.
"I was always just playing with my plastic clubs in the house," said Hawes, who finished second in the 1A District 4 championships last year.  "I didn't play regular courses until way later."
Up until his eighth grade year, Derick was a baseball player, and only played golf casually with his father and grandfather Dave Olson, both golf enthusiasts.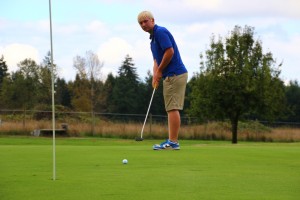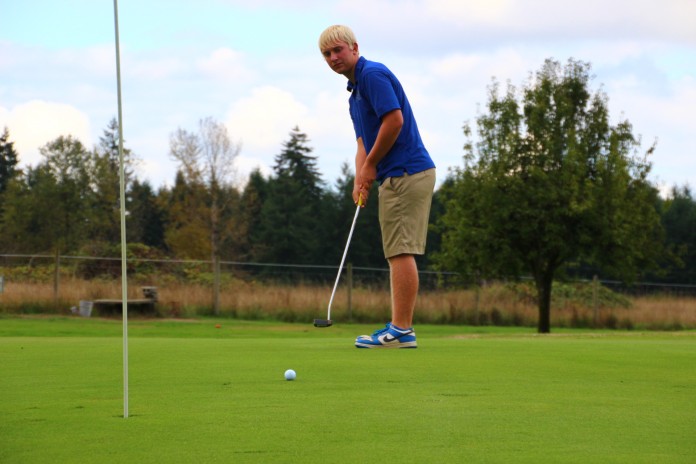 Rochester High School golf coach Mike DeBruler convinced Hawes to practice with the high school team that same year, and quickly Deric was bitten by the golf bug that has claimed so many individuals throughout time.
"I love the fact that I have the chance to win by myself.  I love competing and winning," Hawes said. "I'm in control and I always seem to get that one shot that keeps me coming back."
The enthusiasm Hawes shows for the game and in the classroom makes DeBruler's job that much easier.
"I think the big thing is that Deric is an ideal student athlete. He competes in class room, does all right things in school and that transfers to the golf course," said DeBruler, who is in his eighth year coaching the Rochester boy's golf team.  "He's a great kid, and I think I've learned more about golf from him than he has from me.  Every coach will say this, but if your best player is the most committed on the team, it makes your job easier.  He's always the last guy to leave the course, and the impact he's had on the program is extremely positive."
After missing the cut during the first round of the 2011 State Tournament, Hawes rebounded with a top 30 finish his sophomore year.  Last season, Hawes rose to the top 20, and entering the 2013 campaign, he has his eyes set on a run to the top.
"I would be pretty disappointed with anything outside of the top five," said Hawes, whose younger brother, Brock, is a sophomore on the RHS team.  "I think my consistency improved a lot since last year and I'm just keeping the ball in play at a higher level."
Hawes' game certainly will see improvement following a trip to the games birth place this past summer.
Like former Tumwater High School and current Pacific Lutheran University golfer Seth Nickerson did in the summer of 2012, Hawes traveled to St. Andrews, Scotland to participate in the American High School Championships.  Hawes was accompanied by his grandfather Dave Olson, and throughout the seven day overseas trip, Deric played several courses within the famed St. Andrews Complex.
By luck of a lottery drawing while in Scotland, Hawes and his grandfather were able to play on the Old Course, one of the most famous in the world.
Hawes was invited to the American High School Championships following his sophomore year but initially thought the invitation was a scam.
"I got the letter from New York and my friends told me it wasn't real, and I assumed they were right," said Hawes, who is a straight-A student. "Eventually, I got another letter, and filled out the application and they accepted me.  From there on, I got a lot of donations from Rochester businesses and my grandfather."
After a golf trip of a lifetime, Hawes is back and focused on the season and school year at hand.  Hawes has yet to make a decision on where he will attend college and if we will play the sport he loves at the next level.
"I've looked up (Professional Golf Management) programs around the country, and Walla Walla Community College and the University of Idaho are the closest," said Hawes, who is interested in land surveying.  "So far, I haven't decided college stuff, but my dream is to play golf in college.  I want to go on as far as possible."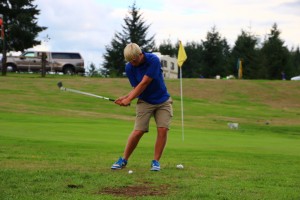 As the oldest of three golf obsessed brothers, Hawes gets plenty of competition every day that allows him to keep pushing himself towards the next level.
"Some say Landon (age ten) will be the best of all of us, and he's been playing courses at a way earlier age than I did," said Hawes referring to his youngest brother. "But it's fun having Brock on the team.  When he is playing well, it makes me play even better because I don't want to lose to him.  But I'm always trying to give tips to him and the younger guys."
What Hawes cannot pass down is his passion for the game, as it is likely he will find a rival equal to him in that category.  If you don't believe it, head down to Rochester on a snowy day this winter, and see who decided it was nice enough to hit the links.