By Britta Folden

Wandering across a sandy beach at sunset, foraging for the freshest clams straight out of the salty water, wind in your hair, waves crashing… this may have been what many experienced at this season's opening razor clam dig at Twin Harbors beach. I, however, went clam digging the next day.
The Washington Department of Fish and Wildlife announced the first of the evening razor clam digs in September. My interest was piqued. Being a native of Grays Harbor, I had been clam digging as a child with my family. The memories are faint, but I do recall balking at the idea of putting my arm down a dark hole to pull out something sharp and yet somehow also slimy. My clamming career came to a screeching halt.
Upon returning to Grays Harbor as an adult with a little more of an adventurous side and a taste for all foods that grow out of the sea, I knew I had to try this clam digging thing again.
I was unable to head out to the beach on the opening night, which turned out to be beautiful, so the next morning I psyched myself up for a night of digging in the cold rain. "It's going to be awesome," I kept repeating to myself.
First things first, clam digging requires a license. I picked up my license at a grocery store in Hoquiam for $13. Not a bad deal when you consider that the license is good for an entire year and allows for a limit of 15 clams per person, per dig.  (Find a complete list of vendors that sell WDFW licenses here.  Also, you may want to review the state's official rules and regulations regarding harvesting razor clams.)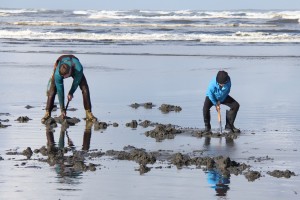 It is important to note that I did not set out on this adventure alone. I had an experienced clam digger along with me to show me the tricks. We packed up our gear: two shovels, sturdy gloves, two netted bags, boots and some spare clothes. I also brought along my waterproof case for my phone. As we drove out toward Westport and hooked left to drive south to Grayland, the sun was setting, the rain was pouring and there was a stream of headlights heading toward us. Obviously, these people were not as hardcore as us Harbor people. Right?
We hit Grayland and made a turn onto a beach access road. While you are allowed to drive and park on the beach, I wasn't prepared to get stuck, so we parked along the road. I savored one last moment of feeling warm and dry, then hopped out of the car, grabbed the gear and started walking toward the ocean. The sun was setting behind the clouds, creating a very strange glow in the sky while the rain began to soak us.
"It's like we're heading into battle," noted my clamming partner. I agreed that there was a sort of epic-ness to this whole event. We had come to conquer the clams!
The light was slowly fading, but we had enough to get to work. Many of the people on the beach that night had brought their clam guns; long tubes that you push into the sand and (hopefully) pull up a clam.
We decided to go for it the old fashioned way: use the shovel to start a hole then get down in there with your hands. This method is obviously a little messier than the other option, but also pretty fun once you give into it and just embrace the wet sand. Our light was fading quickly. I was having a hard time figuring out where to dig, but I did nearly catch a clam or two. The more experienced one of our dynamic duo did most of the work, really. Though he did let me pull out a clam that he had a grip on, so I could feel that I had accomplished something. I'll be honest, it felt good.
The sun was down and we did not come prepared with lights, so we called it a night with our six squirming clams. Many of the other diggers were also clearing out at that time, but if you're a real party animal (and have a headlamp) you could dig for a bit longer before the tide change.
We pulled off a few tricky maneuvers to get changed into dry-ish clothing (there is no public restroom on this beach, FYI) and headed into Westport to warm up with a beer and some hot clam chowder at Half Moon Bay Bar & Grill. Despite the sand in our teeth from the beach, the chowder was delicious and warmed us up quickly.
Surely the clams we dug up that evening will be just as tasty and worth the extra effort. If nothing else, it was a good arm workout.