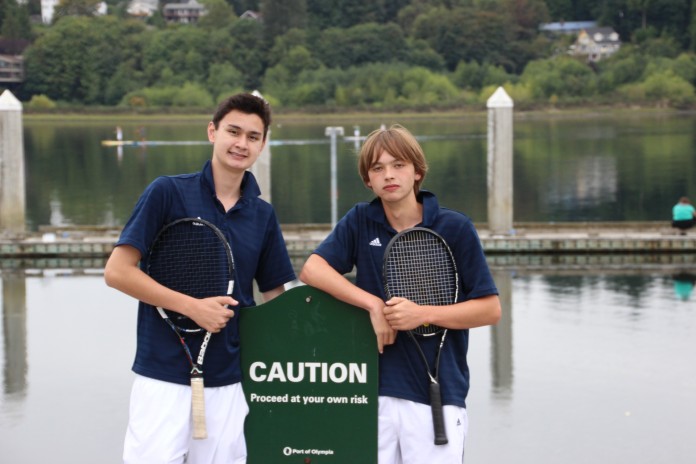 By Tom Rohrer

Numbers are just that: numbers.  A young age, tall height, or any other figure cannot hinder talent, desire, work ethic or the will to win.
This is certainly the case for the Jamie Bautista and Ryan Adams, a freshmen and sophomore respectively on the Olympia High School varsity tennis team.
The two underclassman are the top two singles players for the Bears, who are the defending 4A Narrows League Champions.  They knocked off perennial power Bellarmine Prep of Tacoma for the title and went 15-0 in dual matches throughout the season.
With the graduation of standout John Stormans, now playing for Saint Mary's College in Moraga, Calif., the Bears and longtime head coach Denny Bailey will depend on both Bautista and Adams, and the top doubles duo of juniors Kyle Wooten and Will Berghoff, to keep the league championship in Olympia.
The loss of the graduated players has yet to hamper the Bears.  They had an extremely impressive performance this past weekend at the Kentridge High School Invitational Jamboree.  Olympia varsity players, which includes number one and two singles and one-through-three doubles teams, lost only one match of ten en route to winning the jamboree handily.
So far, Bailey is impressed with the moxie of his young singles players, and has always had confidence in Berghoff and Wooten.
"They (Adams and Bautista) compete, and they know the game to the point where they aren't surprised by shots.  They can plan well," said Bailey, who has coached the team for 13 seasons.  "All last season, I thought Kyle and Will were our best doubles team, and they ended up proving it at the 4A State Tournament.  They could have a big year."
Standing at five feet two inches, Adams will not intimidate based on appearance. That quickly changes when you see him play when he generates a lot of power on his back hand and forehand alike while having the ability to track down shots due to his quickness.
"The form is the key," said Bailey.  "The angle he takes on the swing, he can use all his power and it's so crisp coming off his racket."
"He gets every ball back," said Bautista of Adams.  "He has a lot of determination for every point. He just never ever stops, and then he can hit a winner before you even realize he got to the ball."
Adams, who had played against Bautista a few times before this season, is very impressed with his younger teammate.
"Jamie is a really good stroker.  He puts shots down the line, winners, and his net play is awesome," said Adams of his teammate Bautista. "It's a tough match whenever you play him."
After hitting together for the majority of the pre-season practice, Bautista overtook Adams as the Bears number one singles player following a challenge match between the two players last week.
Playing against each other every day has been a beneficial process for the two young players.
"It's a grind, but it makes us better," said Bautista, whose father played tennis at the Air Force Academy when in college.  "We need that."
"There's a lot of good players out there.  We both want to get to state, and this is a good way to hit the ball, stay sharp," said Adams, who like Bautista practices at Capitol City Tennis Center in Tumwater.  "We like the competition."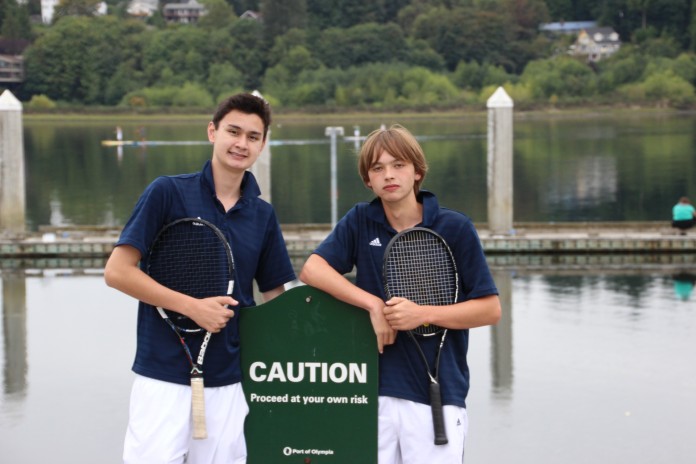 The two also follow the example that players, like Stormans, set in front of them.
"It makes you want to work harder, and just try to get to that level," said Bautista, who has played in several national tournaments and is considered to be one of the top, if not the top, freshmen players in the state. "There's a tradition and you have to respect that."
"John taught me to never get angry, always just put that point behind me," said Adams, who won 6-0 in both of his matches this past weekend. "I want to always have that attitude.'"
Last season, Olympia was blessed to have two doubles teams qualify for the 4A State tournament in Berghoff and Wooten along with the duo of Nate Stahley and Kyle's older brother Chad.
All season long, Berghoff and Wooten were in the number two doubles spot behind the two seniors.
"I knew they were a better doubles team, but they just couldn't get passed them in practice," said Bailey.  "And then it all came together at state."
Wouldn't you know it that in the second round of the consolation bracket, after both teams dropped their first round match, the two Oly pairs would face-off.  Only this time, it would be Berghoff and Wooten, the younger one, moving on.
"It was pretty fun (to win).  We had lost to them every single time," said Kyle Wooten, whose mother played tennis at Sam Houston State. "We just reversed it, and that was sort of like the breakthrough for us."
"I had to brag a little bit," Wooten added about his brother.
The two would drop their next match and be eliminated from the tournament, but the experience gained from playing against the best in the state gave the two confidence heading into this fall.
"We began playing with more energy and we're more animated," said Berghoff.  "We saw that improvement all through the year, and it finally came together.  It helps us a lot going into this season."
"Knowing a lot of people we we're facing last year were seniors.  They're gone now," said Wooten.  "The door is open."
With high expectations for the upcoming state tournament this Spring, Bailey hopes the Bears challenging non-league schedule, coupled with matches against traditional powers Bellarmine Prep, Stadium and Gig Harbor will help keep the team motivated throughout the fall.
"They need to stay sharp, and ready to compete at a high level at any time," said Baley, who has been employed with the Olympia School District for over thirty years.  "What I like, is that the kids love those matches.  They get up for those matches."
"It gives us a chance to see what it would be like at state and at districts," said Wooten.  "It's the best way to simulate that."
For his players, Bailey's influence stems far across techniques and strategies.
"He keeps us positive and always pushing foreward," said Adams of his coach.  "He always says move on, move on, and that what it has to be."
"The way he always tells us to keep the momentum is big," Berghoff noted about Bailey. "It's important to keep that carrying over, and I think that's something that helped us take the next step."
Bailey credits all his success to the quality of kids he's coached and their families.
"I'll tell you, I have been lucky to have coached some great kids who were raised in great, hardworking families," said Bailey.  "I don't have the attitudes.  They always want to play and get along well.  It's a great luxury to have."