By Tom Rohrer

The top high school cross country runners will gather in Thurston County on September 14 when Capital High School hosts the annual Capital Invite.  Featuring 33 high school teams and 11 middle schools from across the state, each runner will be displaying his/her skills.
The Capital Cougars will face off against high school teams from Olympia, Tumwater, Black Hills, River Ridge, Shelton, North Thurston, Timberline, Rochester, Montesano, Rainier and Northwest Christian.  The Olympia boys are ranked #6 in the 4A coaches poll while the Northwest Christian boys are fourth in the same poll at the 2B level.
On the girls side, Capital is fourth in the 2A coaches poll, Northwest Christian #2 in 2B, while out of area participants Peninsula and Prairie are third and fourth in the 3A poll.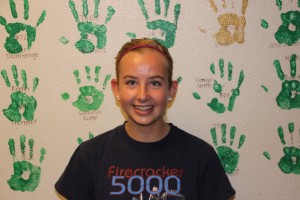 While the size of the meet is not unmatched, the Capital Invite features a unique format in which racers split into grade level for the 2.23 mile race rather than competing along traditional varsity and junior varsity lines.
"It's just so much different than other meets because you go against your own grade, the people you compare yourself with a lot," said Capital High School junior Lauren Pierson, who finished second among sophomore girls in the event last year.  "It's unique, and just a fun day and thing to be a part of."
Pierson, who finished tenth at the 2A cross country state championships last year (top finisher among CHS runners), was part of the Cougars third place team at last year's finals in Pasco, the best finish in school history.
The Cougars are not the only team participating at the Capital Invite with high level returning talent.
Olympia High School junior Peter Kesting finished twentieth individually at the 4A State Championships while junior Sophia Kane finished fourth on the ladies side, the highest individual performance among Thurston County athletes.   Kesting and Kane both won their races within their respective age groups at the Capital Invite in 2012.
As a freshmen last year, River Ridge's Ashli Ayers made her own mark at the state level as well, finishing 27th in the state cross country meet.
The only Hawk competing at the State Championships, Ayers is ready to build on a successful track and field season this past spring and get a great start at the Capital Invite.
"I already feel more competitive, more confident," said Ayers, who finished fifth at the 2A State Finals in the 800m and ninth in the 1600m last year.  "I'm excited to get back out there and compete, and this is a great event to get back into the swing of things."
Among Ayers competition in the sophomore division at the invite will be Tumwater's Alex Bonner.  Bonner, who finished third in the Capital Invite last year, took 33rd overall at the State Championships last fall.  A friend of Pierson, Bonner thinks the event is a great way to measure herself against the competition.
"You definetley keep your eye on other local runners throughout the year.  It's a way to measure yourself," said Bonner.  "And you want to win, you want to show them your ability because a lot of these runners are our competition throughout the year."
Bonner's male teammate Brent Knutzen had an eighth place finish at the Capital Invite in 2012 before going on to finish 49th at the state meet to end his junior season.  A state final participant in the 800 meters last Spring, Knutzen is hoping the work spent on improving his mental game will pay off on the course this season.
"I think that's what I worked on, focused on the most – my approach," said Knutzen, who is not only a competitor but also friends with several of the Olympia High School boys long distance runners.  "I need to do that to get where I want to be and accomplish [my goals]."
Knutzen believes the Tumwater boys team has a chance to qualify for state as does fellow senior Ben Monk, a runner at Capital High School who finished 17th in the state last fall.
"I hope we can make it to state and be competitive there," said Monk, who took second place at districts in the 3200 m during track season. "I know that I didn't do so well at state my sophomore year, and was able to make improvements there.  A lot of it is gaining that experience."
Pierson does not shy away from pressure facing the lady Cougar runners this year.
"We have high expectations," said Pierson, who took 8th and 4th in the 1600 m and 3200 m respectively at the State Track and Field Finals. "We know what we expect of ourselves and I think we're ready to make it happen."
For the 2A runners on local teams, this event has a foreshadowing effect towards the rest of the cross country season.
"I'm running with Tumwater girls and Capital girls all time," said Ayers, who hung out with Capital and Tumwater runners at the State Championship meet in 2012. "They're my friends, but I'm trying to beat their times. It's still competitive but friendly.
"You have to be able to handle your nerves because you get excited racing against these runners," said Bonner.  "It's the perfect way to get in the groove."
The Capital Cross Country Invite will be held all day at Capital High School on Saturday, Sept. 14.