By Alyssa Ramsfield
Signs of the history of brewing are evident across Thurston County. The most prominent reminder would be the old Olympia Brewery buildings. Beer hasn't flowed through those rooms for many years, but did you know that isn't where Tumwater's legacy of beer began? In fact, one of the earliest settlers to the area didn't focus on the infamous slogan, "It's in the water," but instead is believed to have adopted the idea, "It's in the hops."
George W. Bush settled his family in Tumwater after a long journey through the Oregon Trail in 1845. His family, along with the notable family of Michael T. Simmons, moved north of the Columbia River and settled on the fertile region to start a farm. Using only seeds they had brought on their expedition, they began growing crops.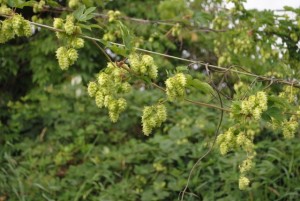 Bush's crops took off quickly in the fertile ground. As more and more people began to settle in the region, the need for proficient farming became a focus. Bush was well known for helping others get started in their growing by providing seeds and advice. His generosity made him a well-known figure in the area and influenced the community as a whole.
It's believed that among Bush's many varieties of crops was a hop plant. While the time frame for the planting of said hops is unknown, it is well known that by the 1880's hops were growing not only in Olympia, but on farms across the territory. While Bush may have been one of the first people to plant hops in Thurston County, many historians believe local brewer, Charles Wood, is to thank for the growing boom. Wood brought hops to the region from England after the Civil War and gave his plant to many brewers. By 1884, over 100 farmers were growing hops in Washington.
When Mark Clark and his family purchased Bush Prairie Farm five years ago, he found a pleasant surprise on the property. "I initially found the hops growing through our fence under a large blackberry bush," explains Clark. "The hops were pushing out of the thicket and thriving with no fertilizer, growing routes, or much sunlight. It was interesting to see the plant doing so well even though it was not being taken care of in any way."
Clark began doing research about his findings and stumbled upon some interesting information. "The Washington State History Museum makes mention of George W. Bush and his sons attempting to grow the plant on the property. It's very possible that the plant I found may be the same one planted so many years ago," says Clark.
"There is still a lot of information we need to find out about the plant," describes Clark. "We don't know the exact variety, the best way to grow it, or the quality of beer it will produce. It's a peculiar case as it seems to be disease resistant. We have been trying to grow it in different ways including using locust poles and vines. It really took off up the poles, but it's still growing under the blackberry bush too. It seems to grow no matter where we put it."
With the emergence of this incredible hop plant, brewers across the area have shown interest in using them to create the next great local beer. "We've had some inquiries from different breweries in the area about making beer with them," says Clark. "I think if we offered it to any brewer they would be curious in seeing what they can come up with. It's an interesting concept to create a beer from a plant that may have been here before city limits."
Olympia Beer has left its imprint on this area. You can find beer pride among community members through logo on shirts, bumper stickers, and even debit cards toting the well known logo.  However, it might be time for Oly to step down as reigning beer champion of the area and make way for the next great batch to come out of Tumwater.
Ale made from aged hops, planted by a significant settler, and straight from our own backyard – now that's a beer we could all be proud to pour!
Cheers!