By Tom Rohrer

While Lane and Peyton Russell each finished 12th in the nation in their respective age groups at last month's USA Track and Field Junior National Championships, it wasn't the most impressive angle of the brother/sister combo's story.
The most impressive fact of the Russell's triple-jump performance at the meet, which was held in Greensboro, NC, was that neither of the two was satisfied with their marks, even though they ranked amongst the best in the country.
"I look back at it and think that we should've done better," said Lane Russell, an incoming senior at Tumwater High School who is the defending 2A state champion in the triple-jump. "My best mark would've put me at fourth or fifth, and if we had those type of jumps, who knows."
"I'm really not satisfied at all with where I'm at," said Peyton Russell, who finished second at nationals in the event last year and took fifth place at the 2A level in Washington as a freshman this past May.  "I'm just going to keep working hard, pushing myself and go from there."
Peyton is lucky that she can see first hand exactly what hard work on the track, and in the classroom, can bring.  After his performance the last few years (both Peyton and Lane are school record holders in the triple-jump) at both Tumwater and for Tacoma's Flying AJ's track club, Lane has generated interest from a variety of the top track and field programs in the country, both academically and athletically.
"I'm talking to about six schools seriously, and in no particular order – Cornell, Princeton, Stanford, University of Pennsylvania, Duke and Yale," said Lane, who was the top jumper from Flying AJ's at nationals this year. "Ideally, I want to be accepted and committed by November, and will take up to five official visits before that point."
Peyton is motivated by seeing how Lane's hard work has resulted in options.  "He is my role model and I've done everything he's done, and where he is at right now is my end goal," said Peyton, who finished second amongst Flying AJ's female athletes at nationals. "It hasn't been one thing he's done or said, but knowing that performing school work and track with equal focus can lead to great things is significant and has helped a lot."
Lane is happy to pass down anything he can to his sister.
"Yeah I push her a lot, not just on the track but with academics too," said Lane. "She has high goals and I want to help her reach those goals any way I can."
After their performances at the 2A state meet, the Russell's were looking at this summer as another way to showcase their skills without the hindrance of a nagging injury.  Both Lane and Peyton were not close to 100% health during the high school season, and Peyton only came on strong towards the end of the spring.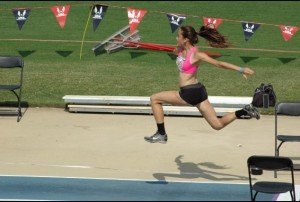 Like all competitors, both Russell kids want to build off their success from the high school slate as quickly as possible.
"Even right now I wish there was another meet. It was good having something after high school because I was just starting to get healthy," said Lane.  "Now I'm doing well and really was healthy the last three meets and had no issues."
"I'm still not 100 percent, so it's reassuring in a way that I know without the injuries, I could've done better or gotten a better mark," said Peyton.  "I'm taking this month off from the track just to recover fully."
When ThurstonTalk.com last talked to Peyton following the 2A state meet, she noted she was making changes in her life, such as a switch to a healthier diet and a focus on core strength and flexibility.  Already, she is noticing the difference.
"It has (helped) and made everything a lot easier," said Peyton of those changes. "I feel more energized and it's a great feeling knowing that you're doing something good for yourself."
Lane is also taking some time off from the track and is performing similar core and flexibility routines as well.  The two are also working specifically with their club coach Nate Wilford, who has led some of the best long and triple jumpers in the state's history.  Competing on a team with not only first class jumping athletes, but top flight sprinters as well, has helped the Russell's development in a huge way.
"It's not just the jumpers but training with the great sprinters as well…we run with them, they push us incredibly hard," said Lane of his Flying AJ's teammates. "I'm practicing with Gifton Okoronkwo (who finished 16th at nationals) and he's jumping 45-46 feet.  You don't want to lose to someone you train with and it's always a competition.  It's different to lose to someone you don't know than to someone you train with and has the same opportunities as you. It can push you a bunch."
"Chinne Okoronkwo (who finished second at nationals) and I practice together and at meets go at each other," said Peyton Russell.  "It's nice to have someone to go up against and help motivate you to go farther."
At this point, the Russell's are near opposite ends of the spectrum.  Lane is nearing the end of his high school career, has a state championship under his belt, and its ready to make a collegiate choice.  Peyton, one of the younger Flying AJ's athletes, is the up and comer, with a long and promising high school and club career on the horizon.  Each situation offers up a different perspective from the two.
"It really is so hard to believe that I'm a senior and it doesn't seem long ago that I was just coming into high school," said Lane.  "Knowing that all the recruiting is based on your junior year, it's kind of like I'm already done.  When my senior season comes around, I'll be committed and done applying so I'll just be doing track only for the first time in a while."
"On both teams, I was definitely one of the youngest competitors," said Peyton Russell.  "That doesn't make a big difference to me.  I'm just going out and doing my best.  I know I have to work a lot more and a lot harder, but I'm in a good place right now."
Sounds a little like Déjà vu to Tumwater and Flying AJ's opponents.