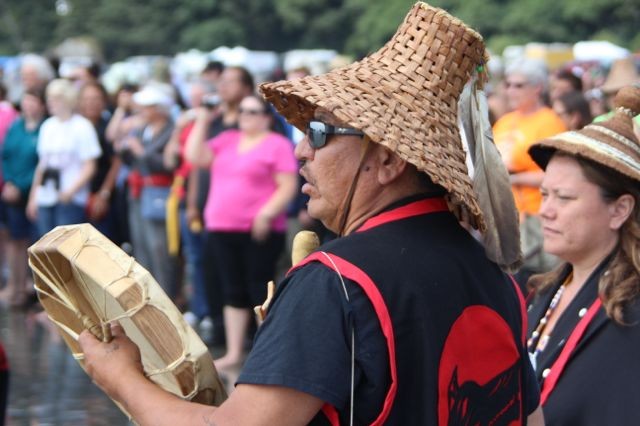 By Tom Rohrer
On the beach near Point Grenville, within the Quinault Indian Nation, one can feel in harmony with nature.  With an expansive forest nearby, sea stack rocks and a bountiful sandy beach, the area is a perfect representation of the Washington State coast.
Not surprisingly, it was an ideal landing point for Paddle to Quinault 2013.  For the 24th consecutive year, native tribes travel by canoe to congregate for a week of protocol and celebration.
Thousands welcomed the weary paddlers on the sand, paying respect to the individuals that had to face the rough perils of the ocean to get to the desired location.  Luckily, the early clouds subsided in the afternoon, and the sun warmed up everyone in attendance and certainly those who just stepped onto shore after the long journey.
The historic Lady Washington patrolled the waters just beyond the shore, adding to the historical mood of the day.