By Kate Scriven

Beer lovers rejoice.  The Olympia Brew Fest is returning for a second year with more beer, more food, and more music making for a perfect night on the Olympia waterfront.  The event, slated for August 3, will again fill the Port Plaza with Washington and Oregon craft brewers offering tastes of their lovingly created beers.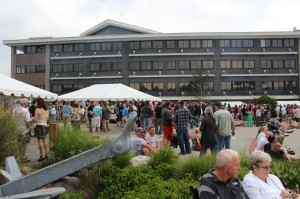 The Olympia Brew Fest is the brainchild of longtime resident, and beer aficionado, Mike Marohn.  "I've been to a number of brew fests around the country and I've always felt we, here in Olympia, could do a better job," he shares.  "I stood at the Port Plaza during Sand in the City a few years ago and thought, 'On a beautiful day like this, it would be awesome to have a Brew Fest right here,'" Marohn says of the inspiration of the event.
Capitalizing on Olympia's long brewing heritage is an added plus. "It's really neat to have the brewing history here, but also a little sad," explains Marohn.  "We all drive past the empty brewery and hope to see beer-making come back to Olympia someday.  The Brew Fest is a nod to that history."
But it's not just a love of beer that prompted him to organize the event.  It was a desire to support the Thurston County Chamber Foundation, specifically the Small Business Development (Incubator) Program.   The program helps small businesses and entrepreneurs with the resources needed to help their business grow.  Use of office space, supplies such as a copiers and hands-on training are all offered.
So, drinking great craft beers for a good cause?  That's something most people can get behind, and Marohn is counting on more people than ever.  The space will expand out of the plaza area, in front of Anthony's restaurant.  With thirty-two breweries scheduled to participate along with five food vendors including Marv's Marvlus Pit BBQ, Blend Café, Riverbend Restaurant, O'Blarney's and salmon cooked in the traditional style by the Chehalis tribe and provided by the Lucky Eagle Casino, the Olympia Brew Fest will need the extra space.  Three bands will entertain throughout the event with blues, rock, and funk style music.
Olympia Brew Fest will begin at 1:00 pm on August 3, with the last pour happening at 8:00 pm.  A $25 ticket buys you a commemorative mug and six, 5.5 ounce tastes.  A $5 military discount is offered as well.  Additional tastes can be purchased inside the event.  All designated drivers will receive root beer and water with a $5 admission.  Tickets can be purchased online here or at the door for $30 and of course, all attendees must be 21 years or older.
Who's pouring at the Olympia Brew Fest?  A wide variety of small, craft brewers, many of whom specialize in specific types of beer and consider the practice of brewing beer not just a profession, but a calling.  Local favorites such as Dick's Brewing and Fish Brewing Company will be returning this year along with well-known favorites like Georgetown Brewing from Seattle, with their beloved Manny's Pale Ale.  A full list of breweries can be found here.
A newcomer to the Brew Fest is recently opened Kastellan Brauerei in Lacey.  Brewers Bryan Trunnell and Erik Heimann create excellent Marzen style beers, according to Marohn, and he's pretty picky.  They will serve their HaferHeffe, an oatmeal Hefeweizen that Marohn describes as a perfect summer beer, along with their Oktoberfest.
Prior to receiving an invitation to the Olympia Brew Fest, all breweries have to impress a panel of discerning judges with sophisticated pallets – namely Marohn and some of his buddies.  "This is about quality, not quantity," he explains.  "But, we are lucky to have excellent craft brewers in our area, so we'll have over 30 breweries coming, all making excellent beers."
Kevin Water, owner and Brew Master at Backwoods Brewing in Carson, Washington made the cut with ease.  Located in the Columbia River Gorge, Backwoods is growing fast.  With a bustling brewpub and live music, Backwoods not only makes great beer, but is a terrific weekend destination.  "We've had great support in Olympia with our beers on tap at The Eastside and Westside Taverns as well as at Gravity Beer Market," shares Water.  "We can't thank the people in Olympia enough and look forward to pouring our brews for them at the Brew Fest."  Sample their Blueberry Wheat, a light, drinkable summer beer, as well as their Copperline Amber Ale.
Terminal Gravity Brewery out of Enterprise, Oregon will be pouring their "Tap Out" – a strong American Ale with a ABV of 10%, so a little goes a long way.  Brewer Ed Millar shares that they are "always looking for more exposure and a way to share our craft with people who love beer."  He's guaranteed to find that at the Olympia Brew Fest.
And don't miss a taste from Alpine Brewery, from Oroville, Washington in the northeastern corner of the state.  Brew Master and owner Bart Traubeck only brews German style beers at Alpine.  Taste their Pilsner and Hefeweizen at the event which Traubeck describes as "very drinkable, balanced and light beers – perfect for summer."
With a recipe of good beer, great food and live music mixed with the stunning Olympia waterfront, the Olympia Brew Fest is sure to please just about anyone looking for a some fun on August 3.