By Jennifer Crain

Lucky for the residents of the Wildwood neighborhood in southeast Olympia, Dave and Karissa Jekel are tenacious.
When Dave spotted a small "For Lease" sign in the window of the Wildwood Shopping Center last year, he made a U-turn and called the owner from the parking lot.
For months they had been looking for a space to house a neighborhood grocery store in Olympia. Dave grew up in the grocery business, working at and eventually buying his family's supermarket in Tenino.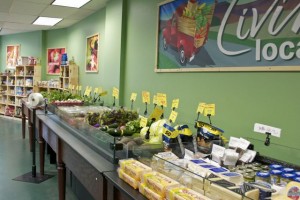 After over 20 years in a conventional supermarket, he says they were ready to do something different. While accruing coolers and shelving and stashing them into storage, the two combed the Olympia area looking for a suitable location.
By the time the space in the Wildwood building became available, they were ready to go. They opened Spud's Produce Market, a small neighborhood grocery specializing in local products, last August.
"We really like this spot," Dave says. "It's a cool building and the neighborhood is great."
It's said that the building "anticipated the rise of modern strip mall development" when it was built in 1938. But with its charming structure and integrated neighborhood location, few would define it as a strip mall today. The building on Capitol Way functions as a hub for the neighborhood, drawing business from Wildwood residences but also from other area neighborhoods such as Governor Stevens, Carlyon North and South Capitol.
Resident Sasha Kramer says her family shops at Spud's multiple times every week.
"We are often shopping for perishable things during the week like fresh bread and bagels or fresh berries. It's also great last minute for the inevitable things that I inadvertently left off of the grocery list," she says.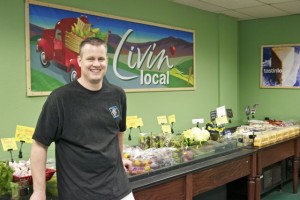 "We love the people that own the store and work there. They give a sense of community to our little area of the neighborhood," adds Kramer.
The Jekels and their employees, two of whom worked for them in their Tenino store, agree. Community shopping was one of their goals, Dave says. Since they opened they've filled many requests from an already loyal customer base. They started carrying select grocery items to help customers round out their shopping and pursued specific local products based on customer tips. They installed a bike rack and put out a dish of water for customers' dogs in response to shopper requests.
During the past year the store has also lived up to its other goal: to be a source for local products and produce. They've incorporated more items from the local farmers and small businesses the Jekels envisioned working with when they were planning the business.
"Everybody was doing the same thing," Dave says. "I wanted to do something a little more creative, dealing with fresh foods. We really wanted to do something local so we could get to know and work with the local farmers and smaller businesses."
As he talks local food, it strikes me that Dave is a lot like their potato superhero mascot: laid back and relatable but ready to swoop in and advocate for the little guy.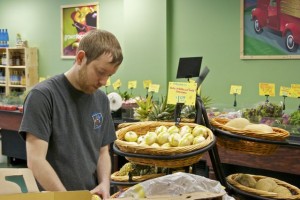 "There's tons and tons of good, local companies and farms just here in Thurston County," he says. "It's been fun to be able to move some of their stuff out so people get to try it."
Walls in the space, painted a scallion green, are hung with posters promoting a local foods lifestyle. An open cooler runs almost the length of the northern wall. On the day I stopped by, it showcased cheeses from Tenino's Tunawerth Dairy, Washington-grown cherries, raw treats from Peace, Love & Raw and beets, greens and salad mix from Kirsop Farm.
And there are many more. They have local and regional products from 17 small companies and growers on an evolving list of suppliers. Produce is from Kirsop Farm, Spooner Berry Farms and growers on the east side of the state. Milk and cheeses are delivered fresh from Tunawerth Dairy and Smith Brothers Farms. The coolers also hold staples and special treats from suppliers such as The Egg Lady, Magic Kombucha, Cucina Ciancetta, Lattin's Country Cider Mill and OlyKraut. They carry smoked meats from Johnson's Smokehouse & Sausage Company and Briney Sea. Out of bread? Pick up a loaf from San Francisco Street Bakery or bagels from Bagel Brothers. Sweet tooth? Grab a cookie from Smiling Mo's Bakery or take home some honey from Honey Bear Farm.
When Dave and I talked, they were still waiting on a freezer, which they'll fill with meats from Colvin Ranch in Tenino, pints of local ice cream and frozen fruit pies from Lattin's.
With staples, fresh produce, treats and even a nice selection of Northwest beers and wines, many are finding it to be the go-to for their weekly groceries.
"Whenever we can we go to Spud's first," says Emily Saunders, a nearby resident and mother of two. "It's just way more pleasant. We can walk or bike there easily without having to negotiate busy parking lots, it's friendly and much more manageable with kids, and they have a good selection." 
Spud's Produce Market
2828 Capitol Blvd.
Olympia, WA 98501
(360) 915-9763
Hours:
Monday – Friday: 9:00 a.m. – 7:00 p.m.
Saturday – Sunday: 9:00 a.m. – 6:00 p.m.
More information available on their Facebook and Twitter feeds.