Submitted by Hartley Jewelers 
When Ron Millar's Bell UH-1 ("Huey") helicopter ambulance was shot down by enemy fire in Song Vi Valley, Vietnam, on March 11, 1970, he and his crew eventually did what many servicemen in the same situation had done before: they made bracelets from a helicopter rotor chain to wear as a badge of honor.
But first they had to survive a horrific few hours that, for Ron, would ultimately lead to posttraumatic stress disorder (PTSD). He spent many years turning his back on his country out of bitterness from the aftermath of the Vietnam War and because of how he and other returning veterans were perceived.
Among many other medals received after his service in Vietnam, Ron was awarded the Distinguished Flying Cross for the heroism he displayed that March day.
"I'm still dealing with the whole thing," Ron says now of the experience that took place more than 40 years ago. "I had more than one traumatic event [while in Vietnam], but that one probably stands out the most because I only had 8 days left in the country."
Ron could have quit flying when he hit the 14-days-left mark, but he chose to continue, to make the remaining time go by faster.
"Eight days left, I wind up in a rice paddy with my bird shot through with holes", he says. "The Medevacs never carried guns; convention says anything with a red cross on it is supposed to be left alone to let us get the injured off the battlefield. But they used the red crosses as targets."
Ron, as crew chief, had three others in his crew that day: an aircraft commander, a pilot, and a medic. They flew in to pick up injured U.S. troops – soldiers were pinned down below a horseshoe-shaped high ground – even though they couldn't be certain it was a safe time to make the attempt.
"You've got to imagine what it's like being onboard a helicopter when you can hear the radio operator on the ground begging you to come in because his friend is critically wounded and they want to get him out of there," Ron says.
Within minutes, the Huey was hit. "They opened up on us in three directions and turned the bird into Swiss cheese," says Ron. He and his crew were picked up from the rice paddy and returned to an allied base, where another Medevac was preparing to go back in.
"They asked us if we'd be willing to go back," says Ron. "Well, hell yeah, we jumped at the chance."
The text accompanying Ron's Distinguished Flying Cross medal explains exactly what happened next and why he received the honor:
"After the crew secured another helicopter ambulance, they returned to the contact area to again attempt the rescue. Descending amid a hail of enemy fire, Specialist Millar cleared the aircraft down to the landing zone, and as the helicopter hovered approximately three feet from the ground, he stood on the landing skids and pulled the wounded soldiers aboard. After all the casualties were aboard, Specialist Millar advised the pilot to depart the area and guided him safely around the surrounding obstacles. Specialist Five Millar's outstanding courage and devotion to duty were in keeping with the highest traditions of the military service and reflect great credit upon himself, his unit, and the United States Army."
Before returning home from the war just a few days later, Ron and his crew created their bracelets.
"If a crew was shot down, the tail rotor chain became an event signifier," Ron explains. "We found an old tail rotor chain – I'm not saying it's the one off my old Huey – tore it into four, and made bracelets out of it."
Ron wore his bracelet faithfully for several years, but eventually lost it on a mountain camping trip. Amidst what he calls a very unpatriotic phase in his life, he wasn't terribly upset by the loss.
"It wasn't that big a deal for me at the time," he admits. "I'd already chucked my medals; I didn't want any remembrances of that war that was so unpopular with everyone here."
But after 9/11, Ron felt a deep change. His patriotism returned – and with it, a desire to confront his PTSD. He began to get involved with the U.S. Department of Veterans Affairs to show his full support to fellow veterans and current soldiers.
He also began to yearn for a replacement for that missing bracelet.
Ron posted his wish for a tail rotor chain on the Facebook page for The Liberty War Bird Association, whose mission is to "provide Vietnam veterans with a link to their past" by getting them back into the Huey helicopters that defined the war in Vietnam.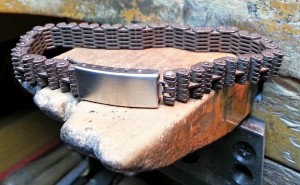 President of NW Helicopters, Brian Reynolds, saw the message and forwarded it to Travis Lind Thornton of Hartley Jewelers, who had helped Brian with a bracelet of his own.
Travis contacted Liberty Warbird Association's President, Jim Haga, to discuss making a bracelet for Ron. Jim quickly agreed to help make it happen. "To us pilots, those guys in the back were heroes and absolutely essential to the success of our missions," says Jim.
Together, Hartley Jewelers and Liberty Warbird Association partnered up to surprise Ron by donating materials, time and money to custom-make a bracelet from an authentic Huey tail rotor chain used in Vietnam.
Travis also included the following message for Ron to read when he received the custom-made piece:
"Ron, your bracelet is unique in many ways. We are very sensitive to its meaning, as it represents the struggle of life and death itself. It underscores the mystery of survival and the gamble of circumstance. We know the links in this bracelet are links to comrades lost in days past; whose voices still echo in your memories. We dedicate this bracelet to your service, your life, then and now. We thank you for all you have done, and continue to do. We have never met. But, we are honored to have crossed your path."
For several months, Ron's friends Chris and Donna Eddy worked to arrange a full military ceremony at Hill Air Force Base where Ron could be awarded the bracelet. But Ron's father was ill, keeping him out of the state for quite some time, and plans never came together.
Chris finally surprised Ron with the bracelet at what Ron thought was just a run-of-the-mill lunch date.
"He pulled that out and my heart did flips," Ron says, remembering the surprise. "I was so happy."
Ron wrote to thank Travis and Jim shortly after receiving the extraordinary bracelet he feared he'd never replace:
"You guys will never know what you have done for my life," he wrote. "It means so much to have it back on my wrist. It feels like I have a part of my life back that I never thought I would have."
The bracelet has become a big part of Ron's healing process.
"People see it and want to know what it is, then they want to know the story," he says. "Talking about it helps keep things real – and with that comes a letting go of a little of the guilt I feel for things done in war that can't ever be undone."
Ron is very open about his ongoing struggles with PTSD. "About ten years ago I snapped, I thought I was doing okay, but I was repressing everything from Vietnam."
Ron says he'd been looking for the 19-year-old kid who went to war, but by sorting through his emotions around his experiences in Vietnam, he realized that young man was dead. Now Ron concentrates on the man who came home.
It's important to Ron to let veterans know that there is life after war and they can survive in a world that just doesn't understand what they went through.
"And every time I start slipping into a dark place I can look at my tail rotor chain and it helps remind me I made it home. There is life with PTSD. I'm the living proof."