By Tom Rohrer

For over thirty years, one annual sports tournament has been the perfect compliment to one of Thurston County's favorite summer festivals.
Since 1979, Puget Sound volleyball enthusiasts have embarked on the State Capitol grounds during the third weekend in July for the Capital Lakefair Volleyball Tournament (CLVT).
The dozens of nets erected for the tournament, which is 2-on-2, and the adjoining players and spectators make for quite a scene, providing a mecca of sorts for volleyball players in the area.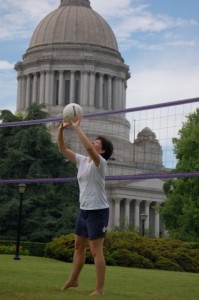 Diana Armstrong has been such a player in the past, as the Thurston County native estimates she has played in the tournament around ten times.
Armstrong, a Tumwater High School graduate who helped lead the T-Birds volleyball team to fourth and eighth place finishes in the state during the late 70s and early 80s, has seen her four children fall in love with the sport as well.
Her daughter Annie, son Tommy and youngest daughter Molly all will be playing in this year's event.  Normally, Diana joins up with her oldest daughter Elizabeth in the women's division of the CLVT.  However, Elizabeth, a varsity volleyball player at Olympia High before attending Washington State University, has academic obligations during the weekend, rendering Diana without her usual partner.
"I really enjoy playing with Lizzie, but she won't be able to and I wanted to give my knees a break this year," said Diana Armstrong.  "But I will be there to cheer everyone else on and have a great time."
Tommy and Annie will be playing in the co-ed division together.  As a pair, they bring a unique skill set to the game.
Both varsity soccer players during their time at Olympia High School, the siblings are able to control their feet to their advantage, a skill set few other players have.
"They're speedy soccer players and they really play almost a different game," said Armstrong.  "They can get the ball up with their feet (which is legal in volleyball) and you don't see that often.   It's neat how they add their soccer skills."
This year's tournament will be the first for 12-year-old Molly Armstrong, who is playing with her cousin in a youth division.
"She's excited," Armstrong said of her youngest child. "She's been playing club (volleyball) and it will be fun to see the younger generation, so to speak."
Diana was certainly the first generation of volleyball standouts in the Armstrong family.  Starting 38 years ago, as a seventh grader at Tumwater Middle School, Armstrong's success at Tumwater High School led her to play for the Olympia Volleyball Club, which was affiliated with U.S. Volleyball, from 1982 to 1985.  Armstrong was coached by Mark Schmitt, who ran the Capital Lakefair Volleyball Tournament for years, before Ann Marie Flynn took over.  During Armstrong's youth career, there was no year-round club teams which now provide an equal talent pool among local teams.
"I have lots of good memories just meeting new people, making friends, and the camaraderie we had," Armstrong said. "Kids weren't playing in clubs all year round, so it was an even playing field and no one really got wiped out.  I still have friends I keep in touch with and see from high school and the club."
Now, Armstrong plays in the Olympia Parks and Recreations C-Major League and in the women's A-Major League with one of her daughters.
"It's hard to stay away from the game," said Armstrong.  "It's just fun to try and keep that ball off the ground."
Armstrong enjoys seeing that passion and sense of community at the CLVT.
"It's great because it's an awesome outdoor setting, the weather is nice and people are just happy to be playing," said Armstrong.  "You feel the community connecting and coming together and just getting active outside."
As only a spectator this year, Armstrong is already planning for a comeback performance next year.
"It was my knee, (Elizabeth) being gone, just a combination of things," Armstrong said. "I've never had knee problems until recently, but the rest will do me good now so I can play later."
"Later" will hopefully include Diana, and the rest of the Armstrong clan, for years to come.
Cheer on the volleyball players on Saturday, July 20 and Sunday, July 21 at the State Capitol grounds. For more information on the Capital Lakefair Volleyball tournament, click here.