By Tom Rohrer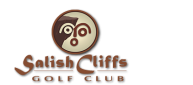 If you know Hoquiam High School's Cole Smith, it's safe to say you have friends in high places.
Literally.
The 6'7″ senior high jumper just capped off his incredible high school career with another 1A state championship in the event that earned him a scholarship to Washington State University, where he will be attending this fall.
This championship joins his other three state trophies (he won in 2011 and 2012 as well) in the  Smith family trophy case.  He also has the 1A javelin title, as Smith edged out his teammate Evan Erickson by a little more than four feet in the event.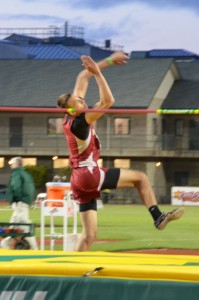 Smith, along with efforts from teammates such as Erickson, senior Nolan Hoiness (state champion in 1A 100 and 200 meters), junior Devin Kelly (4th in 100 meters, 3rd in 200 meters) and the schools state champion 4 x 100 team (Hoiness, Kelly, Paul Girts and Tyler Kelly), the Hoquiam boys conquered the 1A team title as well.  Winning a state team title in a sport known for individual achievement was an accomplishment for Smith and his teammates.
"It's obviously a great feeling being part of such a  great team.  Growing up with them has forged such a great bond," Smith said. "It is a team sport for us. We all work together, we all do our part."
As the two-time defending state champion in the high jump, Smith was (appropriately) expected to defend his crown in 2013.  After finishing 6th in javelin (Hoiness finished 5th ) in 2012, Smith was confident in pursuing a state championship in the event following the graduation of his main competition.
"Everyone ahead of us was a senior, so we knew they would be gone," Smith said.  "We knew we had a great shot, and it turned out that way."
In an effort to find competition early in the 2013 season, Smith attended an indoor meet at the University of Washington in January, an experience he believes kept his competitiveness high and prepared him for the collegiate season.
"I just wanted to get some competition in this year. Our league wasn't the strongest in high jumping," Smith said. "That's what I'll be competing in next year for the first time in a full season, so I needed to get a little more used to that setting."
At WSU, Smith will likely focus completely on high jump.  Smith, a standout basketball and football player at Hoquiam, had the opportunity to pursue both basketball and track and field at Division III University of Redlands in California, where his older sister Mackenzie competed in track and field.  The opportunity to play what he considers to be his favorite sport (basketball) at Redlands was not enough to steer Smith away from the Division I experience.
"I talked to my parents.  My Uncle Rob who is a football coach at Humboldt State and played college football at University of Washington, talked to me.  He told me I had this opportunity not many people have. After I talked to him, I ruled out Redlands, and was focusing on D-1 schools," said Smith, who narrowed his list of schools to WSU and Iowa State University in Ames, Iowa. "Ultimately, it came down to the distance.  Going to a school far away would be weird.  And also, growing up going to PAC-12 games, seeing it growing up, it was hard to pass that up.  So I decided to go with WSU."
Smith will head to Pullman the week before classes start in late August, and will join the team in official practices sometime this fall.
Thanks to coaching from his older sister and Chad Allen, who Smith credits for helping change his form and technique following Allen's arrival in 2011, Smith has a solid foundation heading into the intense lifestyle of a student athlete at a PAC-12 school.  He has also the extreme pressure of being a defending champion at a high pressure state meet
"Allen really helped me work out some things my sophomore year. I think that helped me get to that next level," Smith said. "And Mackenzie, she's like another coach for me in the high jump and javelin."
"There's a lot of pressure at big meets and I've learned to handle that pressure very well and I think I've battled through adversity well," Smith said. "With everyone trying to do their best against me, it was great competition.  My junior year, I was terrified, very nervous, just thinking what if I don't win?  Once I started jumping, I got more comfortable, calmed down and ended up setting the school record."
Setting that school record is a memory Smith will look back and smile on when he thinks about his time at Hoquiam.  However, the end of his athletic career at the school, even in a victory, was an emotional prospect for Smith.
"Well, it's always a great feeling, going out like that, leaving a mark. It was really emotional, knowing I won't play football or basketball again," said Smith.
While Smith won't be on the gridiron or the court at WSU, there is an easy way to find him.
Just look up, towards the sky.