By Leslie Merchant
Imagine a place where every single day you are greeted with enthusiasm and laughter, where your days are filled with friends and stimulating pursuits, where you really feel like you belong.  Sounds pretty good, doesn't it?  Local residents enjoy these simple life pleasures and many more thanks to the amazing staff and services offered by Garden Courte Memory Care.
For many desperate families, Garden Courte has been a lifesaver.  For Activities Director Viki Engstrom, it's the residents who in turn have saved her life.  While raising five children of her own, a turn of life changing events compelled Viki to go back to work.  From her very first day on the job, she knew she had been called to Garden Courte.  "Every single day these residents save me.  They give me so much more than I can ever give them," she emotionally exclaims.  A guided tour of the facility is proof that Viki means what she says as she greets every single resident with a huge smile and a personal comment or question.  It's clear they all adore her and consider her a beloved family member.
Viki has one of the best jobs around.  Her days are spent coordinating activities and outings for her extended family, the residents of Garden Courte. "Our days are filled (with activities) every single day, seven days a week from 8:30 am – 4:30 pm!  At 7:00 pm every evening we have Happy Hour in the form of an ice cream social.  We fill their days because this is a secured facility; this isn't assisted living and they can't just walk out.  Other facilities just don't have the amount of activities that we do.  We try to make it so that everybody has an opportunity throughout the day to come and do something they want to do."
Viki makes sure that every resident is given consideration so that there is always a choice that appeals to that individual.  Garden Courte is home to individuals with a range of personalities.  Some folks will attend every single experience offered, and some have to be encouraged to leave the comfort of their rooms.  Animal therapy (dogs and occasionally a horse!) in particular is a favorite since it can draw even the most socially isolated resident out and into a comforting and happy place.
All activities at Garden Courte are fail safe, meaning that any resident can participate in any activity and feel safe and accomplished.  "All of my activities follow what's called PIES: Physical, Intellectual, Emotional and Social. I have those several times throughout the week.  Physical and social every single day.  Emotional is four plus times a week, and that comes with music, church, and hymns.  Music is amazing, for some reason dementia does not affect that portion of the brain.  We do a lot of sing-alongs, everybody loves entertainers, and we have music playing (all the time)."  Other activities follow what Viki calls "life-long learning experiences."  For instance, residents recently enjoyed a painting course on Petroglyphs.  After some history on Petroglyphs, residents got to paint their own over the course of a week.
Viki explains that while the chronological age of their patients can vary from 60 – 100, the average mental age of Garden Courte residents is typically that of a child.  While they can still carry an adult conversation, grasping and mastering new skills requires a more basic approach.  The more senses an activity employs, the quicker and easier residents can pick up a concept and be successful.  Viki explains that a wide variety of activities helps keep residents socially active and therefore happier people.  "They also help to alleviate behavioral problems.  We become like a family and sometimes behavior issues come from being bored.  Activities give them an outlet," explains Viki.
When staff members walk through the Garden Courte doors, Viki trains them to have a smile on their faces and to turn themselves 'on.'  She explains that her staff is bubbly and exuberant because the residents feed off of their energy.  They are eerily sensitive to emotions and attitudes and will quickly pick up on anything that is negative.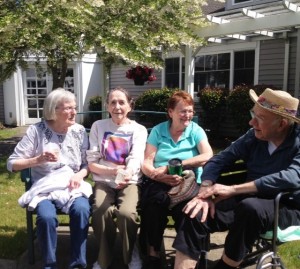 Despite the emotional challenges Viki and her staff encounter, she thinks her job is the best in the world.  "The best part of my job is what I call the 'Aha Moments,' when I get down on the floor and look into somebody's eyes and they look up at you and you know that they are 'there.'  That's the moment they have checked back in for that little bit of time, that's what we live for."
She explains that they get residents in pretty advanced stages of dementia.  Sometimes the disease progresses quickly and sometimes slowly, so they have to get to know each patient at all of his/her different stages because they change so much.
The road to a care facility such as Garden Courte can be challenging and difficult to navigate.  In Viki's opinion, a good place to begin is with proximity so that family can conveniently visit.  After that, she feels the place should provide a strong sense of family.  It's not about the aesthetics of the facility itself, it's about the people who will care for your loved one.  It takes special people to work in a long-term dementia facility, and great staff loves their patients like family.
For more information on the family and activities at Garden Courte Memory Care, please visit the website.