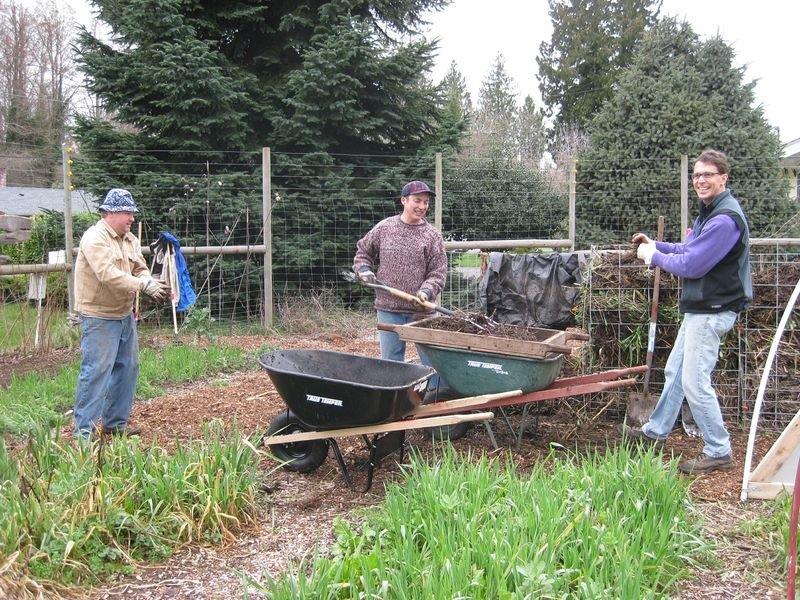 By SarahJoy Smith

Olympia is one cool place to live. As a non-native it has been very impressive to see the commitment to community shared by so many here. Every day I make a new discovery often in some of the most unexpected places. Recently, that place was in my very own neighborhood.
I live in the North East Neighborhood. That's the area from East Bay Drive to South Bay Rd (from west to east), and between 26th Ave and Yew St (from North to South).  The central point of the neighborhood is the San Francisco Street Bakery, well known for home baked goods and local involvement. The boundaries encompass Mission Creek and Friendly Grove Park, and kids living here attend Roosevelt and Reeves schools.  It's a relatively hearty area with around 1800 diverse households.
The North East Neighborhood has truly achieved the status of ultra-cool. As far as savvy goes, these people have it going on. Don't believe me, just check out their website. It's a hint at just how organized and dedicated my neighbors are. Dedicated, that is, to the idea of community.
Like many Olympia neighborhoods, they formed an association many years ago to collectively deal with issues. Over the years, they have honed their purpose, mission, and values into a recipe for cooperative success. But so much more importantly, they have created a fun and family friendly place to live.
Mike Dexel, president of the association, says that the mission of the neighborhood for many years has been about creating and sustaining a positive community experience, but that there used to be a stronger political tone to the purpose. Recently they voted to update their mission statement to reflect what has become the neighborhood credo. The mission is to improve the quality of life for everyone. Dexel says, "We realized what we have been doing all along is making the community better as a whole, and that is what we wanted to work on rather than taking sides on issues."
The association is responsible for an impressive list of accomplishments that highlight the "work- together" spirit members embody. These include interests like sidewalk and traffic safety improvements, emergency preparedness, rain gardens, and the commissioning of public art. They steward the Mission Creek Park, organizing work parties to maintain the trails. That is in addition to what they reference as "countless clean up parties" within the neighborhood, and a program called graffiti busters which boasts removing over 1200 tags.
This neighborhood really embraces the concept of community spirit. They are all about making the place where they live their paradise, which includes looking out for each other and working to make it a safe place to raise kids, too. About two years ago the association received a generous city grant that enabled them to create, what they aptly named, the Joy Ave Pathway. It's a walking and biking route created out of overgrown city property that now is a safe path for students from both nearby schools to use. But it is not just for students. The idea has been for many years to increase the neighborhoods "walkability" and give people yet another "avenue" to stay connected. Walkability is a NE value.
Within the boundaries there are also two impressive community gardens. One is the Wendell Berry Garden which is set up as a garden cooperative. There are 15 shareholders in the group and each person has a say in how the garden is run. For a small financial investment and a time commitment of 4 hours a week, members take home around 1200lbs of food by summers end. People must live within a mile of the garden to become members, and generally there has been a waiting list since the garden got started in 2009. TJ Johnson, President of the Board of Sustainable South Sound and a main creator of Wendell Berry says, "This garden has a high degree of social capital. It was built up from neighbor to neighbor."
The other community garden, named Capital Vision Community Garden, contains "p patch" style plots, meaning that persons in the neighborhood can rent small plots for their own growing use for a season. They are responsible for maintenance and watering and members are expected to help out with the communal parts of the growing, such as putting effort into the tomato green house, which will likely produce nearly 2,000 pounds of produce this year.
This garden has just grown from 3,000 square feet all the way to 40,000 in the last couple of months, and is being staged to hold events and act as a neighborhood gathering area. It's the brainchild of David Willis, who showed it off more like a proud parent than a farmer. "We are trying to grow community just as much as we are trying to grow vegetables," says Willis.
But the most important mark of ultra-cool, these guys have a song! Yes, the neighborhood has its own theme song, written by members, and dedicated at the community potluck last year.  You can read the lyrics on their website linked below. The song, the site, the community events all lead a person to believe that these are a people satisfied with their efforts. They are a people grateful to live in such a great place.