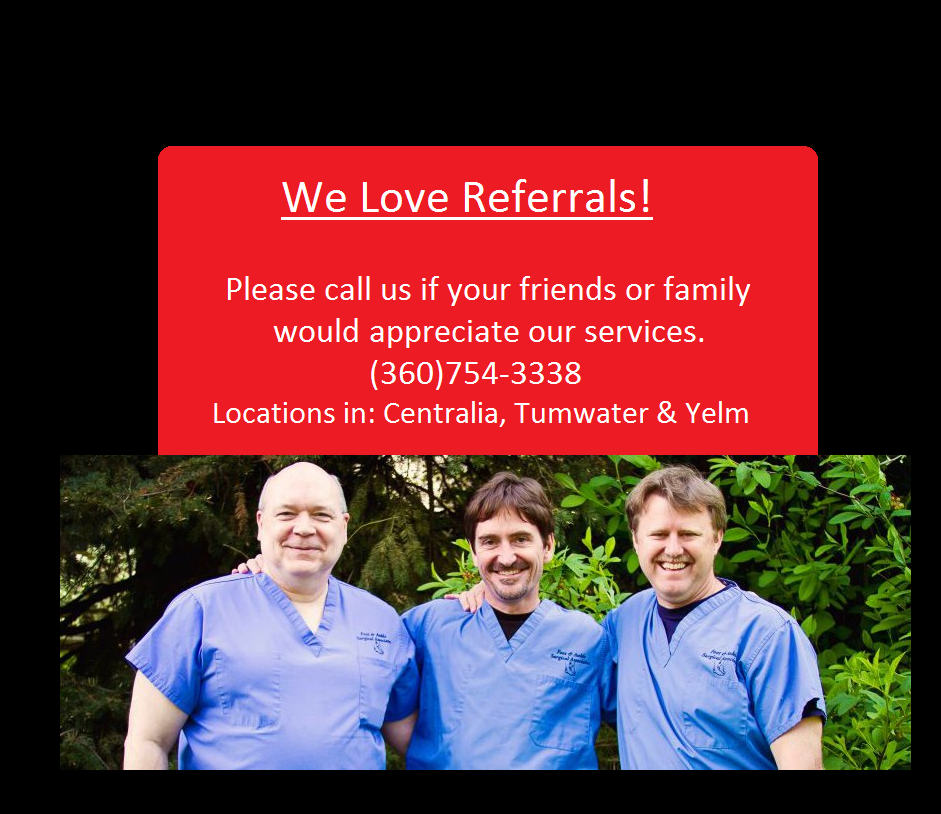 Submitted by Foot and Ankle Surgical Associates
Foot & Ankle Surgical Associates has been serving the local community for over ten years. We are a growing practice that now includes four doctors, and offices in Tumwater, Centralia, and Yelm.  We are here for any of your podiatric needs. We make it our priority to deliver quality care to informed patients in a comfortable and convenient setting. Your health is important to us, which is why we provide comprehensive lower extremity evaluations and treatment plans. From treating children to taking care of injuries, you will find our staff to be friendly and our doctors well-trained and knowledgeable. These reasons ensure that we are the best provider for all your foot and ankle needs.
Smell the flowers, But Don't Ignore Heel Pain
As the days grow longer, many people use the additional hours of sunlight to go walking.  It's an opportunity to exercise and enjoy neighbors' gardens at the same time.  But the combination of extra weight gained during the winter and unsupportive shoes often lead to plantar fasciitis, also known as heel pain.
Many people experience this pain with their first steps in the morning. Often it subsides, but can return later in the day if you spend a lot of time on your feet. The pain may be caused by inflammation on the plantar fascia, a band of tissue that extends from your heel bone and across your arch to the ball of your foot.
You can take a few basic measures to ease the pain, including doing exercises to stretch the Achilles tendon and calf muscles, applying an ice pack to the affected area for a few minutes several times a day, using over-the-counter anti-inflammatory medicines, and wearing shoes with a good arch support.
But if you don't get relief from these at-home remedies, come into our office. There may be another cause of your pain. With a thorough diagnostic examination, we'll determine what's causing the pain and suggest the best course of treatment for you.
Sometimes conservative treatments just won't solve your foot problems.  Surgery can be your best option.  Our office is staffed by a highly trained team of Surgeons, Anesthesiologists, Registered Nurses, assistants, and medical office personnel.  Our goal is to provide safe, efficient surgical care in a setting that is comfortable for you and your loved ones. All of the podiatrists at Foot & Ankle Surgical Associates are highly trained to treat all of your foot problems. A podiatric specialist can take care of many surgeries in his office enabling you to be back on your feet in no time.
The podiatrist will evaluate your condition and make a decision on the correct treatment plan. Our podiatrists work very hard to learn all the latest techniques and non-invasive ways to take care of any foot problems you may have, so you can rest assured that they will only do surgery if it is necessary.
If you are having foot pain and need to see a podiatrist in the Centralia, Tumwater, or Yelm area then give us a call at (360)754-Feet. One of our Podiatrists will assess your pain and diagnose your problem and try to find a nonsurgical approach if it is possible. Podiatry surgery will only be recommended if it is the only option or the best option to give your mobility back.