By Tom Rohrer
Sometimes, the purpose of a sporting event doesn't revolve around winning or losing.  Instead, it can revolve around a common cause and provide a spark of hope.
While there were losing teams on the scoreboard this weekend, everyone on the field, at the fifth annual Friends of Mia Alumni Soccer Tournament, came away a winner.
Friends of Mia is named after Mia Deligeannis, the late daughter of Lani Benavente and Casey Deligeannis and twin sister to brother Noah Deligeannis, who passed away at age five in April 2012.  She combatted a three-year bout with High Risk A.L.L., also known as acute lymphoblastic leukemia.
The tournament served as a fundraiser for cancer research and towards Friends of Mia.  The foundation focuses on cancer research along with fundraising to offset medical and other expenses for families dealing with childhood cancer.
Alumni from six local high schools –  Timberline, North Thurston, River Ridge, Tumwater, Olympia and Capital – participated in the two-day tournament at the RAC in Lacey.  Capital tackled Tumwater in the final game to take home the championship.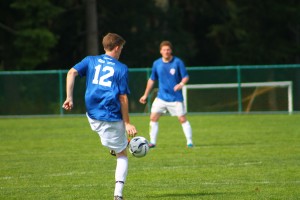 It has understandably been a long and trying period for Deligeannis and Benavente.  They continue to participate in numerous events and charitable functions across the Puget Sound area, trying to provide hope for families that are facing a situation they recently went through.
"It's very inspiring, very amazing what they've gone through and the attitude they've maintained," said former North Thurston High School head coach and Casa Mia owner Chris Knudson, a family friend.   "I can't even fathom what they go through. I'm always impressed with Casey and Lani, and that they continue to do stuff. It would be easy to say they are tired and stop, but they just keep showing this incredible resolve."
Deligeannis, who starred at Timberline High School before playing for The Evergreen State College men's soccer team, believes the tight knit soccer community in the area is the reason for the tournament's success and continued longevity.
"I think with a lot of these guys, we've grown up together, gone to college, come back. Everyone knows everyone in the soccer community, and it's a supportive group that reaches out any way possible," Deligeannis said. "I'm glad to be a part of this group and I feel pretty privileged."
Deligeannis again played for Timberline in the tournament, which featured a collection of players slightly older than the other teams.  Deligeannis and Knudson both noted many participating players are recent or current collegiate players.
"It didn't go well for us," said Deligeannis with a smile after his team lost to River Ridge on Sunday morning.  "But it was fun just being out there with the guys, playing the game.  We may not have the same touch or skill, but we get after it."
The tournament may have been considered "friendly" but that didn't stop the players from trying to come away victorious.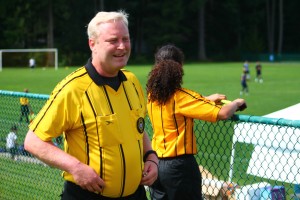 "It's an opportunity people look towards to hopefully beat your rivals," Deligeannis said. "It's laid back, not a tourney where people are out to hurt but we do get after it and compete.  But it's all good fun, and everyone realizes we are there for one cause and it's a good cause."
Deligeannis is pleased the efforts of Benavente, himself and their supporters have helped spread awareness about childhood cancer.
"I think the awareness has been spreading, and people are realizing there are children out in the community dealing with cancer and families that have to deal with the day to day battles that we did," Deligeannis said. "We are trying to give what we can to them."
After a long period of time away from playing the game together, Knudson is always pleased to see new and old teammates connect on the field.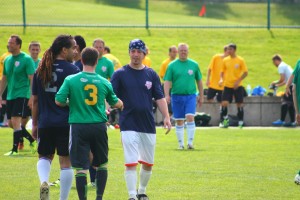 "It's a creative game, a game that happens in the moment.  There aren't set plays like basketball that we can all just run," Knudson said. "But we all have that connection, that understanding and the fluidness of the game is at a higher level than many would expect."
Thanks to high level spirited play, tons of community support and a large amount of appreciation, it appears that the Alumni Soccer tournament won't be going away anytime soon.
"There's no tournament like it in the area," Deligeannis. "It's just a positive event, something the community can get behind."
For more photos of Friends of Mia Alumni Soccer Tournament
For more information on Friends of Mia visit their website or Facebook page.