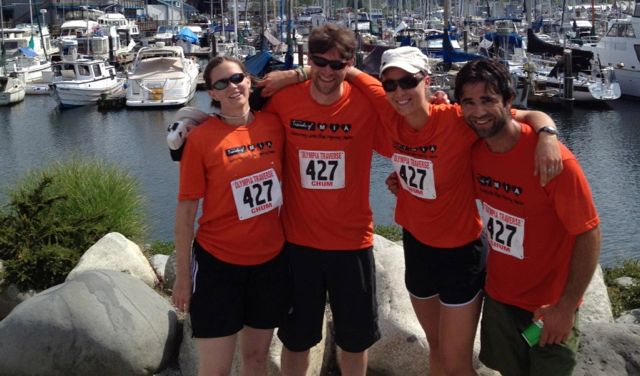 By Leslie Merchant
Move over Capital City Marathon, there's a new game in town!  On Saturday July 27, South Sounders will get to participate in what's shaping up to be the premiere event of the summer, the 4th Annual Olympia Traverse.
Following closely in the footsteps of its' older sister, the Bellingham Traverse, the Olympia Traverse offers teams and singles the chance to experience firsthand some of the best outdoor adventures this region has to offer.  Solo, tandem and relay teams will compete in the 50-mile multi-sport competition that includes mountain biking, road biking, running and paddling.  With an estimated 90 teams taking part this year, the Olympia Traverse has become one of South Puget Sound's most anticipated summer events.
Many local businesses have "gotten hooked" by the Olympia Traverse phenomenon and are sponsoring company teams for the event.  Mark Peternell of Bean, Gentry, Wheeler and Peternell didn't realize what an easy sell the race would be for his firm.  "People jumped on it!  I thought it would be really hard to build an office team.  It's really cool to see how everyone is interested in it and talking about it," says Mark who will be tackling the mountain bike leg of the Traverse for his team.
This will be the first time Bean, Gentry, Wheeler and Peternell is participating as a group, and Mark was surprised at how eager people were to join in the fun.  "People are putting in a pretty big effort, training, talking about it.  It's a great opportunity to have a firm wide event that a bunch of people can participate in," exclaims Mark.  For example, he describes how their bookkeeper has always wanted to learn how to row.  The Traverse has given her the perfect excuse to take lessons through Olympia Area Rowing.  She is meeting others and learning something new; it's a win-win situation for both the firm and the staff.
Mark is realizing how sponsoring the event has had an impact on the staff as well.  "It's cool to see our logo on the website, and the fun of it this year (vs. last when he was part of a volunteer team) is that people from the business are all a part of it."  Many businesses like Bean, Gentry, Wheeler and Peternell see the affair as a fun bonus for their employees.  The chance to practice teamwork, establish trust, build confidence, and experience something new is not often present in the everyday work environment.  Employees see the benefits of being on a company team as well, and who wouldn't jump at the chance to watch a coworker sweat it out, literally?!
Another new player this year is Olympia's Heritage Bank.  Ben Howeiler, SBA Specialist for Heritage, had no trouble putting together a team from his staff.  "We worried about having too many employees competing for a spot!  It has become a reward for the staff with jerseys and everything, and they are really excited," he says.  Ben is an avid mountain biker, but he gave up his spot so a fellow coworker could compete.  He will help from the sidelines by taking a few training rides with Heritage's mountain biker.  "It's a good deal, good for the town.  There are major players involved now and it's going to keep growing."
Investing in events such as the Olympia Traverse is an investment in the community.  In Traverse lingo, it's called "Spawnsoring" a team.  People from around the Puget Sound region will come to Olympia, take part in its recreational amenities, promote sustainable and healthy activities for businesses and families alike, and connect with like-minded persons.  Businesses get the opportunity to connect with other organizations via multiple media exposures as well as face-to-face interactions on the course.  Putting together a company team is as simple as putting the word out to coworkers.  No experience is necessary!  First-timers will be competing alongside seasoned athletes, and everyone will have a blast regardless of ability.
Recreation Northwest is the parent company for the Olympia Traverse.  The inspiration for the event is to celebrate the lifecycle of salmon and to help raise money and awareness for local non-profit groups.  This year's recipient is Friends of Capitol Forest, which is where the race starts off.  Revelers, support staff and race participants will finish off the event at the Port Plaza where Fish Tale Brew Pub will be hosting a beer garden.
For more information on  "Spawnsoring" a company team or any other type of participation, please visit the Olympia Traverse website.