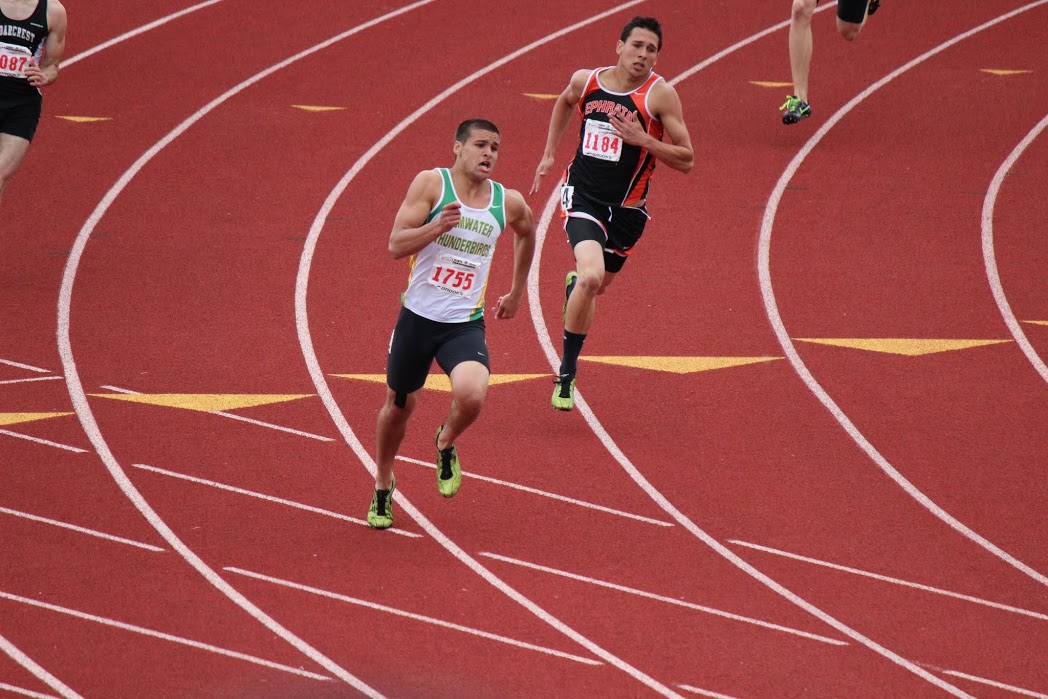 By Tom Rohrer

In athletics, records are certainly made to be broken.  Records represent excellence, and provide motivation to the athletes pursuing them while they train.
For several Tumwater High School track and field athletes, the hard work paid off, as 10 school records were broken by six individual athletes throughout the 2013 season.
On the girls track and field team, the list includes all around junior standout Brooke Feldmeier, who set three school records (200 m, 400 m, 100 m hurdles) and freshmen Peyton Russell (triple jump).  Feldmeier also set records in 2012 (heptathlon, 300 m hurdles) and 2011 (high jump) all of which still stand today.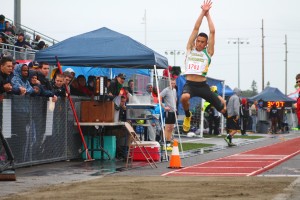 The list of record breakers from the Tumwater boys track team consists of seniors Andrew Brown (200 and 400 meters), David Durden (110 and 300 m hurdles), Donovan Chafin (pole vault) and Peyton's older brother, junior Lane Russell (triple jump).
Of the athletes mentioned above, three took home individual titles at the WIAA state championship meet.  Brown secured the 200 (21.49) and 400 (47.10) meter honors, while Feldmeier brought back championships in the 200 (24.80), 400 (54.37) and 100 meter hurdles (14.88).   Lane Russell was the other state championship in the triple jump, setting a school record of 47'1" in the process.  Both of Brown's times in the finals were school records, while Feldmeirer's 200 and 400 m final times were also THS records.  She set the 100 meter hurdle record (14.79) in the prelims of the event.
Durden set the school record of 14.46 in the 110 meter hurdles in the state prelims, and finished fifth in the event.  He finished fourth in the 300 meter hurdles, and his school record of 38.39 came at the Shaner Invite earlier this year.
Chafin's pole vaulting record of 14'6.00 came in the Evergreen Conference Championships, while Peyton Russell, who finished fifth in the state triple jump contest with a mark of 35-00.5, and set the school record in the event at the Stanford Invite earlier this year with a post of 37'11".
Under the guidance of head coach Richard Brown and his staff of assistants, the team was able to improve throughout the year.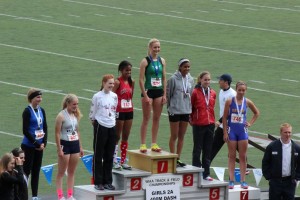 "I think we have great coaches," said Brown.  "They have a lot of knowledge and know how to push us the right way."
The THS boys finished second in the state as a team, while the girls took seventh overall.  The high caliber collection of athletes in all events pushed the individual members of the team all season long.
"Knowing that we could've won the state title as a boys' team pushed everyone," said Brown, who will compete for the University of Washington track and field team next year. "For boys and girls, we were really strong this year, the strongest the school has probably ever been."
"It's hard not to notice how hard everyone is working," said Peyton Russell, who, along with her brother, competes with the Flying AJS youth club track and field team in Tacoma. "It was cool to be a part of such a talented group."
For the Russell's, the experience was even more rewarding, as they got to perform at a high level on the state's biggest stage together.
"It was a really great year in general because I've never done school track with my brother.  Both of us being there, competing there, it was awesome, and he's technically a third coach," said Peyton Russell, who finished second place at Nationals in her age group in Baltimore MD., last summer. "I had an injury so I think I could've done better.  But it's my freshmen year, so I'm keeping it in perspective."
"It was cool to be able to watch her progress through the season and work through that injury," said Lane Russell, who will be competing in the Junior National Olympics in Greensboro, N.C. later this summer.  "She pulled it together before state and just has a bright future."
While his state championships will not erase the memories of a bitter defeat as a standout member of the Tumwater High School football team in the 2A state championship game in November, Brown is pleased to go out on top and add even more to his athletic legacy at THS.
"Once football was done, I was pretty mad about the state title game and I had an opportunity to get over that in the indoor season pretty quickly," said Brown, who traveled as far away as Iowa to compete in indoor meets.  "It's just a really special feeling, and I'm glad all my hard work paid off."
While the Russell's will be back next season, the T-Birds will have to replace the other record breakers due to graduation, leaving an opportunity for new legacies to be formed.
"I hope the younger (athletes) see the example some of us set," Brown said.
"I think there is just an athletic culture around this school," said Lane Russell, who's been approached by a few Ivy League schools regarding competing in college.  "The prestige of sports is there and it's motivating."
To see a complete list of THS school records and results from the 2013 outdoor track season, click here.