By Mary Ellen Psaltis
Grabbing a cup of coffee is a classic but not unusual experience in Thurston County. Forza's new location in Hawks Prairie (130 Marvin Road SE) elevates the basic coffee purchase to a richer experience – a dash of cozy restaurant mixed with ideas from the British pub and a measure of European coffee house. It's enough to get you to stay all day.
And that would be just fine with Forza's new owners Christine and Tom Forrey. Their motto of "Hosting Life's Connections" allows your day to unfold gently and completely. Start off with ordering your favorite morning brew then have a seat. Your drink will be delivered to you.  Hook up your portable devices, check your mail and read the news. Minutes melt to hours.
Now you're hungry. No problem. If you are still in the breakfast mood, order a bagel (Bagel Brothers) or perhaps a sweet treat (some from John's Mountain Home Bakery.) If it's later than you thought and you are ready for lunch, choose from a selection of Panini sandwiches, flat bread pizza or salad.
As the afternoon fades to evening, there are microbrews on tap and wine to pour. Friday and Saturday evenings are booked with local and regional musicians – guitar players, bands, and singers. The ambiance at Forza is suitable for the whole family. Music begins at 7:00 pm and ends nightly by 10:00. As corporate owner Rich Jennings suggests, "You can enjoy your evening and still be at home in bed by 11 pm."
Tom Forrey will spend part of his time baking pies in Forza's bakery, which has its own separate space. Most days customers can select between apple, triple berry, chocolate chiffon, coconut cream, and lemon meringue pies. Keep your eyes open for a weekly special (like rhubarb) and for a gluten-free key lime pie.
Christine's mother Maureen McLemore (retired) has been recruited for her muffin and carrot cake making abilities. She has promised to make pavlova, an elegant creation of meringue topped with whipped cream and fruit, on Fridays during the summer.  Named for Russian ballerina Anna Pavlova, the dessert is said to originate from 'down under,' either Australia or New Zealand, depending on which story you believe.  I'll be back for that.
This new model for Forza makes it "so much more than a coffee shop," explains Christine Forrey. A conference room (with a sliding door) will seat up to 16 people. You can reserve the space by purchasing a $25.00 coffee card. The drive-up window has it's own staff and coffee machines. It's right on the side of the building but you won't see a trace of it when you are inside.  A large kitchen, in back, rounds out the space.
Corporate owner Alan Tandy and Rich Jennings have a goal to open 400 Forzas nationwide over the next ten years. Northwest residents already know we love our coffee; it's a pleasurable experience to share.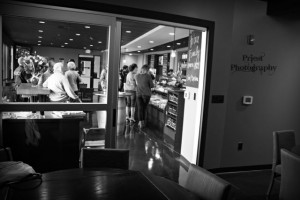 Whether you have barely the time to get through the drive-thru or have ample time to come in, relax and get plugged in, the Forrey's invite you to become part of the Forza family.  Christine is excited to add coffee sales to her resume. Stop by for a taste.
Forza
130 Marvin Rd. SE in Lacey
360-338-0925
Forza is open seven days a week.
https://www.facebook.com/ForreysFORZA
Photos courtesy Priest Photography.  To see more photos from Forza's grand opening, click here.