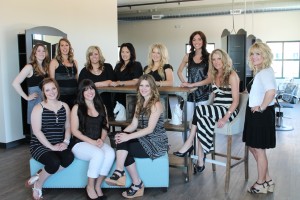 You might not think that getting a haircut can somehow impact our community, yet that's exactly what happens with a visit to Lone Star Salon in Tumwater.  With a brand new, fabulous location and a posse of dynamic women, Lone Star Salon offers a whole lot more than just a typical trip to the beauty parlor.
In the midst of a move to their new location, Lone Star Salon is holding a unique Mother's Day Contest.  The contest is being conducted on their Facebook page, and clients actually nominate the candidates themselves.  A picture and a short story about a mom or a mother-like figure is all it takes.  The woman with the most likes wins a prize any gal, mom or not, would relish – a Spa Day complete with an hour massage, facial, deep conditioning, body scrub, style, make-up and lunch.
Owner and Lead Stylist Lisa Musgrove-Kibler is redefining the experience of getting pampered and coiffed.  She is passionate about helping women in the community who are working hard to make their lives work.  Many of her clients are single working mothers, and some of those are additionally challenged with severely handicapped youth at home.  "It's important to me to keep this place going because almost half of our stylists are moms who are the sole income providers.  The Salon is a safe and healthy environment for women to make a good living in and to (get pampered)."  Lisa loves the fact that her business helps to celebrate how strong women can be in the face of adversity.  The Mother's Day Contest is a way for Lone Star to honor the impact one special mom has made on the people in her life.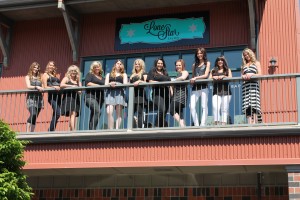 Lone Star donates to many organizations in the Thurston County community, and they are involved in a number of local events benefiting needy families.  Lisa is partial to events that promote women, but the salon reaches out to a variety of organizations, including the Thurston County Food Bank, The YWCA's Other Bank, Adopt-A-Family during the holidays, Colors of Cancer and Annual Cut-A-Thon to benefit children's cancer research.
Salon clients are indirectly involved in giving back to their community when they enjoy Lone Star's services.   Lone Star also provides a way for clients who are unable to give time but want to contribute financially.  "If we give people an easy avenue to help, they like having that option," says Lisa.
Starting a friendship and building a connection with a patron is a fundamental element of the salon industry, and the women of Lone Star take that job very seriously.  Lisa's staff echoes her enthusiasm for supporting the community they serve.  "Clients become family and friends," says another stylist.
Regular clients are on a first name basis with each stylist and their loyalty is such that they tend to book multiple appointments at a time.
Lone Star's move to Old Towne Plaza in Tumwater is exciting and filled with new possibilities.  Soaring ceilings, exposed hardware and an abundance of natural light evokes the glamour of a spacious New York loft.  The location on the second floor of the Plaza is a perfect spot to take a mini-vacation from the hustle of the workday and relax with a panoramic view of the surrounding terrain.
Lone Star's full service menu offers something for everyone, whether clients want the works or simply a wash and cut.  "Professional working women are our primary clients, and we also see a lot of families.  We do styles that people can do at home.  Our population likes hair that is trendy but obviously wearable," says Lisa.
Along with the new location comes the introduction of new services.  Sugar hair removal, airbrush spray tanning, and massage therapy are just a few of the new services that will be offered in the larger space.  There is room to expand into other ventures as well such as group classes and salon parties.
For more information on how you can look fabulous and help the community at the same time, please visit lonestarsalon.net.
111 Tumwater Boulevard, in Old Town Plaza
Tumwater, WA 98501
360.943.9004