"F. Scott Fitzgerald said that in American lives there are no second acts. He simply did not live long enough." –Frank McCourt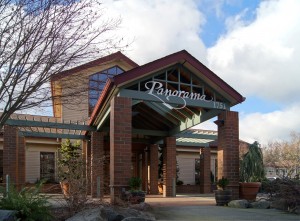 It would be easy to mistake Panorama for a college campus. Walking paths encourage outdoor recreation and visiting between buildings. Businesses, banks, and restaurants mix in with single-family homes, townhouses, and apartments.  Lush, mature trees and perennials look like they belong on a garden tour, and represent 50 years of careful planning and preservation.
In fact, this year represents Panorama's 50th anniversary as one of the most successful retirement housing communities in the United States, a community of independent homes and services, and a Thurston County treasure. Survey after survey firmly ranks Panorama in the top tier of retirement communities.
An entirely different approach to retirement living
It started with an innovative idea. In 1960 Moe Loveless, a local business man, had a conversation with Margaret Whyte, the Executive Secretary of the Washington State Council on Aging. Loveless expressed his interest in creating an entirely different retirement community based on his extensive research of retirement homes across the country. Whyte encouraged and endorsed his vision, and acted as a mentor throughout the development of Panorama.
Loveless raised the necessary capital from a small group of investors and over time Panorama was born.
The community grew on land that was once the homestead of David and Elizabeth Chambers, and also grew to surround the Mountain View Golf Course. In 1963 there were five homes, but it expanded rapidly. By the close of 1965 Panorama was home to an active group of 220 retirees who gave a great deal of their time to the development of campus activities. That same year saw the introduction of on-campus nursing and physician services, as well as the completion of the Convalescent Center.
From the beginning, Panorama was innovative. Homes are modeled after a "House of Freedom" concept which emphasized features to make life easier, such as no slip floors, doors wide enough for wheel chairs, grab bars in the bathrooms, and electrical outlets situated higher on the wall to prevent the need for bending low.
Margaret Whyte also continued to influence Panorama. Based on her suggestions, residents could live independently in spacious and accessible homes, but as they found the need for additional services they could transition into an apartment, and eventually assisted living.
Panorama Becomes a Non-Profit
In 1987 the Board of Directors petitioned the state legislature to change the legal status of Panorama from a for-profit company to a non-profit organization. The leadership at Panorama determined that this change was critical to the future well-being of the community, allowing the investment of all resident entrance fees back into the community.
By the 1990s Panorama added Holladay Park to the neighborhood. The new homes featured hardwood cabinets and vaulted ceilings, which was popular with a new generation of retirees.
In 1994 the American Association for Homes of the Aging (AAHSA) accredited Panorama. This program outlines national standards of quality for continuing care retirement communities. The Commission on the Accreditation of Rehabilitation Facilities (CARF) now manages the survey every five years to maintain accreditation, and Panorama continuously receives the highest ranking.
Panorama's current president and CEO, Joseph DiSanto, joined the team in 1996. Under DiSanto's leadership, Panorama is experiencing the most extensive construction program to date. Projects include the expansion of Pan Hall and construction of the Dennis D. Dunham Aquatic and Fitness Center.
In 2008, Panorama built a new home for the Convalescent and Rehabilitation Center that featured the blending of a beautiful residential environment with the unique clinical and rehabilitative services essential for this level of care.
Construction continued in 2009 and soon residents were able to enjoy lectures and performances at the new, state-of-the-art Panorama Auditorium. The Learning in Retirement Series is open to the public and features speakers such as author Jim Lynch. Topics such as 'The Wide World of E-Books in Libraries' demonstrates the residents' interest in technology and continuing education. Music lovers appreciate performances like one scheduled for May: by Wolfgang Wortberg, pianist and soprano Cyndia Seiden perform "Art Songs" in concert.
Community Minded & Engaged Residents Grow Right Along With New Buildings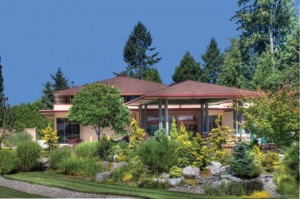 While new buildings were cropping up, something else was growing as well: community. One of Panorama's distinguishing characteristics is an engaged group of residents who are active in all facets of Panorama. Residents are intimately involved in the development of plans for services, facilities, programs, and policies that will ensure Panorama continues to evolve and grow as a vibrant, secure, and beautiful place to thrive in the second, or third, or fourth act of life.
Panorama
1751 Circle Lane SE
Lacey, WA 98503