By Tom Rohrer
Golf is one of the most frustrating and trying activities, let alone sport, that someone can play.  On the other hand, it can be extremely rewarding, exciting and can form bonds between fellow athletes and teammates.
The latter has definitely been the case for the Timberline's girls golf team.  The team has won the past two 3A Narrows League championships, which included a seventh place finish at the WIAA Tournament last May.
This year, head coach Randy Lobe, now in his third year leading the Blazers, will look to lead Timberline to yet another league championship and a more fulfilling finish in the state tournament.  Fortunately for Lobe and the Blazers, the talent and experience are both there for such a run, and could lead to yet another special season.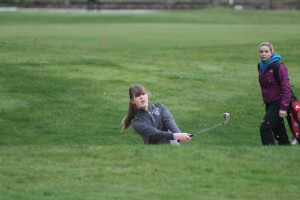 The Blazers return three golfers who participated in the 2012 state tournament – senior Franchesca Borja, junior Amy Martin and sophomore Michaela Smith.  Add Sophomore Mikayla Blummer, who missed qualifying for the state tournament by just a few strokes and the Blazers have a great core for what will likely be another successful season.
"It felt really rewarding, being champs for the second year in a row, and in my first year," Blummer said. "But I didn't get to play in (the state tournament) and that's a big motivating factor to me.  Plus, I feel like the other girls want to do better if they make it that far again.  There is a lot of unfinished business."
"That is one of our goals this year, to finish better than seventh," Lobe said. "We took four girls to state, two were there for the first time, and I think that showed a bit. I feel confident we can take four back this year, with three having state experience. And having that experience would make a huge difference."
Having a deep and talented team helps the Blazer golfers stay motivated towards improvement all season long.
"Having these accomplished and great players around every day, it brings out your inner competitor for sure," Smith said.  "I'm already a huge competitor, and want to have the best position no matter what, but seeing what they do in practice, it raises your level even more."
The Blazers will have the tough task of replacing Ally Redifer, the 2011 and 2012 Narrows League MVP who is now a freshmen on the Saint Martin's University golf team.   Given Redifer's accolades, this is a tall task, but one the Blazer coach and players think they can accomplish.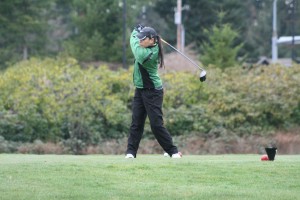 "We will need (Borja) to keep playing at a high level," Lobe said. "She's stepped up her game this year. Her swing and contact is much stronger.  We will see how it comes together, but she's a natural fit to fill in for Ally."
"Really I look at it as a group effort," Martin said.  "I think somehow we could end up deeper this year as a team, and we could have a bunch of girls play at a high level.  Ally was a terrific player, but we have a lot of talent on this team."
Both Borja and Martin, as upperclassman and returning state participants, know they have to provide leadership to the team as well.
"It lets you know what to expect in terms of competition, setting, pressure," Martin said of playing at state. "You want to pass on any advice that you can to those who want it or need it."
"If you're a captain, you have to set that example," Borja said.  "You have to show the younger players the expectations of our team and what we want to do to succeed."
Those expectations have been laid out in front of the Blazer team by Lobe, who believes the program is responding well to his set of goals and procedures.
"The girls needed to realize that in order to be successful, they have to show up every day, put in their time and then go home," Lobe said. "Just the idea that, no matter the weather, or other stuff going on in their lives, that they are part of this program and need to show up every day and work.  I don't know if that was necessarily always the expectations, and each year, day, however you want to measure it, we're instilling that."
Making practice even more appealing to the Blazers is the fact that they get to play four times a week at Indian Summer Golf and Country Club in Lacey, considered to be one of the best, and most challenging courses in the state.
"It's not an easy course and there are lots of water (hazards) and bunkers everywhere," Lobe said. "It forces them to be more deliberate in their shots. They get used to course management more, that they wouldn't necessarily see at other places."
"Yeah, it shows in our numbers," Borja said. "Lots of the tough teams we play, they play at courses like this too, so we have to raise our play when we play schools like Bellarmine or in the postseason.  To beat and compete against the best, you have to be used to playing on the best."
"I feel lucky.  This course prepares you a lot for some we will play on," Smith added.
Along with the challenging home course, the Blazers also have to deal with the unpredictable and unforgiving early spring weather in the Thurston County area.  However, by facing the elements now, the Blazers will see improvement as the weather lightens up.
"I think that's what we get for playing golf in Washington," Borja said. "But it's what we signed up for so we can't complain.  It's something to work against during the beginning of the season, but it gives you that mindset that you can handle anything."
Will the Timberline players handle the pressure of being the back-to-back league champions?  Players and coach alike certainly think so.
"It's a target on the back for sure, and the other teams will rise up when competing against us," Lobe said. "But it's a challenge I think they can handle and overcome for sure."
"We just need to keep working hard, and not get too confident or too down on ourselves," Martin said. "If we have that attitude, I think we will do great things."