Submitted by Stefan Ellis, Evergreen intern to ThurstonTalk
What exactly is a fungal expo?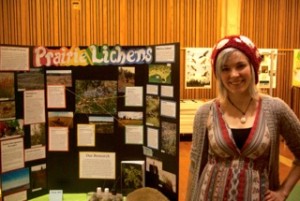 It's a totally awesome expo, held at The Evergreen State College earlier this month, where students in the Fungal Kingdoms program displayed their quarterly research projects.
"We're having this expo to explain science in a more accessible way," said Meghan Hennessey, as she handed out lichen decorated bobby pins to visitors. Lalita Calabria, a Fungal Kingdoms professor, said that "[Fungi] are not well understood."
To inform the public, the students set up stations in the Evergreen library, ready to educate people with videos, posters, games, easy to read science articles and microscopes to look at the growing fungus samples.
Many of the projects yielded surprising results. Abigail Arnold and her research group compiled a new list of prairie lichens found in the Northwest.  The team even "found a lichen that has never before been found in the Pacific Northwest," said Abigail.
Other research projects resulted in information on how fungus can aid in environmental preservation. Pierce Beeson and his research group, who worked with the Center for Natural Land Management studied Mycorrhozea, a fungus that bonds with plants and could possibly be used to help restore endangered plant species.  Jesse Brown-Clay and his research group were invited to the Northwest Science Conference in Portland for their work on microscopic pin lichen. Pin lichen are a bio-indicator that can be used to tell the age and health of a natural area.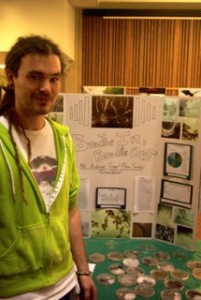 A few projects bordered on the disturbing, like Zachery Butcher's presentation on molds that are commonly inhaled. Butcher measured the mold spore contents of the air in places that have lots of foot traffic. He then took these mold spores and allowed them to grow to demonstrate what we're breathing. One of the spores he found was penicillium, the fungus that the medicine penicillin is made from.
Smiling faces and interested minds were educated at the fungal expo. Student Teal Hobson-Lowther, visited the Fungal Expo.  His favorite fungal fact was that "we are constantly interacting with a bunch of different kinds of mushrooms whether or not were breathing them in or using them as medicine or eating them."
Butcher encourages people to "revel in these organisms" and break out the magnifying glass the next time you find your peaches have become moldy.
Note: The group members interviewed for this article do not represent leaders. All group members worked collectively to create the final project.