By Tom Rohrer

In order to perform at the highest level, a dance team must come together as one and move in sync to their selected routine and music.
Things are certainly coming together for the North Thurston High School dance team under second year head coach Alisha Blain.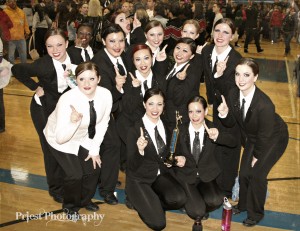 After missing a qualifying score for the district tournament last year by one point, the NTHS dance team took first place in the Kick division at their first meet of the season at Tahoma high school in early January.  The team added a third place in the Pom division at the same event.  Their performance was more than enough to qualify for the district meet on March 2, where they will have an opportunity to qualify for the state meet later that month in Yakima.
Finding out about their qualification for the district routine was an exciting experience for the team.
"When they came off the floor, I knew they did well, but you never know what the judges will think," Blain said.   "I opened up the score sheet packet and was going to wait to tell them but I was too excited.  I told the girls I was really sorry that they would have to give up another Saturday because they qualified for districts. And they started crying and we're so excited.  Then I told them we qualified in both events and the hysterics went to a new level."
"There were a lot tears, a lot of hugs," said senior captain Whitney Vu. "But they were happy tears and hugs."
"We tried so hard last year and missed it by one point, so there was a relief and just a sense of accomplishment," said junior captain Elysia Smith. "We did it together."
In the WIAA dance competitions, teams can qualify in up to five different categories – pom, kick, hip-hop, show and military style.
According to the WIAA official website, the pom category is designed to "emphasize the visual impact of the poms," and that "the focus on poms is primary in choreography," while all other aspects of the routine are considered secondary.  A kick routine is categorized as one where kicks are at least fifty percent of the focal point of the performance, while a hip-hop routine includes "funk, or street style dance based on isolations and rhythms."
Military style involves precision routines with quick and unified movements, differentiating from show, which requires a themed performance that can be accompanied by costumes and appropriately designated music.
While all high school teams are allowed to compete in every category, doing so would mean less attention to detail on one or two in particular.   Since individual routines are complex and take months to prepare, particularly for district or state competitions, many schools focus on their strong suits.
At competitions, teams are judged by a panel of individuals on a scale of 100, and a score of 65 is required from each judge to qualify for the district tournament.  Blaine noted that her team's pom score was .5 off a state qualifying routine.  Knowing that the they've qualified for districts already takes a lot of pressure off the Ram's dance team, and will allow them to focus on making improvements.
"It's better for the morale of the team," said Blain, who previously coached dance teams through the Thurston County Youth Football League and the YMCA. "They know they still need to focus, but now we can just focus on getting that state score."
"We've been practicing the routines since October, so we're pretty confident in that," Vu said. "But now, it's just about getting better every day in every aspect we can."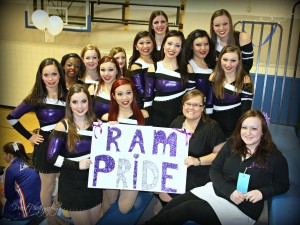 The team has ascended to this high level of performance by following a demanding practice schedule and a commitment to excellence passed down from their coach.
"From what I understand, we have upped the level a lot and we have very solid performances and a very strict practice schedule that we follow," Blain said. "These girls work insanely hard, whether it's on conditioning, or practicing the routines, and that is starting to show in the results."
"Every girl is very dedicated to dance and this team," Smith said. "We all have to eat healthy and not just stay in shape, but stay in excellent condition."
"I think everyone knows we have a special group and that we can go as far as we want," Vu noted. "We need to keep this positive attitude up."
Along with the extensive practicing and conditioning, much of the team's success can be credited to the bonds they have forged as a group.
"This group really cares about each other and supports one another and that shows in our performances," Blain said. "You can't perform at a high level without that unity.  The season is from August to March so we spend a lot of time together.  But we also try to do as many activities outside of practice as a group."
"We've gotten a lot closer and I think that comes from working together so much," Smith said.
"Everyone has more of a positive attitude and that's contagious across the team," Vu added.
Having captains like Vu and Smith is a blessing for Blain.
"They have a lot of responsibility and we have a very rigorous and thought out process to select captains.  They know what they've got to do and the example they have to set, and by and large, they've done a great job," Blain said.
However, the captain's impact may pale in comparison to their coach's influence on the team.
"She knows when she should be strict with us, but also when it's time to have a laugh and have fun," Smith said. "Everyone enjoys coming to practice and being around her."
"At this point she's like a second mother to me," Vu said. "She's there for us no matter what."
For more information on the North Thurston High School dance team, click here.