By Tom Rohrer

It's safe to say Karen McQuiston knows what it takes to be a successful gymnast at Capital High School.
As a CHS student, McQuiston was a member of the team during it's early stages.  McQuiston has coached the Cougars since 1996.  It's been a surreal experience for McQuiston, as she started out as an assistant coach for the Cougars while her sister was in charge.  She now coaches her daughter Cassidy, a senior and one of three team captains.
"It's really fun to think about," McQuiston said. "My sister was coaching and needed an assistant.  It's sometimes really weird because I know the history of the school and the program.  Now my daughter is on the team and is a team captain, so it's like the cycle has continued in a weird way."
With a host of both experienced and inexperienced athletes on the team, McQuiston and the Cougars are looking to qualify for the state meet as a team, while sending some individuals to state competition as well.
Last year, as a team, CHS won the sub-district meet at the 3A level, and have now returned to District 4 at the 2A level.  While the Cougars barely missed qualifying for state as a team, three individuals qualified, including senior captain Hannah Armitage and sophomore Keira Lathrop.  Armitage competed in three events at the meet.  Lathrop finished thirteenth overall in that even bars to go along with a fourteenth place finish in the vault event.  With her performance at the state meet, Lathrop entered into a select group of gymnasts in the history of CHS.
"In the history of Capital gymnastics, three people made it to finals and Keira is one of them," McQuiston said. "So she got a taste of that.  She will make it to state this year.  If she wants to take that next step and finish in the top ten, she needs to stay focused."
"It was cool because I felt so calm competing there," Lathrop said.  "As a freshman, to make it to state, that was a thrill obviously.  But I'm not satisfied, and I know I can improve."
Having an athlete like Armitage on the team is helpful as well.  A two-time state qualifier, Armitage is a strong willed competitor that sets an example for the rest of the team when it comes time to perform.
"Being at state, she knows what it's like and knows what it takes to get there," McQuiston said of Armitage.  "Hannah rises to the occasion of competing and it's important for the others to see.  She pulls off a game face well and the girls take notice of that.
By competing in gymnastics for a majority of her life, the CHS team is not fazed by pressure, nor the enormity of a big stage.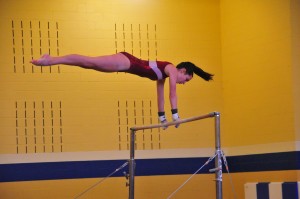 "It's become routine, it's just what I do at this point in time," Armitage said. "I've been able to calm down, clear my head before (performing).  I don't get nervous because I know how much I enjoy performing and showcasing what I've practiced my whole life."
"What I do is focus on going out and just performing my best, putting all my effort into the routine," Lathrop said. "That's something you can control, and with all the experience I have, I know everything can fall into place."
With a talented collection of athletes across the roster, Cougar gymnasts are motivated every day by the preparation and work ethic of one another.
"That's a big key for a lot of girls, seeing how hard the others work," said senior captain Kaetlyn Johnson.  "Last year, we were close to getting to state as a team and I know a lot of the girls are motivated by that."
"A key in this sport is going outside of your comfort zone and working on things that you may not be as advanced in," McQuiston said. "A lot of it is having the desire to go out and do it and lots of the girls have that."
By having a mentor like McQuiston, the CHS knows they're on the right path.
"She knows what I need to work on and helps me focus on things to improve on so I don't settle," Lathrop said.
"We know that no matter what, she will have our back in anything that happens in our life," Johnson said. "She's more than just our coach."
McQuiston's mother founded the Olympic Gymnastics Academy and was also a equipment supplier for the sport.  She grew up watching the best athletes in the world up close and personal. "The were the suppliers for 1996 Olympic Games in Atlanta.  They had the Pacific Rims Championship up here, and I had floor passes, saw the world championships from the floor.  It was normal for me, and I never realized how weird or amazing it was," McQuiston said.
"When my daughter was six months old, back in 1995, we got to go to a meet with (Gold Medalist) Dominique Moceanu and we had to leave the floor because she wanted to come over and keep playing with my daughter," McQuiston continued. "Coach Bela Karolyi got mad at her because she was not concentrating enough.  I just thought that those types of moments were normal."
While the coach pushes the team, the possible state qualifying gymnasts are driven by a love of the sport.
"It's just a beautiful sport, something I've put a lot of time into, and I know there is always room for improvement," Lathrop said.  "You're always moving, trying something new, and that's an exciting thing to be a part of."
Capital will face off against the North Thurston School District team on Friday, Jan. 18, at 8:15 p.m. at Black Hills Gymnastics in Lacey.