By Tom Rohrer
Gymnastics is a sport that combines elegance, athleticism, beauty and toughness into some of the most grueling and challenging events in the world.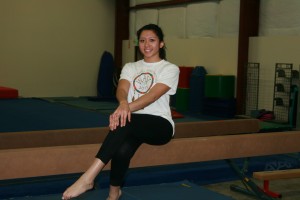 One of the most popular Olympic sports across the globe, the sports appeal has claimed the attention and dedication from a group of athletes in the North Thurston Public Schools, and could lead to local representation at the high school state gymnastics meet in February.   The athletes can compete in either floor, beam, vault or bars events.
Coached by Shannon Brigham since its inception six years ago, the North Thurston Public Schools gymnastics team combines gymnasts from the four district high schools into one team.   Practicing at both the Lacey and Westside Black Hills Gymnastics Centers, the team gets to hone their skills at some of the best facilities in the area.  This year's squad has 26 athletes from the district.   Besides last season, Brigham has taken at least three athletes to the state meet, a tough task considering many of the area's high level gymnasts do not compete at the high school level.
"It's a challenge because a majority of the talented girls are on club teams and aren't allowed to join a high school team," Brigham said. "But a lot of the girls have participated at some level or in some form of dance in the past.  You have to work with the beginning girls a lot, show them the ropes and find out what they can do.  But we find a way to harness the talent that the girls have and have shown we can be successful."
Brigham and the gymnastics team will rely heavily on four athletes in particular; sophomore Kourtney Belarde and senior Christa Jefferson from Timberline High School, River Ridge High School senior Brielle Rasmussen, and Brigham's daughter Haley Adams, a senior at North Thurston High School.
"We have some returning experience this year and some girls who have gone to state," Brigham said.  "That's huge because they can show the younger girls what it takes to compete and succeed."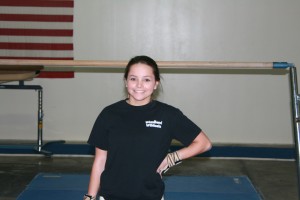 While some would view the combination of athletes from different high schools as a hindrance to success, the team members enjoy the new friendships they've forged and the camaraderie they have for one another.
"I enjoy our team because it opens my friendship to other groups and areas," Jefferson said. "It gives me more friends from the general community."
"One of my favorite parts of our team is the combination of the different schools," said Rasmussen. "I've known most of the girls since eighth grade and it's like I've grown up with them the last four years.  We don't have to worry about drama from our schools.  We come here and everyone has something new to talk about."
While the team's attitude remains positive and unified, there is a competiveness that drives each member towards success within the sport.  Gymnastics is considered a team sport but with a spotlight on individual performance.  There is no passing, or play calling, and each athlete must perform their respective routines relying on their own preparation and talent.
"I'm a very competitive person, and this helps me get that out," said Adams, who is also a cheerleader for North Thurston, coached by her mom.  "We work really hard and seeing the other girls work hard just raises that competitive level.
"I've got really high standards for myself because I've been doing it for such a long time, so I think most people expect me to hit all my routines which can be a little stressful for me," Belarde said. "But I just try my best and do it like I've always been doing it."
Belarde is the team's lone state participant from a year ago, where she qualified in each of the four events at the state meet.  However, she is far from the only member of the team with state experience.  Rasmussen, despite ankle injuries, qualified as a freshmen and sophomore, while Adams qualified as a ninth grader as well.  Adams was injured her sophomore year, and barely missed the cut last season.   Having the experience in the state meet is as a driving force for the athletes, who hope to qualify and post better results in 2013.
"It's a really fun experience, but my freshmen and sophomore year, I had a sprained ankle both times, so I didn't get to do my best," Rasmussen said.  "But it's really cool seeing all the girls from across the state there.  It's very exciting"
"Hopefully I can make it to state," Adams said. "My sophomore year I got hurt and last year I was really close.  There is a lot of motivation for me."
Jefferson believes that the team has the ability to qualify and place at state.
"My expectation is for the team to make state and place when we're there," Jefferson said. "I think we can do it."
All of the team members will have to overcome the various aches and injuries that happen over the course of a season.
"It's really hard on your body," Rasmussen said.  "People always talk about how hard football is and I say you should try my sport.  I'm joking that I'm always injured, but it's true."
Having a coach like Brigham can help the gymnasts overcome injuries and the challenges of the sport.
"She wants to help everyone on the team," Belarde said. "And she's so supportive and there for you always no matter what."
"It can be tough some times," Adams said about competing for her mom. "But I've learned a lot from watching her and being around her.  I can pick up stuff quickly."
The team's performance is also enhanced by their love for the sport, though it can be a love-hate relationship for some.
"It's just a bond I have with (gymnastics)," Belarde said. "Sometimes I get angry at it, but its my thing.  It's so cool and beautiful to watch."
"It's pretty demanding and challenging," Jefferson said. "But you get this rewarding feeling when you do well, even if it's just in practice.  You feel like you accomplished something huge."