By Tom Rohrer
First came Mark Bigelow, then Kelly Golob, and Jason Briggs after that.  The three former Olympia High School basketball greats would parlay their memorable Bear's careers into athletic scholarships at BYU, Northern Arizona University and Princeton University respectively.
That line of talented and renowned players would not stop there thanks to Alex Weber-Brader, now a redshirt freshman on the Seattle Pacific University basketball team.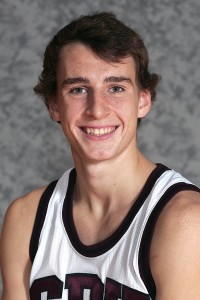 Before joining the Falcon's team, the 6'5″ Weber-Brader was re-writing the OHS record books, and he became the school's all-time leading scorer his senior year in 2011, in which he led the Bears to a fourth place finish at the 4A state tournament.  So far this season, Weber-Brader is averaging 2.8 points, 1.9 rebounds, and an assist per contest for the Falcons, who are ranked number nine in the most recent NCAA Division II poll.  After redshirting last year, Weber-Brader finds himself on a talented and experienced roster while battling through injury problems.  A player with a multi-faceted skill set, Weber-Brader says he's starting to find his rhythm, and is enjoying playing for such a skilled team.
"I came into SPU and found myself in a completely different role," Weber-Brader said via phone interview with ThurstonTalk.com.  "This year started slowly, had some health issues and we have a really strong team. But I'm starting to find my game within the offense and adjusting to this level of play.  It's all about adjusting and I've worked really hard on doing that and being a contributor on this team."
While at OHS, Weber-Brader was the focal point of the Bears offensive attack, as his size allowed him to play inside and dominate with an array of savvy post moves.  Competing in the highly physical Narrows League against physical and athletic teams, Weber-Brader was able to acclimate somewhat to the college game that he would soon be a part of.
"Yeah, it was a tough league to play in, one of the best around, and it really helped me get ready for the next level," Weber-Brader said of the Narrows League.  "In high school, I played a different position and that gave me a nice post game that I still have in college. That aspect helped a lot."
Weber-Brader says his game has improved leaps and bounds since coming to SPU, as he has the opportunity to practice against one of the most talented rosters in the country everyday.  That practice, Weber-Brader believes, helps at both the individual and team level.
"The practices here are extremely competitive and all the guys are very talented and work hard," He said. "It's amazing how much better guy for guy our team is over the teams we've played against."
One of the team's the Falcons have matched up against in the Geoducks from The Evergreen State College, who took on SPU in Seattle on Saturday, Dec. 8.  The 80-45 Falcons victory was arguably the best game of Weber-Brader's collegiate career as he scored 10 points and pulled down 4 rebounds in 14 minutes.  Playing in close proximity to his family and against teams like TESC and Saint Martins (SPU will play the Saints two times this season and both universities play in the Great Northwest Athletic Conference) is part of the reason Weber-Brader came to SPU.
"That was fun and I knew some guys on the team and got to hang out a little after the game," Weber-Brader said of playing TESC. "I grew up watching the Geoducks play so it was kind of surreal."
"It's been awesome not being too far from home," he said. "My parents come up all the time and it's definitely a big benefit to see friends and family."
Weber-Brader and the rest of the Falcon team are focused on the task at hand that is the 2012-13 season.  Once the season is complete, Weber-Brader will focus on healing his body and becoming a better player.
"I think the future is very bright and we can literally go as far as we want," he said. "We have all the right pieces we need and if we stay focused and key into what coaches say we can go as far we like."
"I want to heal my body, that's priority number one," Weber-Brader said of his off-season plans. "I have some tendinitis, stomach problems. After that, I'll go from there.  You can really make strides and add things to your game in the offseason, especially at the collegiate level."
Basketball has been good to Weber-Brader and he's returned the favor by working hard and maximizing his natural athleticism and talent.  While collegiate ball has replaced high school, Weber-Brader still has fond memories of his time at OHS.
"My senior year and really my whole time at OHS, I had a great experience with all the guys.  Getting fourth in state, winning all those games with my team and friends, that was what it was all about," he said. "All that extra stuff, the scoring record, that was just sprinkles on the cake. It was a great experience and I was happy to make a big impact. I still am really honored to be a part of that program and still am best friends with coaches and teammates."