By Tom Rohrer

When tragedy hits, it can be surprising who offers help and provides hope.
In mid-November, tragedy hit the Miles family of Puyallup when 15-year-old Jacoby Miles, a level 9 gymnast, broke her neck during a dismount while practicing her un-even bars routine.
Following extreme medical attention and surgery, Miles is paralyzed from her mid-chest down.
However, the vertebrae, according to www.goteamjacoby.com, is pinched and not severed, giving everyone hope that Miles may one day be able to regain some function in her legs.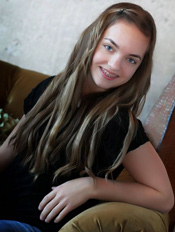 The tragedy has affected the Miles family and friends in the surrounding Puyallup area, while touching the hearts of everyone across the state and country.  One of those hearts was that of Sydney Wilson, a seventh grade student at Griffin School who plays on the Washington Premier Futbol Club in Puyallup with Jacboy's younger sister.
The Wilson's, who are family friends with the Miles, heard about the accident the day of the incident, and saw their daughter and son Colby, a fifth grader at Griffin School, immediately jump into action.
Since the accident, the Wilson children have been making holiday cards and cookies and selling them at Griffin and the surrounding Steamboat Island community.
All of the proceeds will be donated to the Miles family as they have to deal with medical costs and re-modeling their home for Jacoby's condition and rehabilitation.
To this date, the Wilson siblings have raised $1,665, and will continue to raise funds throughout the holiday season.  Colby and Sydney's mother, Cristin, has helped her children during the fundraising process and has seen them respond to tragedy in a charitable and thoughtful manner.
"You think of the family first because they are going through so much, and the Miles are such wonderful people," Cristin Wilson said. "I'm thrilled that Sydney and Colby wanted to help out.  It's amazing, especially since it's for a person they've never met before.  It's a busy time of the year, and if my children would rather make cookies and cards to help others, I'm fine with that.  They've shown a lot of compassion and the Miles are more than deserving of it."
Cristin Wilson estimated that her children (along with help from herself, grandparents and friends) have produced over 65 dozen cookies and nearly 200 cards, taking over 35 hours to complete.  The Wilson children feel for the Miles family and are just happy they can help in any way.
"It feels really good because their family is going through so much and they need all the help they can get," said Sydney Wilson.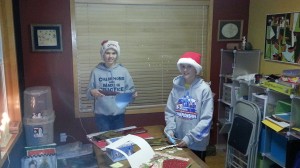 "I'm proud of myself for helping and it feels good working for a great cause," said Colby Wilson.  "This is one of the biggest things I've done to help others."
The Wilsons are far from the only family, organization or community to help the Miles family.  There has been a huge out-pouring of help in the greater Puyallup area, and those close to the family know how much it means to the Miles.
"The support from friends of the family and the fundraising efforts from everyone in the community has been a blessing.  People want to figure out how to help," said Brian Sharpe, a Youth Pastor at the Elim Evangelical Free Church in Puyallup who is a close friend to the Miles family.  "(The Miles) are such a lovely, encouraging family and people want to help them out. It's very humbling for them to see that and it has been an honor for them to see that support."
Cristin Wilson says the kindness shown by both the Steamboat Island and Griffin community has been remarkable.
"It's a tight-knit community out here but most people don't know Jacoby or her family, but they know us," said Cristin Wilson.  "It shows what kind of people live out here and how they are raising their children."
To get the word out about fundraising efforts for the Miles, the Wilson family made phone calls, sent emails and dropped fliers in mailboxes encouraging others to help.   At the top and bottom of each card the Wilson's crafted, the Team Jacoby logo is present.  By providing that logo, others can see the website crafted for helping Jacoby Miles and her family and the other ways they can help.
"We haven't thought beyond this time of the year in terms of how we will help fundraising efforts," said Cristin Wilson.  "But there are many ways we and others will be able to help in the future."
Besides producing snickerdoodle and molasses cookies (along with the Christmas cards), Sydney Wilson will be playing in the Jacoby Miles Charity Match on Friday, Dec. 14, at the Washington Premier FC Turf in Puyallup.  Sydney said that she has made buckets to carry around the crowd to ask for donations, and that she is excited to play in the game.
"The soccer game will be really fun, and everyone playing in it will be thinking of Jacoby and her family," Sydney Wilson said. "That's what it's all about."
For more information on Jacoby Miles and how to help the Miles family, please visit www.goteamjacoby.com.