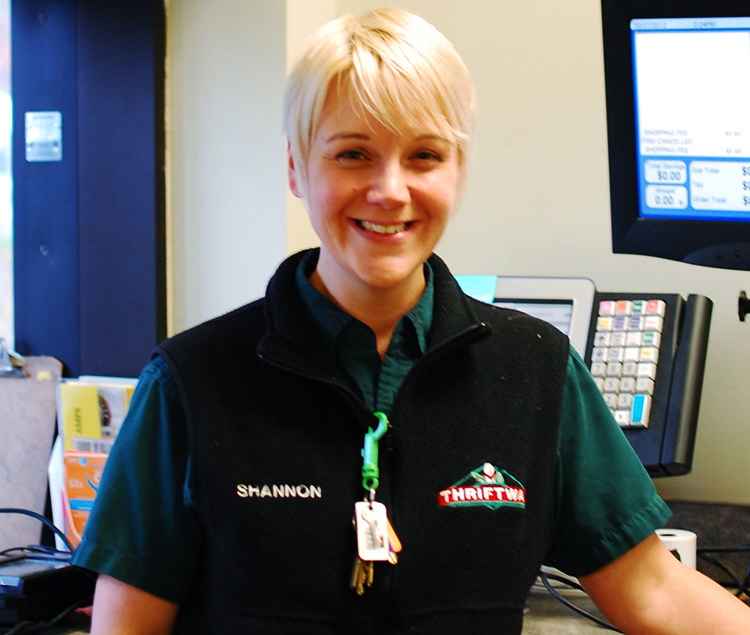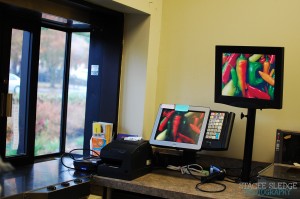 Imagine how much simpler upcoming holiday preparations would be if you had your own personal grocery shopper roaming through the abundant Ralph's Thriftway aisles, selecting the best produce, the freshest meats, and everything you need to make amazing holiday meals.
All you have to do is shop in the comfort of your own home using a simple, secure website, and then select a time to pick up your haul (five days a week). One stop at the convenient drive-through at Ralph's Thriftway, where an online shopping specialist rings you up and loads your trunk, all while you wait in your dry, cozy car. And if you have the kids or pooch with you, they even receive a cookie or dog treat.
Stress-free grocery shopping – even at the heart of the holiday rush? It doesn't have to just be a Christmas wish.
Ralph's Thriftway has been offering its online personal shopping service for six years. The personalized program is always a stress-reliever but never more so than at the height of holiday craziness, when grocery shopping often dominates an endless to-do list.
And though it may sound like an indulgence, more and more people are finding the convenience – and its minimal fee of just $5.95 per order, no matter the size – to be practical and absolutely worth doing on a regular basis.
Locally owned and operated, Ralph's Thriftway makes the experience a very personalized one, with two online shopping specialists on staff who take the time to get to know each customer, gather and ring up every order, and then place all items directly in customers' cars.
Shannon Martin is one of Ralph's online shopping specialists. You may have noticed her, Palm Pilot-like device in hand, filling her green grocery cart with whatever her clients need.
"It's a great tool but a lot of people aren't aware of it," she says of the online service. "It sounds like something luxurious, but in fact, it's not; it's a money-saving tool because there are no impulse buys. It also makes meal planning easier."
The $5.95 fee is waived the first time a customer uses the online shopping service.
"I think it can be a little intimidating at first," says Martin. People worry about not selecting the packages themselves, not feeling the produce or seeing the meat.
Many first-time online customers call the store to discuss the process, and Martin is quick to put them at ease.
"I say, 'Look, I am trained and I try 100 percent to be you,'" she explains. She carefully selects every item as though she were buying it for herself. "I'm looking for bruises on apples, making sure that your bananas are exactly how you want them, whether that's freckled or green. I'm also looking for deals."
For instance, if Martin is searching for Challenge brand butter for a customer but sees a comparable butter on sale for two dollars less, she'll go with the better deal – if she knows her customer would prefer her to.
"We're a very small operation," Martin says. "It's just my co-worker Robin Audet and me. We get to know our customers."
Martin loves her job and likes learning what new customers like and how best to fulfill their orders.
"It's also awesome to shop for someone you've been waiting on for a long time," she says. "I know that a certain customer likes her bananas really green. And if we're all out of green bananas, I know she's not going to want any."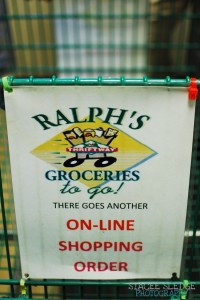 Martin knows which of her customers is fine with substitutions. If she's looking for Tillamook sour cream and the shelf is empty, she'll go with the Darigold brand instead.
For those shoppers who aren't as open to substitutions, Martin lists all of their choices and gives them a call to verify what – if anything – they'd like in the original item's place.
Martin is quick to point out that not every item inside Ralph's Thriftway will be found online – but it can be easily added to your online shopping list.
"When you're shopping on the website, you're not going to find everything in our store — it's just impossible," she says. Martin enters in all the items you find in the online system, but the massive array of different grocery items makes it unfeasible to include it all.
"And it's kind of unnecessary, because if someone wants Progresso black beans and we don't have them on the [virtual] shelf, all they have to do is type it in as a request item, and then not only will I get that for them, I'll put it in the system."
Ralph's Thriftway has always supported other local businesses and offers local products that may not appear in the web store until someone requests it. "Someone tells me they've seen something in the store that they'd like, and I put it into the system. That happens all the time."
Martin and Audet build truly personal relationships with their customers.
"You just get to know them. If they call first you can have a nice conversation about how everything works," Martin says. "And if they're just brave and make an order, they roll up and you get to know them."
Online orders are fulfilled every day but Thursday and Sunday. Orders placed by 10:00 a.m. on Monday, Tuesday, Wednesday, Thursday, or Friday can be picked up between 11:00 a.m. and 7:00 p.m. Orders placed on those days by 2:00 p.m. can be picked up between 3:00 p.m. and 7:00 p.m. Saturday's schedule is similar but adjusted one hour earlier.
Orders are fulfilled by Martin and Audet, then stored on shelves and in a refrigerator and freezer near a convenient drive-through window on State Street, where customers pay at a scheduled time of their choosing. Martin even keeps a stash of reusable grocery bags belonging to specific regular customers.
"They get bag refunds when I use their bags," she says. "I'll load up the back of their car and pull out more bags to keep here and use for their next order."
Martin says there are tons of reasons why people shop online with Ralph's Thriftway. She sees pregnant women and women with large families who use the service when the kids are out of school. She has single men who shop online simply because they don't like getting groceries the traditional way. And she regularly shops for customers who are elderly or sick, who often send their nurse in to pick up items they've chosen themselves online.
"There are so many reasons to do it," she says. "It really just becomes this amazing tool that I wish more people knew about."
Martin says people always mistake her in the aisle as a shopper – albeit one wearing a Ralph's Thriftway uniform.
"People always think I'm shopping for myself – and not only am I shopping for my own groceries in my uniform, but I'm super organized. They're like, 'Wow, she's really a big shopper, she's got a Palm Pilot!'" Martin says, laughing.
Customers apologize when they stop her with questions. Martin always explains what she's doing – letting them know that she's on the clock and happy to help.
"They're just sort of taken back by it, like 'Really? You're shopping for somebody else who ordered all of this online?'"
"Yes!" Martin recounts with a laugh. "There I am, in produce, looking for someone's bananas."
Ralph's Thriftway
www.ralphsthriftway.com
1908 4th Ave. E.
Olympia WA 98506
Store phone: 360.357.8011
Online shopping specialist: 360.596.0131
onlineshopper@stormans.com