By Jennifer Crain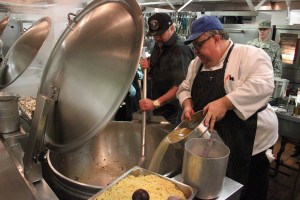 Celebrity chef Guy Fieri spent Saturday afternoon sprucing up the evening menu with culinary specialists in the kitchen at Madigan Army Medical Center at Joint Base Lewis-McChord (JBLM).
Fieri also met with fifteen members of the Warrior Transition Battalion, hearing their stories, signing autographs and exchanging fist bumps.
"I think our whole country needs to spend more time and have more awareness [of the Armed Forces]. Not just at wartime – I'm not a fan of war at all. But I am a fan of the men and women who make a commitment to keep our country free," Fieri said during his visit.
When St. Martin's University invited Fieri to be the celebrity chef at its annual St. Martin's Gala, which took place that evening, he accepted and also put in a request: would it be possible to visit with Madigan culinary specialists and a group of soldiers during his visit?  (For more information on the successful gala event, click here.)
Jennifer Fellinger of St. Martin's University says an event on base was a perfect way to mark the University's 40th anniversary of its extension campuses at JBLM. The event, co-sponsored by America's Credit Union and Bon Appétit Management Company, came together quickly.
On Saturday, Fieri talked and joked with culinary staff in the kitchen, throwing in extra breadcrumbs and white pepper along with tips on nutrition ("kale is a super-vegetable") and ideas to help make cooking huge proportions easier and more flavorful. Madigan's culinary staff serves around 2,500 meals per day.
"Now everybody's not super thrilled sometimes about food they're getting in the military," Fieri said later. "But if you understand how hard it is to cook for 3,000 people, this is not a simple job."
When one of the 60-gallon steam kettles didn't heat up as quickly as he wanted it to, Fieri quipped, "I'm buying you a giant sauté pan. This is killing me!"
Jim Lowery was Madigan's head chef for the day and Fieri's point man in the kitchen. He says they prepared Chicken Tetrazzini and Salisbury Steak, "Guyed up a little bit."
"He took my recipe [for Chicken Tetrazzini] and we enhanced it for color and texture with the kale," said Lowery, "which was very nice."
Asked his advice for single military personnel and military families who are stretching dollars in the kitchen, Fieri enthusiastically free-formed menus that will pack a nutritional punch, appeal to kids and deliver on flavor.
"I'll tell you what they need to do, especially these young soldiers, is eat more raw food," he said. "Especially as hard as they're exercising…a lot of greens, a lot of fruits, a lot of vegetables, a lot of whole grains…You can't just sit there and do pasta and Top Ramen all the time."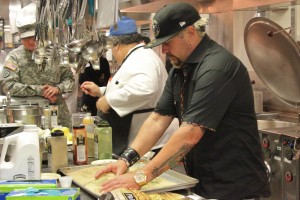 For families living on a tight budget, Fieri suggests roasting a few chickens at the beginning of the week. Leftovers can be shredded into enchiladas, he says, diced into a chicken salad or made into barbecued chicken sandwiches.
And Fieri suggests home cooks go a step further to save a dime by making their own chicken stock. "Chicken stock's expensive," he says. "You're buying water."
"Now, you take all these chicken bones from all of these roasted chickens, a little mirepoix – some celery, some onions, some carrots, bay leaf, thyme, whatever fresh herbs you have around – and cook that down and make your own chicken stock," he says, "You want to talk about chicken noodle soup that'll blow your kids' minds, that's where it comes from."
As far as flavor, the culinary icon says a stocked spice pantry will allow cooks to be more flexible.
"The key to the spices is not to go to the big lot stores and get these five pound tubs," he says, "spices die out."
Fieri suggests stocking up on small amounts of oregano, granulated garlic, fresh cracked black pepper, paprika, cayenne, cumin, thyme and rosemary. But avoid garlic salt, he adds, saying, "I think salt should be used on its own."
After cooking, Fieri headed to the lobby where soldiers from JBLM's Warrior Transition Battalion were waiting. The unit provides services for soldiers who are wounded, ill or injured and assists them and their families with the "transition back to regular duty or a civilian life." Fifteen soldiers were chosen from over 700 who are currently in the battalion.
Fieri, with his trademark approachability, sat in a chair facing the soldiers. As each shared personal stories, he listened. One soldier said he'd lost the feeling on one side of his body; another was serving for a second time, having re-joined the service after a 15-year hiatus. With a gift for finding common ground, Fieri encouraged each soldier, nodding or joking or talking sports, and thanked them for their service. He ended the visit by signing autographs while guests munched on chocolate chip and oatmeal cookies made using Fieri's recipes.
Sergeant Jason Hackler is one of the service members who attended the event. A self-described "foodie" and cupcake fan, Hackler loves to sleuth out local mom-and-pop restaurants in his down time (tip: his favorite is Jim Bob's Chuckwagon BBQ in McKenna).
Hackler says a visit like Fieri's does a lot to lift spirits.
"What really strikes me with his visit was the realness. You can detect the realness and the appreciation – mutual appreciation between him and the service members. To hear people that you kind of look up to say that they look up to you," Hackler looks buoyed as he searches for the right words, "it's very nice. It boosts your morale quite a bit."