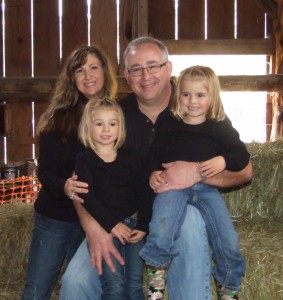 Spend a couple of minutes talking with Dr. Herb Todd of Todd Family Dentistry and you quickly realize he's not your average dentist. First of all, he came to the profession later than most, starting his dental career at the age of 36.
Prior to his dental profession Dr. Todd tried his hand in a variety of other careers including a plumber, truck driver, Alaskan fisherman, gas station manager, swim coach and even in cancer research! But once he hit on dentistry, Dr. Todd became a dedicated dental professional. He has had his own successful practice in Lacey since 1997.
The second thing you will quickly notice about Dr. Todd is his sense of humor. He is quick to laugh and enjoys making others do the same.
"In fact, if you saw me, you'd never think I was a dentist," he says. "I'm 6'2", 260; I look like a professional football player."
When asked about how he came to choosing dentistry and the decision to move to Nebraska and attend dental school, he responded, "I like helping people. I like fixing things and I enjoy the hands on approach. I'm really good with my hands, so it seems likes a natural use of my skills and talents"
Dr. Todd was born in Seattle and spent the first 13 years of his life in the Northwest, spending time various parts of Oregon, such as Tillamook and Portland. After his father joined the army, he lived in Kansas, Georgia, Hawaii and Texas (he attended Texas State) before moving back to the Pacific Northwest.
"My grandfather homesteaded in Monroe and my mom was born there. It's always been a matter of going back to the Northwest. I picked Olympia because it has always felt like home. It is the ideal location, because you're close enough to the mountains and ocean! Plus my parents live here as well as my older sister. I'm a third generation Washingtonian" he says.
He's soon back to jokes: "I had a yearning to get saliva all over my hands and face so I figured: Dentistry YEAH!"
Dr. Todd laments the "factory approach" seen more and more in dentistry. You won't find that at Todd Family Dentistry. "It's not just a body in the chair, I like to get to know my patients and talk with them. My office is more like a family – you're coming in as part of our family."
The Todd Family Dentistry office is both laid back and professional. He uses words like relaxed and friendly when describing the office and his staff.
"I hate to equate it with an older type of practice because my office is modern and up-to-date. Our office is kind of like the way dentistry use to be, where you come in and you are known by your first name – like when you go to your hairstylist."
Patients are always surprised when they run in to Dr. Todd around town and he actually remembers their names. "I like to sometimes play jokes on my patients" he says with a laugh. "For example, I might see someone at Costco and when they aren't looking, I'll slip the 24 bulk-pack of toothbrushes into their cart!" Dr. Todd then lets them in on the joke as they go through the checkout line and suddenly discover the jokingly devious dental reminder!
Dr. Todd's team is made up of experienced professionals who are dedicated to comprehensive, courteous care. They also share in Dr. Todd's passion and humor. During the recent Halloween season, the office held a contest cleverly named "Pick my Nose". The entire staff, including Dr. Todd, took impressions of their noses and displayed them on pumpkins! "You pick whose staff member's noses are which, and of course mine is giant compared to everyone else's. You win a prize if you get them all right."
On top of a fun and  relaxed atmosphere, patients of Dr. Todd's can count on a thorough exam and a knowledgeable team working in cleaning and prevention, restorations, treatment of periodontal disease, and cosmetic dentistry using conservative, state-of-the-art procedures. You can always check out their website www.toddfamilydentistry.com which is chocked full of helpful information.
Dr. Todd's final thoughts start out serious, but naturally take a comical turn. "I enjoy the more personal approach to dentistry and getting to know the person and trying to fill their wants and needs." He pauses, and then laughs, "Not everyone wants to look like a movie star with a full mouth of restorations… Some people just want to be able to chew pork and beans out of a can."
Dr. Herbert E. Todd, DDS PLLS
4445 Lacy Blvd SE
Lacey WA 98503
360-491-2532