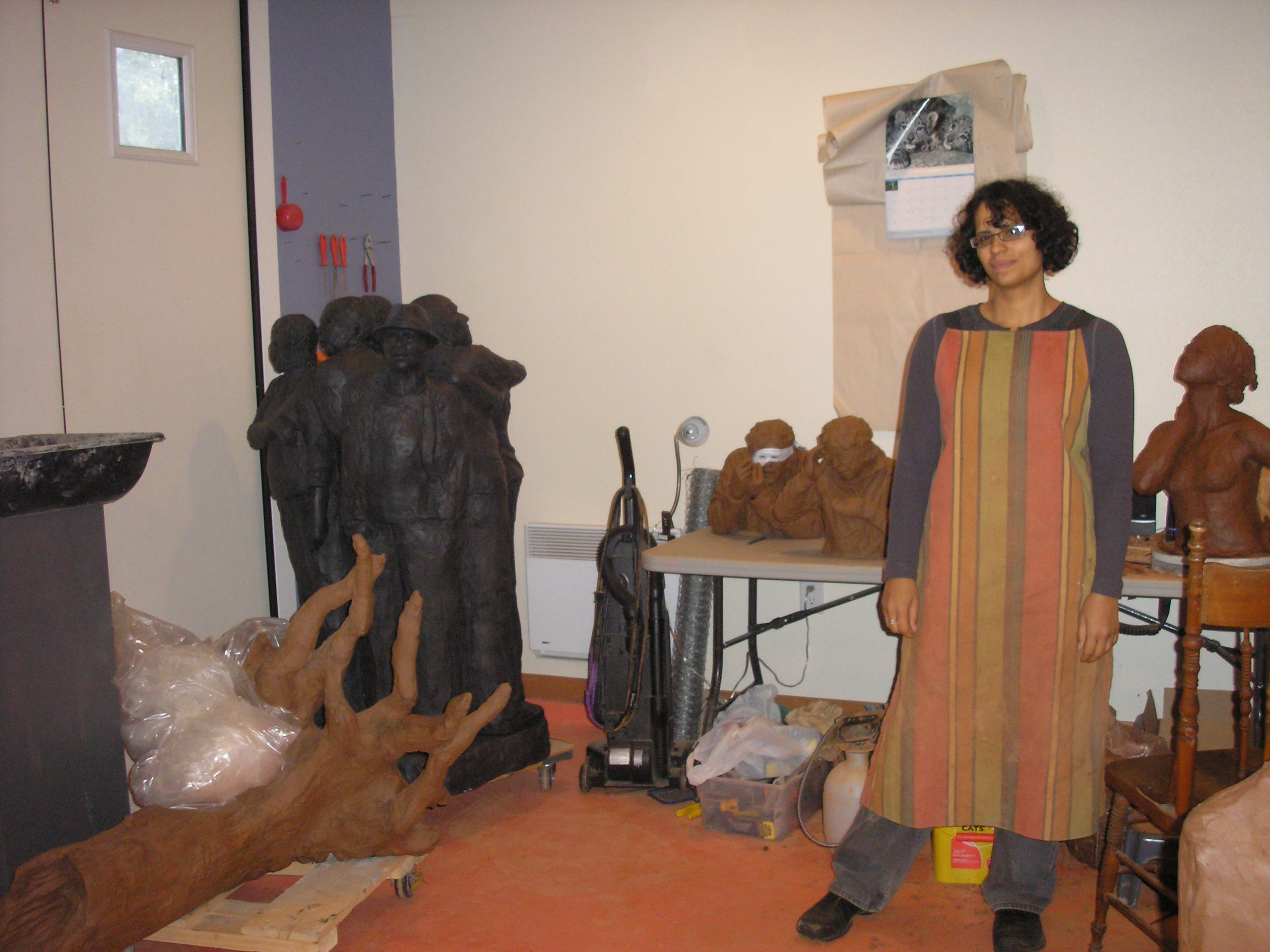 By Alec Clayton
My wife and I did not make it to the last Olympia Arts Walk, but we did wander around downtown looking in windows after the event, and on Washington Street between 4th and 5th Avenues we discovered a little art gallery that had not been there before.
Looking through the windows we saw a group of about half a dozen life-size sculptures of human figures. One, at least, appeared to be much larger than life. It was a monster, a behemoth figure of a fat man.
There was something haunting and mesmerizing about these figures. They were realistic but without sharp details — not idealized or beautiful figures but average-looking everyday people. They could be plumbers or carpenters or teachers, and they all looked rather sad. There was the feeling that these people lived lives of isolation.
To say they were realistic is not to say they were photographically or fool-the-eye realistic. They were built from clay and fired in a kiln but not glazed. Head to foot, they were a uniform natural clay color, and there was a slightly rough texture to their skin and clothing. They were almost like mummies or ancient statures excavated from the earth.
Two days later I went back to take another look, and the building was empty. It had not been a new gallery after all, but simply an empty storefront set up as a temporary exhibition space for Arts Walk. Fortunately, the artist left a stack of business cards outside on a window ledge, including direction her website.
Aisha, a 34-year-old teacher at The Evergreen State College, grew up in Olympia and spent much of her youth studying and working all over the country before returning home to Olympia. She first studied Spanish at Grinnell College in Iowa, where she earned a Bachelor's Degree, then she studied at the Penland School of Crafts in North Carolina and taught third and fourth grade in Atlanta, returning to Penland for further studies during the summers. She felt like she needed time to study and work on her art with her peers, so she went back to school and earned a BFA in Ceramics from Washington State University, where she graduated summa cum laude, and then off to the University of Nebraska to get her MFA in Fine Arts.
She has taught at Baltimore Clayworks and the Community College of Baltimore, at the Lux Center for the Arts in Lincoln, Neb., and at the University of Nebraska. Somewhere in the midst of all that moving from school to school she managed to work for Home Depot in Olympia for three years and do a five-week residency at the Women's Studio Workshop in New York, where she made a series of ceramic heads.
"I was a diehard potter," she says, "but I kept turning pots into bodies"
She says she loves pots but thinks of herself as a sculptor. When asked if she makes a distinction between ceramic sculpture and pottery she said, "Once you get down to it and actually working, it doesn't matter."
She says, "I love the metaphor of clay. It has a life of its own. It's from the earth. It gives a lot back."
Of her working method she says, "I'm real physical, I'm like hitting it with big boards."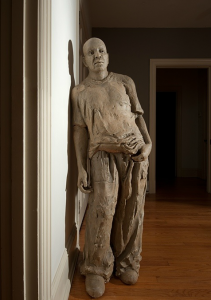 When asked about her influences she did not mention other sculptors, but first mentioned William Kentridge, a South African artist best known for his prints, drawings, and animated films. And she mentioned performance artists Yoko Ono and Marina Abromovic. She says she is interested in performance art because "I am drawn to actual changes over time. Even Kentridge's drawings are about change and movement. His animations are made by filming a drawing, making erasures and changes, and filming it again."
Aisha says she makes things that stand still, but she captures in them that sense of change and movement. She says she likes to watch people interact with her sculptural figures. "I have all these people sitting next to them in the same posture. You have an instantaneous impression based on posture, but what psychological thing is happening behind that posture? I am trying to make a more complex inner life."
How her sculptures live within their environment is an important aspect of her work. Size and placement create an almost painful feeling of how tiny and insignificant people can sometimes be and, in other instances, how gigantic. So we see a very large "Big Guy," and in a similar setting as a group of Lilliputian figures called "Potential," that are a mere four or five inches tall.
Right now Aisha is working on a series of blindfolded figures, some life-size busts and some smaller full figures. The blindfolds are symbolic of how we see or sometimes refuse to see, and how we try unsuccessfully to look into the future. There are five almost complete pieces in the series. Four of them will be in an upcoming exhibition at Santa Fe Clay in Santa Fe, N.M.
Aisha sums up her ideas about her work in a statement on her website: "My work consists of ceramic figures engaging in allegorical narratives that reference the basic human desire to belong. … Complex emotions arise from moving between our groups and from the internalized struggles for and against them. Like the groups we identify with, the emotions are often mixed and seem to be in opposition to each other. By translating my own experiences with this struggle into allegory, I illuminate the emotional impact on the individual navigating questions of identity and belonging."