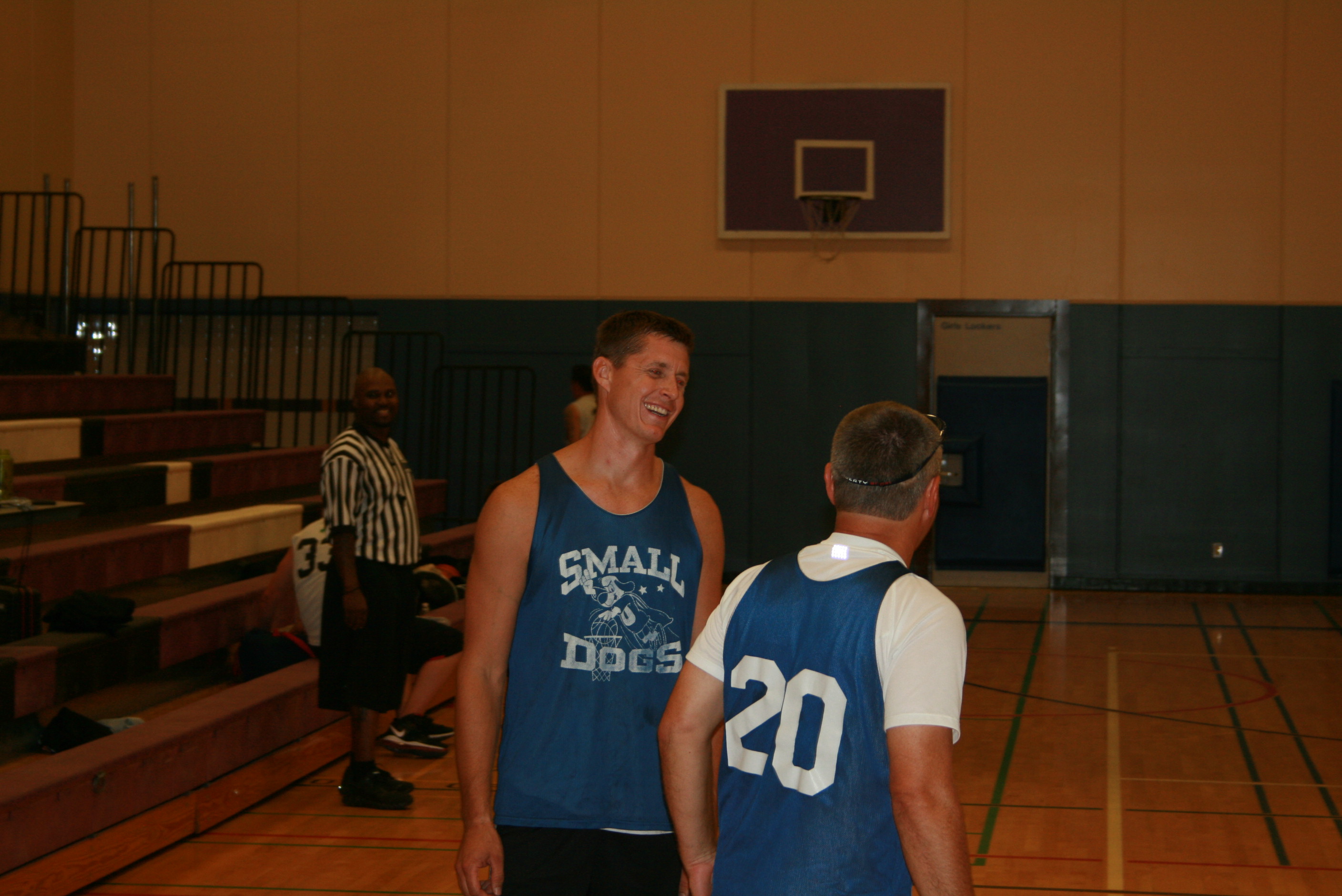 By Tom Rohrer

An occurrence leads to a trend, which with consistency, can eventually develop into a tradition.
For nearly a quarter century, a tradition has developed within Olympia Parks and Recreation League men's basketball, as every year and season, the Small Dogs name can be found on the league's schedule.
Using the same core group of friends for over two decades, the Small Dogs have seemed to institute (at some point or another) every skilled adult player in the Olympia area on their roster.
For the Small Dog's game within the Fall C-League on Tuesday, Sept. 25, against O'Blarney's Pub, the roster included team captain and founder Ed Elze,Tim Reynolds, Greg Monda, Bill Harbour, Michael Harbour (Bill's son) Paul Groven, Lee Pilon, Aaron Belz, Mark Schreck, Kelly Brown and Todd Donaldson.
Elze created the team in the late 1980's, upon his relocation to Olympia from working for IBM in the Bay Area.
"I got up here and there were a number of guys in the IBM office who liked to play ball, and we thought 'let's put a team together'," Elze said in a phone interview with ThurstonTalk.com.  "The name originated from California, where I had a team with my brother in-law.  We became the Olympia franchise of Small Dogs and it stuck and has been used since. "
While the Small Dogs ended up losing the matchup, it was not due to a lack of effort, skill or basketball intelligence.  Featured on the team are two former Saint Martin's University players in Donaldson and Schreck, coupled with Belz, who played under legendary coach Pete Carril for the Tigers at Princeton University.  Monda, a former baseball player at Washington State University in the early 80's, played eight seasons of minor league baseball.  Monda's two sons (both Capital High School graduates) play collegiate baseball as well, with Jason at WSU and Michael at Lower Columbia College.
This collegiate sports pedigree, coupled with an understanding of the game of basketball, has led the Small Dogs to success in the league and an enjoyable style of play.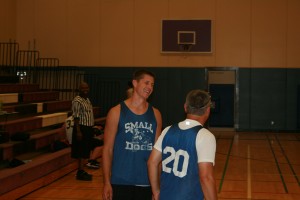 "Everyone is a great athlete, many played college sports and we all play together and get along," Schreck said.  "No one is competing against each other for points, no one has a real ego and we all get along well."
Much of the team's success stems from the team's ideology that the games serve a competitive, physical and social purpose.
"We really enjoy going out and playing, trying and competing, and then enjoy getting together after," Elze said. "We're not elitist or exclusive, but we have to get guys that fit in.  We want people to get along, and have a good time.  We all have a comfort level.  Nobody is going to dominate the game; one guy won't take the rock and shoot every time down the floor. We move the ball and we lean heavily on guys when needed."
Even longer then the list of seasons the Small Dogs have participated in is the growing number of former alumni of the team.  Names like John Peters, Steve Johnson and Doug Mack came up in the interview with Elze.  Schreck noted that Tim Healy, the current head coach for the Saint Martins University women's basketball team, used to run with the team, and that he grew up in Pullman with Harbour.
"You can go around to games in the area, whether it is at the (Valley Athletic Club) or a city league game, and it's a good bet someone used to play for the Small Dogs," Elze said with a chuckle.
"It's a prestigious group to be a part of," Elze joked.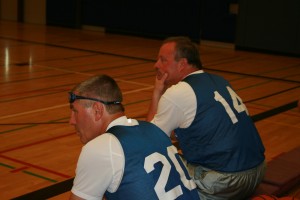 In order to offset an always aging roster, the Small Dogs perpetually keep an eye out for strong, young talent.  Schreck was approached by members of the team during pickup games at the Valley and has been on the team for around eight years. Reynolds is now considered to be the young buck of the group, and in the first game of the season, he led the team with 15 points.  In the loss to O'Blarney's, Schreck shot for a team high 20 points.
"If you look at our games, we have older guys, but we have some younger guys too," Elze said. "Everyone has solid, sound basketball skills, but there are some guys, regardless of age, that are in a little better physical shape and condition.  By having those guys around, guys like myself have been able to play for more seasons. The younger guys shoulder a lot of the load, as they should."
Being able to be a part of the team has been an honor for Schreck.
"It's really cool being part of the team and knowing how long they've been doing it," said the 1993 Capital High School graduate.  "It was an honor for them to ask me to come out and play.  Ed was sitting there telling me the history of all the other guys who've played and how long they've been doing it.  They're just great, great guys, cool to see guys like Kelly and Bill out there.  They encourage us and tell us to keep playing. They work hard, and love it, and still want to be part of this group."
Playing together with individuals like Harbour and Brown for so long has allowed Elze and the rest of the team to connect at an even greater level off the court.
"Because we've been together so long, we know other people's families.  Kids, wives, everything," Elze said. "In the offseason, we have business meetings, just to get together.  I'll call the guys and say 'it's time for a business meeting,' and our wives will roll their eyes."
How much longer will the Small Dogs play?  Only time will tell.
"We take it a season at a time," Elze said. "We don't force anyone into retirement.  Bill didn't play for a couple of years, but he would come to the games and go out for a beer with us after. All of us are competitive and want to win, but getting together with guys you enjoy being around, that's really what it's all about."