Story written in collaboration between ThurstonTalk writers: Stacy Fisher, Katie Hurley, Laurie O'Brien, Tom Rohrer and Amy Rowley
Like the running of the bulls, Griffin School elementary school students lined the front hall waiting for the principal, Mr. Woods, to release them into their class rooms.  The middle school kids, most seeming to grow another foot over the summer, sauntered off towards their own hallway… most likely chewing gum and organizing lockers before class.
There were plenty of high fives, hugs and whispers between parents and students.  A group of moms close by me and my two boys were in high spirits discussing the last camping trips made before the summer season ended.
Finally the hallway cleared, chatter entered the classrooms, kids placed their school supplies in their desks and their adults stood with cameras in hand.  "I get to use my new crayons already!"… "check out my new backpack" and "see you later sweetie, I'm off to get the dog neutered"… were just a couple of the comments heard on our way out and as the intercom turned on.
Across town, Tumwater High School junior, Hope Hulverson, shared her excitement.  "I'm really excited to go back to school and be an upperclassman.  THS does a great job giving me the classes that I want so I'm excited for my new schedule," says Hulverson.
The buzz surrounding a school during the first day of the academic year is easy to notice, as hallways and classrooms that were empty for months now have a shot of life in the form of thousands of students. North Thurston High School in Lacey opened its doors back up and the students were ready to begin a new year full of promise and opportunities.
While freshmen and sophomore years are a time for learning and acclimation, the junior and senior campaigns provide students with a chance to give back to their schools and help new students get adjusted.  For NTHS junior Brooklyn Falter and senior David Cregg, it's now a duty and a choice to help fellow Ram students.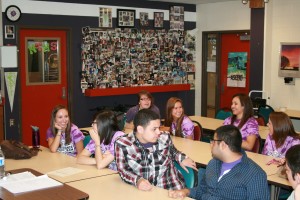 Falter, a member of the North Thurston swimming, gymnastics and golf team, is the junior class treasurer, while Cregg, a four year member of the Ram's varsity soccer team, holds the same position for the senior class.  "We have to get the opinions of the student body and do what's best for everyone," Falter said. "There is a lot of responsibility, but it's cool to be in that position, to give back to your classmates and the school."
Cregg noted he was lucky to have a lot of guidance from upperclassman when he first entered high School and wants to pay that favor forward.
"It really helps some of the younger students for someone to offer support and advice," Cregg said.  "I know it was for me, and I want to be there in a similar way.  This is the future of our school and we want to make sure it's in good hands."
Angelia Frare, a teacher at Timberline High School, was ready to learn as well!  "I'm hoping to learn from my senior colleagues and grow as a professional," said Frare.  "I'm looking forward to see what kind of personality each of my classes will develop throughout the year.  Every class brings its own sparkle to the learning process," added Kati Halmos, a teacher at Timberline High School.
Over 400 happy, excited, anxious and nervous kids walked through the doors of Hansen Elementary School this morning.   By the time the buses pulled up at 8:30, there was a line of cars parked down the block in either direction as anxious parents arrived to see their kids off to class.   A few misty-eyed moms and dads waved goodbye to their Kindergartners, and some little ones were nudged into their first classrooms reluctantly.
Tanya Mote was dropping off all 3 of her kids, one of them for the first time.  The mother of a 4th grader, 2nd grader and a Kindergartner is looking forward to having all 3 kids in the same school, but was emotional about the milestone of sending her youngest off to school.  "We have amazing teachers and the kids will have great experiences and new adventures, " she said.  "The kids are looking forward to seeing their friends and having tons of fun."
Happy first day of school!  Here's to a great year Thurston County students, educators and staff!