By Tom Rohrer
Few things in the world taste better than authentic and original barbecue.
However, when proceeds of the delicious style of food go towards a worthy and charitable cause, the smoky and grilled flavor tastes even better.
Matt Grate, who owns and runs Delphi Farms LLC and Delphi Farms Barbecue, Smokehouse and Catering, is on a mission to provide Thurston County with delicious BBQ while raising awareness and funding for Americans For A Better World through peace and education (A FAB World Charity) for an EcoVillage Project that would help combat world homelessness and increase the use of sustainability in areas throughout the globe.
Grate, the Executive Director and organizer of A FAB World Charity, held an international barbecue contest the past two years to raise funds for the charity, and has undertaken a multi-event, BBQ cook-off series in Thurston County this summer.
Thurston County's first ever Amateur BBQ Cook-Off is a twelve-event circuit that began in late May and will run until early September.
The events, which feature cooking demo's, family fun, food vendor sand music, has five categories including gourmet burgers, fowl, surf, turf and pit masters choice.
All funds generated at the various events will go towards the charity, something Grate, an Olympia native, is very proud of.
"It's a cool idea and it's awesome to see it in motion," Grate said. "We had two international competitions, which were our first year and second year fundraisers. Our third year, we have decided to do an amateur barbecue circuit and open it up to more people to have fun. Instead of having pros coming from Canada and Oregon and wherever else, we knew there is plenty of backyard enthusiasts right here."
A man of many different skills and areas of expertise, Grate grew up on a small farm in the Delphi area, raising 16 Semintal cows as a teenager which he took to three separate county fairs.  Following stints working in the logging industry, Grate would work for Nintendo of America before re-locating to Salt Lake City, Utah, where he helped develop over eighty games for Sculptured Software.
After ten years in Utah, Grate would return to the Olympia area, where he worked for the State Government within the Department of Information Service and Employment Security Departments.  While working for the state and operating his farm, Grate developed the EcoVillage theory, and credits his knowledge in several different fields with his success in the charity's development.
"I bring my project management expertise from the video game industry, something that most scientists and people with PhD's don't have a lot of experience with," Grate said.  "That's where my background can come in to help."
The charity and EcoVillage idea was brewing in Grate's head for some time before he realized it was time to take action.
"I decided it was time to stop dreaming and put it into action," Grate noted of the EcoVillage idea.  "It started off with a rehabilitation for homeless theory, and as I've watched two million refugees come forth, I realized the homeless issue wasn't just in America.  It is a global issue."
"So I got the concept of combining all sustainable technology and knowledge we have with my knowledge of sustainable agriculture, and I put it together to create the EcoVillage," Grate said.  "Now I'm creating a group of people interested in coming together, such as architects, to offer their opinion.  I don't need to learn architecture.  I was trying to design the entire village myself and it got to the point where I was realized I can't become an expert in every aspect."
On the barbecue side of his life, Grate has developed recipes through a trial and error process that has yielded delicious results.  He is not bashful of his culinary talent, as almost all of his recipes and cooking processes are uploaded onto his YouTube channel, Jimbo Jitsu's Farm House Show, which has over 1,500 subscribers and 450,000 video views.
"On the barbecue side, I'm actually more of a creator," Grate said.  "I'll break a barbecue sauce down to its basic ingredients, like apple cider vinegar, honey and from there, just add spices I like, such as garlic and onion. And then I will do three tries of ribs or another meat.  I do one I know works good, one with new stuff on it and another with different spices on it.  I'll taste all three and compare it, like a judge to figure out which one tastes better and put that up on YouTube. I don't actually adhere to recipes."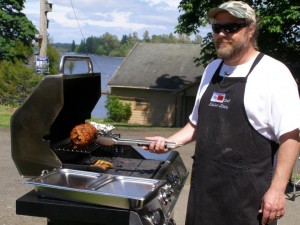 A member of the Pacific Northwest Barbecue Association, Grate is a certified barbecue judge, and credits his blue-collar childhood for his approach to all things in his life.
"Growing up, I had a lot of responsibility, and I think that has helped me develop a do-it-yourself mindset and process," Grate said. "That has really helped me see success in a lot of different things."
Grate, along with his wife Angie, is a certified caterer who can serve food at events.  While his company can work for profits, all revenue will normally go to his charitable cause.
"Ranch House BBQ sells us our ingredients, cooks the food and sells it to us at cost and we can vend their food," Grate said. "Some people hire us to do jobs, but our focus is on the charitable side.  That's where our passion truly is."
Grates ingenuity has led to the creation of one of his most popular dishes, the bacon missile, which surprisingly, is exactly what it sounds like.
"It starts with a bacon weave," Grate said. "At the age of 40-something, I learned to weave because I wanted to weave bacon.  You weave the bacon and take a sausage and hamburger combination, which you can add veggies and spices to. You make a log of that, then roll it up in the bacon weave and barbecue it for two hours and the bacon turns crispy and you slice it up and serve it."
Born and raised in the area, Grate is happy to call Thurston County home.
"I just love the land, the climate and the people," Grate said.  "There is a lot of camaraderie, and that is something great about the area."
For more information on A FAB world Charity and the Thurston County Amateur BBQ Cook-Off, visit www.AFABWorld.org, email jimbojitsu@gmail.com or visit Youtube.com/jimbojitsu.